Tennis Head Coach Gualberto Escudero Steps Down After 37 Years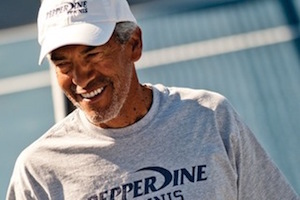 After 37 years as head coach of the Waves women's tennis team, Gualberto Escudero announced today he will step down from his current role at the end of the 2014 season.
During his career at Pepperdine, Escudero has won 648 career matches, second all-time among women's tennis coaches. The Waves women's tennis team is ranked in the top 25, on its longest winning streak in over a decade, and the favorite to win its 24th conference championship in 29 seasons.
"This year, we have a team that is every coach's dream," says Escudero. "They like each other. They fight for each other, support each other, and play for each other on and off the court. It's a team every coach would love to have."
"Injecting new blood right now will help them reach the top 10. A strong, experienced, NCAA Division I caliber coach can help us take it there," he continues. "I'm very happy that I'll be taking part in that."
Escudero will remain at Pepperdine as the Waves' associate head coach and will also continue to teach physical education courses for Seaver College.
"I am going to be here when the student-athletes I recruited graduate. I will see my players graduate and play in their last matches. It means a lot to me and I think it means a lot to them," says the Pepperdine Athletics Hall of Fame inductee.
"Gualberto Escudero's incredible service to our women's tennis program for 37 years is unlikely to be equaled," said director of Athletics Steve Potts. "As head coach, he leaves a legacy of teaching, mentoring, and preparing students for life and, of course, of winning championships. I want to express our sincere thanks and appreciation to Gualberto for his extraordinary dedication and commitment for almost four decades. I'm also thankful that he has agreed to continue to serve our women's tennis program in a new role."
Escudero arrived at Pepperdine's old South Los Angeles campus as a freshman in the fall of 1968. He graduated in 1972 after an excellent four-year playing career with the men's tennis team. He never left Pepperdine, even as the school moved its campus to Malibu, and 45 years later he has fashioned one of the most prolific coaching careers in NCAA women's tennis history.
In the midst of his 37th season as the Waves' head coach, Escudero has a career record of 648-333 (.661). He is just one of three women's tennis coaches to reach the 600 win milestone, sharing company with Lin Loring and Jeff Wallace. Escudero has led the Waves to the NCAA postseason on 30 occasions, including each of the last 26 seasons, and reached the quarterfinals on four occasions.
Pepperdine is looking to make its 31st appearance in the NCAAs this season, and enters the upcoming West Coast Conference Tournament as the number one seed.
Escudero took over the Pepperdine women's tennis program prior to the 1977-78 season.
"My career would never have happened without Laurie Billes and Wayne Wright," explains Escudero. Billes and Wright were the women's and men's athletic directors at Pepperdine at the time.
Both the men's and women's tennis coaching jobs opened in 1977 and Escudero was on Wright's short list of candidates for the men's job. He was also being considered as the women's tennis coach.
Knowing that he was going up against experienced coaching candidates Allen Fox and Glenn Bassett for the men's job, the young Escudero wisely knocked on Billes' office door and accepted the invitation to coach the women's side.
Nearly four decades later, Escudero has cemented himself into the program annals. He has tutored 15 student-athletes to All-American status a combined 35 times. Four of his standouts have been named WCC Player of the Year with dozens and dozens more earning all-conference acclaim.
Escudero has received numerous individual accolades. He was selected as the ITA Regional Coach of the Year three times and the WCC Coach of the Year in 1999, 2000, 2006 and 2012.
The Waves, 16-4 in 2014 including a perfect 9-0 mark in the league, open the postseason on Friday, April 25 in the semifinals of the WCC Tournament.
Three of his student-athletes have gone on to enjoy success on the pro circuit, including Robin White, Ginger Helgeson, and Roberta McCallum. More recently, three-time All-American Ipek Senoglu, who competed for Pepperdine from 1998-2001, became Turkey's first women to make it to the US Open.
While it will be Escudero's final conference tournament as head coach, his time with Pepperdine is far from over, even after over 45 years.
"I am excited for my new future. Who knows, it might be another 30 years before I leave," a smiling Escudero joked.
"When I come to Pepperdine every morning, I feel like I am coming home. But I also feel home at home. I'm a lucky man. I have two homes."