The Table Weekly Worship Event Emphasizes Community and Conversation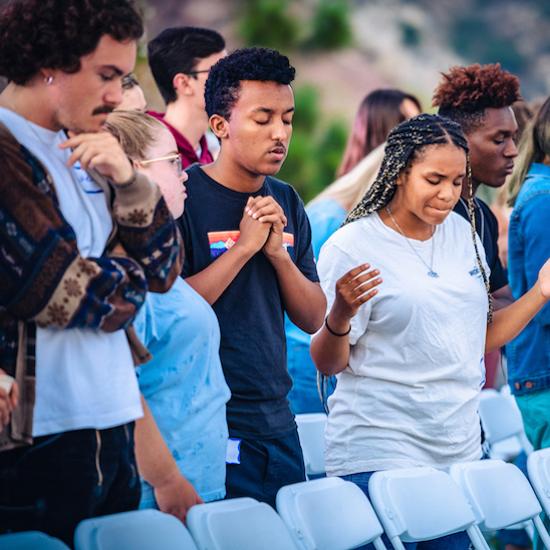 The Table is a weekly outdoor worship gathering where Pepperdine students, faculty, staff, and the larger community meet at 6 PM on Saturday evenings at the Brock House on the Malibu campus for a shared meal, songs, a scripture reading and message led by ministers from University Church of Christ Malibu, and—perhaps most importantly—meaningful conversation, connection, and fellowship with a diverse, multigenerational group of people.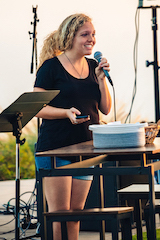 Falon Barton, campus minister.
The Brock House, the site of The Table gatherings, is the on-campus home of University President Jim Gash (JD '93) and First Lady Joline Gash ('92). "I'm happy to open up the Brock House for a time of community," says President Gash. "Not just for the Pepperdine community, but for the Malibu community as well. The Table is a place where everyone is welcome. We share a meal, a time of worship, a time of prayer, and a time of conversation. We come together in a way that values the faith that is at the center of Pepperdine's community life."
Falon Barton, the campus minister at University Church, describes The Table as holistic worship. "We worship—that is, we pay attention to and celebrate God's presence—through eating and conversing right alongside singing and praying. I really want The Table to be a space that is accessible for and hospitable to all students—those who are ambivalent toward faith, those who have been harmed by religious spaces, those who are doubting and struggling, and those for whom their spiritual journey is exciting and life-giving right now," she says. "We try really hard to make it clear that the structured part of The Table is not the only part of the worship experience. Sharing a nourishing, filling, delicious meal together over conversation is an integral part of experiencing and participating in worship."
Camdyn Munger, a University Church campus ministry student leader and a junior at Seaver College who is double-majoring in physics and engineering, came to The Table "hoping to find a weekend faith community that would grow my relationship with God as well as with the campus community," he says. "At The Table, I have found a diverse campus community willing to discuss the tougher topics of faith, life, and college experiences. One of my favorite aspects of The Table is the multi-generational community that consistently learns from each other. Having the opportunity to ask questions of people who have experience in your walk of life has been truly inspiring and transformative to my time at Pepperdine. It allows for a time of communion and presence with friends and the Lord."
The Table began after President Gash's appointment at Pepperdine in 2019 as an expansion of the previous House Church worship services on campus. Each week, participants begin arriving at 6 PM and are welcomed and led to the backyard of the Brock House, where they then sit together at open tables to eat dinner and engage in conversation. At 6:30 PM, the band, Well Collective, invites participants to worship through song. After singing and a formal welcome, either Barton or Eric Wilson, the lead minister at University Church, delivers a scripture reading and a corresponding message. At their tables, participants then join in 15 minutes of discussion about the message, guided by questions that have been prepared by that week's speaker.
These discussions are led by the Table Team, who are older adults, mostly University Church members, who highly value and prioritize ministering to college students. "I have found that I have formed a stronger bond with some of the older members of University Church that attend The Table," says Jacob Moonen, a senior at Seaver College who is majoring in history. "The Table has given me an opportunity to get to know them better and learn from their experience and wisdom. I hope that The Table has been an opportunity for others to be blessed by them in the same way I have been blessed."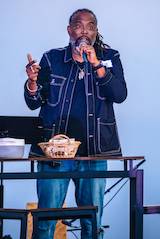 Eric Wilson, lead minister.
Each week's discussion topic is guided by the annual theme that University Church has chosen for both The Table and the church's Sunday morning Family Worship gatherings. This year's theme is "story-dwelling." The topics for the Spring 2023 semester are the stories of the wilderness, the covenant, purity, justice, community, baptism, chosenness, faithfulness, identity, and resurrection. The discussion time ends with communion at the tables, followed by more singing and a closing prayer.
Barton emphasizes that participants "will often linger for a while to hang out with people after The Table is over. Hanging out together—and eating seconds—after The Table is also an important part of the worship experience."
For Pasha Hashemi, a University Church campus ministry student leader and a junior at Seaver College majoring in public relations, finding a faith community was one of his motivations for participating in The Table. "My hope in taking this position as a campus ministry student leader was to find a community where I can pour into others and transform my faith through service," he says. "The Table has provided me with a space to find a faith community where I can decompress as a student and receive God's love through others. I have found some of my closest friends through The Table and the University Church community. Connections have become a strong component of my faith life."
"My experience at The Table has been insightful and fun. There are always people to pray for you and of course, really good food," says Tsion Gerbaba, a first-year international student at Seaver College who is majoring in international studies with a specialization in global politics. "For me, going to The Table on Saturday nights is a refreshing break from the busy week, and having discussions with different people every week about their spiritual journeys is very encouraging."
Maggie Bendle, a junior at Seaver College who is majoring in psychology with minors in sports medicine and Great Books, confirms that the conversations that take place at The Table can cover a wide range of issues that are important to students, both spiritual and secular. "The Table has been a part of my academic journey—a conversation with my biological psychology professor at The Table was a factor in changing my minor; my career journey—I've discussed summer job options with one of my Table discussion group leaders; and my spiritual journey," she says. "The Table has been a safe space for all my questions, and has modeled to me the creation of a welcoming community."
It is just that sense of community that The Table seeks to provide to students. "A faith community is a gathering of people who are committed to each other and, foremost, to the work of God in the world," says Barton. "I like to use the analogy of a thick network of support. Often, our social connections can look fragmented. Our friends, our relatives, our professors, our colleagues, may all be disjointed. A faith community—especially a community like University Church which is hyperlocal to Pepperdine—can help connect those separate spokes of the wheel, so to speak, into a web or net that is interconnected, and therefore, much stronger."
The Table meets for 10 weeks each semester; the remaining gatherings for this semester will be held every Saturday from March 11 to April 8. No registration or RSVP is required, and everyone is welcome to attend.