The Well Weekly Worship Service Engages Pepperdine Students in Meaningful Worship and Spiritual Community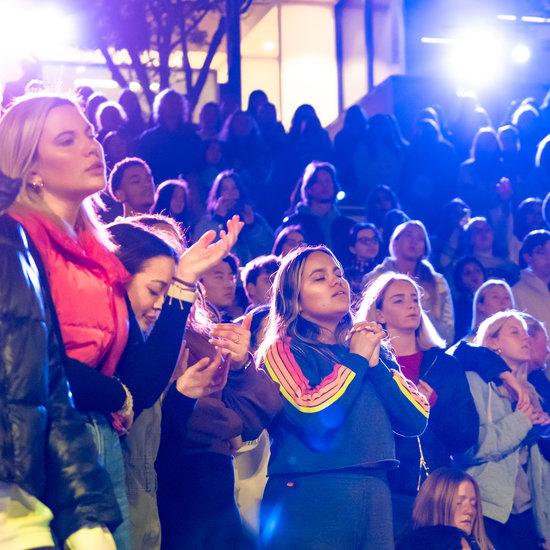 The Well, a free worship event held at the Amphitheater every Wednesday night at 8 PM, is Pepperdine's weekly opportunity for believers from all backgrounds to come together for a night of fellowship, music, and spiritual teaching. The current iteration of the Pepperdine tradition launched in fall 2021 by students seeking an evening worship service that invited all members of the Pepperdine community—faculty, staff, students, alumni, and even local residents—regardless of their faith background to connect spiritually through the power of music and fellowship.
On September 6, president Jim Gash (JD '93) presented a special message at the Well reflecting on the topic of "Shining Through Service" that provided insight into the many ways students can be of service and impact those around them.
"Your service does not have to be anything you would traditionally think of as service," he said. "In our society now, we get so little encouragement that even the smallest gesture could be impactful. There is a level of loneliness in our world, in our state, in our city, even on our campus that can be cured by you, and it takes so little to do it."
First-year Seaver College student Shalom Montgomery learned about the Well in the summer prior to attending Pepperdine. She connected with Hope Dease, assistant director of connection at the Hub for Spiritual Life, through social media and saw highlights of the event shared on her account. "It was one of the main things I was most excited about coming into the semester," says Montgomery. "I didn't quite understand the full extent of the Well until I experienced it firsthand. It's not only an opportunity to worship, but also to be engrossed in sermons presented by members of the Pepperdine community. It has had a significant impact on me and my school experience so far."
Jillian George, another Seaver College first-year, also learned about the Well through social media and was instantly drawn to the opportunity to connect with students of similar faith and values and to find a like-minded community. "It was important to me to find people I could connect with on a spiritual level because it was something that I was missing while attending public school growing up," she says. "I went to a church outside of my city, and it was difficult finding Christian friends at school. The Well has become the highlight of my week, and the people there have made me want to get more involved and grow deeper in my faith."
Seasoned in her spiritual and educational journey at Pepperdine, Seaver College senior Julie Tingleff didn't know what to expect when she first discovered the Well one evening early in its programming, but it has now become an integral part of her weekly ritual. "I originally went into the Well hoping for a chance to unwind and worship for an hour near the end of the week, but I ultimately found an amazing community of friends while getting to experience the kingdom of Heaven on earth and worship with total abandon," says Tingleff. "I still attend with all my friends, and I haven't been able to tear myself away from the love that fills the Amphitheater."
Seaver College senior Rachel Anderson describes the Well as a weekly recharge from the pressures of school and an opportunity for her to renew connections within a supportive community. "The Well has been a midweek breath of fresh air for me for the last three years," she says. "It gives me a chance to sit with people who I care for and in turn provides me with a community of people that cares for me. The weekly event has also allowed me to put aside the stress of schoolwork and focus on myself and my spiritual well-being. I look forward to it every Wednesday."
All members of the Pepperdine community are invited to attend the Well every Wednesday at 8 PM at the Amphitheater on the Malibu campus. For more information, visit the Hub for Spiritual Life website.