The Triplets of Belleville Cine-Concert to Come to Malibu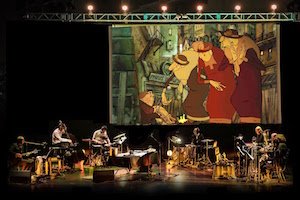 The Triplets of Belleville Cine-Concert will bring the much beloved French feature The Triplets of Belleville to life at Pepperdine University's Smothers Theatre on Tuesday, April 17, at 8 PM. Internationally recognized composer-conductor Benoît Charest will conduct the performance.
In 2003 the animated French feature The Triplets of Belleville swept the globe, raking up dozens of awards and nominations—not to mention the hearts of countless admirers—along the way. Much of it came down to the Oscar-nominated score by Charest, which transports audiences to the exciting streets of 1920s Paris and Le Jazz Hot. Charest will conduct alongside the 8-piece band Le Terrible Orchestre de Belleville, and recreate the original score live as the film itself is beamed onto the big screen.
The Triplets of Bellevillefollows a Tour de France cyclist named Champion who is kidnapped by a mysterious, square-shouldered henchman, and spirited across the ocean to the teeming metropolis of Belleville. Champion's near-sighted grandmother and faithful dog follow his trail and are taken in by a trio of eccentric jazz-era divas. The motley sleuths follow the clues to an underground speakeasy, where they entertain the crowd.
Charest is an Oscar-nominated composer from Montréal, Québec. He has written over 20 film scores, and is mostly known for his 2003 Triplets of Belleville score. Besides being a versatile composer, Charest is an accomplished jazz guitarist and performs regularly with some of Montréal's finest musicians.
Like many teenagers of his time, Charest picked up the guitar at age 13 learning Beatles and Led Zeppelin tunes. He then took private guitar lessons and went on to further his musical studies at McGill and Montréal universities. He honed his trade touring as a sideman with various bands in Québec and abroad. Charest wrote his first score in 1992 for a National Film Board of Canada (NFB) documentary. He is presently involved in writing music for his jazz organ trio and touring with the Le Terrible Orchestre de Belleville.
Ticket prices range between $10 and $40. For additional information about this performance, and to purchase tickets, visit the Center for the Arts website.