Ukulele Sensation Jake Shimabukuro Returns to Smothers Theatre at Pepperdine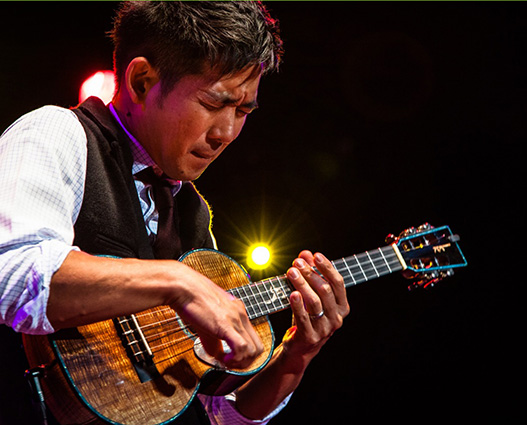 Ukulele sensation Jake Shimabukuro returns to Pepperdine University's Smothers Theatre for another astounding performance at 8 PM on Thursday, Oct. 29.
In his young career, ukulele wizard Jake Shimabukuro has already redefined a heretofore under-the-radar instrument, been declared a musical "hero" by Rolling Stone, won accolades from the disparate likes of Eddie Vedder, Perez Hilton and Dr. Sanjay Gupta, wowed audiences on TV (Jimmy Kimmel, Conan), earned comparisons to Jimi Hendrix and Miles Davis, and even played in front of the Queen of England.
In his hands, the traditional Hawaiian instrument of four strings and two octaves is stretched and molded into a complex and bold new musical force. His work mixes jazz, rock, classical, traditional Hawaiian, and folk, creating a sound that is both technically masterful and emotionally powerful...and utterly unique in the music world.
The New York Times recently noted his "buoyant musicianship" and "brisk proficiency," adding, "the innovation in his style stems from an embrace of restrictions: the ukulele has only four strings and a limited range. He compensates with an adaptable combination of rhythmic strumming, classical-style finger-picking, and fretboard tapping."
While his well-received solo releases positioned Jake as an established musician in Hawaii and Japan, his career skyrocketed when a cover of "While My Guitar Gently Weeps" went viral on YouTube with more than 13 million views, opening the rest of the world's eyes to Jake and his unique playing style. In the years since the YouTube clip aired, Jake has collaborated with an array of artists that include Yo-Yo Ma, Jimmy Buffett, Bette Midler, Cyndi Lauper, Jack Johnson, Ziggy Marley, Dave Koz, Michael McDonald, Bela Fleck and The Flecktones, Tommy Emmanuel, and Lyle Lovett, as well as orchestras around the world. He's sold out world-class venues, played at Bonnaroo, SXSW, the Playboy Jazz Festival, Fuji Rock Festival, the influential TED conference, and even performed for Queen Elizabeth II at the Royal Variety Performance in Blackpool, England.
Recently, his life and career were explored in the documentary Jake Shimbukuro: Life on Four Strings, revealing the cultural and personal influences that have shaped the man and the musician. Directed by acclaimed filmmaker Tadashi Nakamura, the film premiered on PBS in Spring 2013 and is currently available on Netflix.
Jake will be previewing selections from Travels, his forthcoming studio album, on his global tour. Set for release October 9, Travels casts the spotlight on Jake's diverse artistry, from lilting self-penned compositions, to modern interpretations of beloved Hawaiian standards. As a special treat, the disc also includes a memorable pair of pop nuggets from the 70s: a sweet rendition of "I'll Be There" by the Jackson 5, and a witty, Hawaii-meets-East LA, take on "Low Rider" by War (the latter featuring rare vocals by Jake).
A limited number of tickets priced starting at $25 for the public and $10 for full-time Pepperdine students, are available now by calling (310) 506-4522 or visiting the Center for the Arts website.