Updated Pepperdine Mobile App Provides Focused Resources for Entire University Community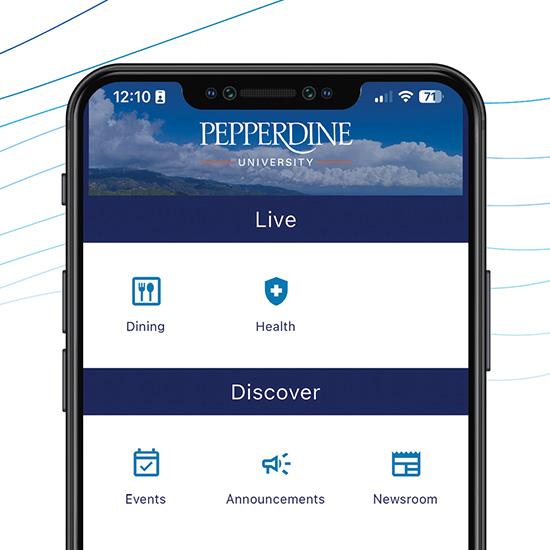 The updated Pepperdine University mobile app, a year-and-a-half long strategic initiative that re-envisions the University's existing unified mobile app experience, has launched in conjunction with the start of the 2023–2024 academic year. Developed by the University's Integrated Marketing Communications department in collaboration with Pepperdine's Information Technology and Transit Services departments, the new and improved mobile app will transform how students, faculty, staff, and alumni communicate and engage with the University's academic and experiential resources with a goal of fostering a seamless, holistic, and efficient user journey.
"The new Pepperdine mobile app provides a clean and intuitive user experience all while sharing the most relevant and timely information to the Pepperdine community," says James Speight (MBA '21), associate director of development in Pepperdine's Integrated Marketing Communications department. "The mobile app provides essential information and content to users, helping to ensure an enriching and positive University experience."
In response to advancing technologies and harnessing an opportunity to modernize the current application, the app's key updated features include a new, modern look; an intuitive user interface and quality end-user experience consistent with University branding initiatives; and improved app speed, reliability, and responsiveness. Users will have access to real-time shuttle tracking, GPS and route locations and arrival and departure information for the Malibu campus. An updated interactive map includes hours, menus, and directions for all dining and building locations. Additionally, the mobile app provides focused content for students, faculty, staff, and alumni such as announcements about upcoming on-campus activities, as well as athletic events and theatre productions. Users can find urgent communications about weather conditions and traffic incidents and obtain course information for the academic term. The app also includes access to the University Newsroom, Community Announcements, and Pepperdine Magazine, the University's flagship alumni publication.
Available for free download on the App Store (Apple users) and Google Play (Android users), the Pepperdine mobile app provides both essential and exciting resources for the entire University community that will enhance users' experiences on and off campus. Learn more on the Pepperdine University Mobile App website.