Veteran News Correspondent Brit Hume to Speak at School of Public Policy Commencement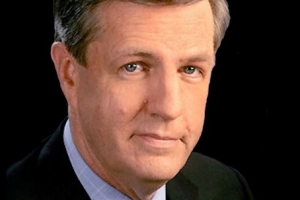 Pepperdine University is pleased to announce that veteran news correspondent and political commentator Brit Hume will deliver the commencement address at the School of Public Policy graduation at 10:30 a.m. on Friday, April 17. The University will bestow an honorary Doctor of Laws degree on Hume during the ceremony. Hume will discuss his own experiences and provide career advancement advice.
"We are thrilled to have someone of Brit Hume's reputation, professionalism, and distinguished career track, share his wisdom and life experience with our graduating students," said James Wilburn, dean of the School of Public Policy.
Hume's journalism career has spanned more than 35 years, including print and television. He currently serves as senior political analyst for FOX News Channel, contributing to all major political coverage. He is a regular panelist on Fox News Sunday, the network's weekly public affairs program.
Hume joined Fox News in 1996, serving as anchor of Special Report, leading the weeknight news show to becoming the highest rated political program on television. As managing editor of the network's Washington bureau, Hume oversaw content for all news coming out of the capital. Hume was a panelist at both the 2012 Democratic and Republican National Conventions, and anchored all network coverage for every presidential election from 1996 to 2008. Hume stepped down as anchor of Special Report in December 2008 after more than 10 years at the helm of the program. Under his leadership, Special Report was the highest rated political program on cable television.
Prior to Fox, Hume spent 23 years at ABC News, in several roles. He was the chief White House correspondent from 1989 through 1996, and contributed to World News TonightWith Peter Jennings, Nightline and This Week as well as various specials for the news division. Hume joined ABC in 1973 as a consultant for the network's documentary division and was named a Washington correspondent in 1976. He was later promoted to Capitol Hill correspondent and reported on Congress until 1988.
A graduate of the University of Virginia, Hume's career began as a newspaper reporter for The Hartford Times and for the Baltimore Evening Sun. He also worked as a reporter for United Press International wire service. The author of two non-fiction books, "Inside Story" and "Death and the Mines."
He has been recognized for his work with many honors and awards including the 2003 Sol Taishoff Award for Excellence in Broadcast Journalism from the National Press Foundation; a 1991 Emmy Award for his coverage of the Gulf War; and "The Best in the Business" by the American Journalism Review for his extensive news coverage of the White House.