Violinist Benjamin Baker to Lead Final Performance of Lisa Smith Wengler Center for the Arts Recital Series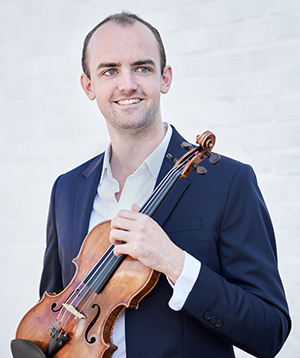 On Sunday, April 3, 2022, at 2 PM, violinist Benjamin Baker will lead the final performance of the Lisa Smith Wengler Center for the Arts 2021–2022 Recital Series alongside pianist Daniel Lebhardt. The performance will be in Raitt Recital Hall on Pepperdine's Malibu campus.
Described by the New York Times as bringing "virtuosity, refinement and youthful exuberance" to his debut at Merkin Concert Hall, Baker is sought after as a soloist and chamber musician. He has toured widely in the US, Colombia, China, and Argentina. Baker's program includes Reena Esmail's Darshan, Claude Debussy's Sonata for Violin and Piano in G Minor, Lili Boulanger's D'un matin de printemps, Augusta Read Thomas' Pulsar, Boulanger's NocturneandCortège, and Edwar Elgar's Violin Sonata in E Minor, Opus 82.
To learn more and to purchase tickets, visit the Center for the Arts website.