Violinist Jenny Scheinman to Perform at Lisa Smith Wengler Center for the Arts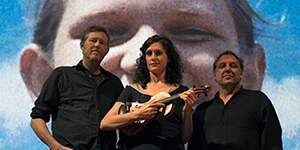 On Friday, June 3, 2022, at 8 PM, in Smothers Theatre on the Pepperdine Malibu campus acclaimed composer and violinist Jenny Scheinman will help audiences experience the sights and sounds of the Great Depression in the multimedia performance Kannapolis: A Moving Portrait.
As a jazz violinist, Scheinman has produced a number of albums and has performed alongside Norah Jones, Lou Reed, Aretha Franklin, and more. This live event will feature her live soundtrack for filmmaker H. Lee Waters' documentary of more than 118 small towns in the southeastern United States between 1936 and 1942. The original performance brings Waters' footage to life in a melding of music and film.
To learn more about the performance and purchase tickets, visit the Lisa Smith Wengler Center for the Arts website.