Vocal Quarter The Four Freshmen to Perform at Pepperdine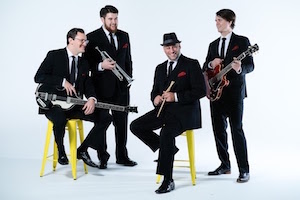 Harmonic jazz ensemble The Four Freshmen will bring their time-honored big band sound to Pepperdine University's Smothers Theatre on Sunday, January 28, at 2 PM.
Known for their trademark smooth vocals built on the barbershop tradition, The Four Freshmen have enamored listeners worldwide for years, while gaining recognition as one of the most influential vocal groups of all time. Their tight-knit sound has inspired The Beach Boys' Brian Wilson, The Mamas & The Papas, Frankie Valli, Take Six, and the Manhattan Transfer. Since their inception in 1948 at Butler University, the Four Freshmen have toured continually across the globe; they have recorded over 45 albums, released 70 top selling singles, and received six Grammy nominations.
Current members of the Four Freshmen include Bob Ferreira on drums, Curtis Calderon on trumpet, Stein Malvey on guitar, and lead vocalist Tommy Boynton on bass. The new group not only preserves the Freshmen sound, they enhance it with their youth, vitality, and talent, giving a new treatment to continue the legacy of the Great American Songbook.
In concert they perform seminal Freshmen classics "Day by Day" and "Blue World," as well as sharing some of their favorites with new arrangement that include the irresistible force of "Something's Gotta Give," the melodious "Skylark," "Early Autumn," "September Song," and "My One and Only Love." Each member is an accomplished vocalist and musician bringing new influences and perspective to a time-honored musical heritage.
Ticket prices range between $10 and $45. For additional information about the performance, and to purchase tickets, visit the Center for the Arts website.