Warhol Exhibit on Display at Weisman Museum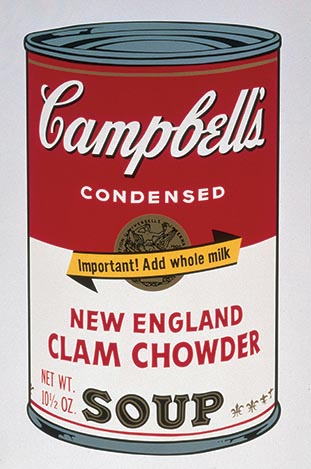 The Frederick R. Weisman Museum of Art at Pepperdine University will present Andy Warhol Portfolios: Life & Legends from January 16 to April 3, 2016. There will be an opening reception on Saturday, January 16, from 5 to 7 PM. This exhibition is provided by Bank of America's Art in our Communities program.
Andy Warhol: Life & Legends looks at the famous Pop artist by exploring the humanistic side of his work. This exhibition explores his interest in Life—the grand drama of human existence—and in Legends—those people and things that have become famous icons in our culture.
As a founding member of the 1960s Pop Art movement, Warhol revolutionized contemporary culture by exploring connections between advertising, celebrity, and fine art. This exhibition features over 80 works from his silkscreen portfolios. It includes some of his best-known images, including his Campbell Soup Cans, Flowers, and Marilyn Monroe, as well as other series inspired by his obsession with famous people and popular culture—such as Muhammad Ali, the Wicked Witch, and Uncle Sam. Together these works offer a portrait of one of the nation's most fascinating and enigmatic artists—as well as a revealing mirror of postwar American society.
This exhibition explores Warhol's decades-long involvement with the silkscreen process. From 1962 until his death all of his art was based on silkscreens. Before Warhol, this technique was used largely as a cheap method of commercial printing. His genius was to take this commonplace technique and turn it into a sophisticated art form. Silkscreens allowed him to reproduce photographic images. If he printed on canvas he called the result a painting. If he printed on paper he called the result a print. The images are exactly the same. Warhol liked multiple images and the "sameness" of silkscreen because it reflected America's deep democratic values.
Warhol released his prints in sets on a particular theme called portfolios. In addition to the iconic Campbell Soup Cans, Flowers, and Marilyn Monroe, other portfolios in Life & Legends address social themes such as Myths, Birmingham Race Riots, Muhammad Ali, and Ten Portraits of Jews of the Twentieth Century, and the beauty and fragility of our natural world in his Sunsets, Grapes, Space Fruit, Vesuvius, and Endangered Species. Although the artist adopted a deadpan posture of emotional distance, often declaring "I am a deeply superficial person," his art was based on the most profound and engaging issues of our times.
Warhol was born in 1928 in Pittsburgh to poor immigrant parents who labored in the steel mills. Sickly and lonely as a child, he developed a talent for drawing and used that skill to earn a degree in art and design at Carnegie Mellon University. Upon graduation in 1949, he moved to New York City determined to become a commercial artist. Although beset by personal insecurities, he was driven by a will to succeed and within ten years became the highest-paid illustrator in New York. Dissatisfied with the limitations of commercial art, he switched his focus to fine art and by 1960 began to do paintings based on comics. His mature Pop Art style fully emerged in 1962 when he painted his Campbell Soup Cans; they were exhibited for the first time in Los Angeles. In 1962 he also discovered silkscreens, which allowed him to base his art on photographs from popular culture. He used this technique for all his subsequent paintings. Within a few years, Warhol was celebrated by the media and public as a leader of the new Pop Art movement. His studio, nicknamed the Factory, became a center of activity for the downtown NYC art scene. In 1968 a deranged, frustrated actress shot Warhol. Although he survived the attempted assignation, the physical and psychological wounds left permanent scars. He abandoned his former lifestyle and began to focus more on the business side of art. In 1987 Warhol died from complications from gall bladder surgery at the age of 58.
For more information, visit the Center for the Arts website.