Waves to Celebrate Second Annual Pepperdine Restaurant Day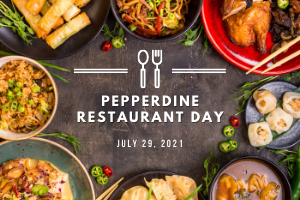 On July 29, 2021, Pepperdine Alumni Affairs will host the second annual Pepperdine Restaurant Day, an event that allows University alumni, students, and parents to celebrate and support fellow Waves working in the food and beverage industry by ordering takeout and delivery or dining in at their restaurants. Nearly 80 eateries across the United States will participate in this year's Pepperdine Restaurant Day.
"Our alumni, students, and parents in the restaurant industry have toughed it out to keep their doors open through a worldwide pandemic," says David M. Johnson ('92, MIB '94), the University's vice chancellor of engagement and mass appeal. "Our hope is that on Pepperdine Restaurant Day, we come together as a Pepperdine family to enjoy a day of food and fellowship as we support our Waves across the country."
To share their appreciation and support of this initiative, members of the Pepperdine community involved in the all-day event are encouraged to incorporate the #pepperdinerestaurantday hashtag in their social media posts.
For additional information about the event, visit the Pepperdine Restaurant Day website.