Waves Volleyball Celebrates 30th Anniversary of 1992 NCAA Championship Victory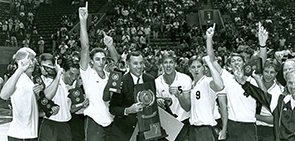 On Friday, January 21, 2022, the Pepperdine Waves men's volleyball celebrated the 30th anniversary of the program's 1992 National Collegiate Athletic Association (NCAA) Championship win. The 1992 championship was the fourth championship win out of the program's five NCAA Championship titles and the third time Pepperdine Head Coach Emeritus and Volleyball Hall of Fame inductee Marv Dunphy led the team to victory.
"That year, we were not the biggest, fastest, or strongest. The team was simply the toughest," says Dunphy. "We had some outstanding strengths that carried us through and secured that victory 30 years ago."
To commemorate the milestone anniversary of defeating the top-ranked Stanford University, Pepperdine players from throughout the years reunited before the Friday night home game against University of California, Santa Barbara. Waves alumni and Dunphy shared their experience sweeping Stanford in the three-match final with current Waves athletes.
Dunphy, who just last year served as a consultant coach for the USA Volleyball team in the Tokyo 2020 Olympics marking his eighth Olympic appearance, is a beloved member of the Pepperdine community. His coaching has developed remarkable athletes with several making their journeys to the Olympics. He has continued to be a mentor for Pepperdine athletes since his retirement in 2017.
"The best part of coaching is you get to choose the people you go through life with," says Dunphy. "I get to see how these athletes have grown and will continue to grow, and it's beyond rewarding."
To learn more about Pepperdine's athletic programs, visit the Pepperdine Waves website.