Weisman Museum Celebrates 25 Years of Acquisitions with "Process and Reality" Art Exhibition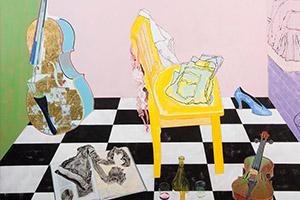 The Frederick R. Weisman Museum of Art at Pepperdine University will have on display an art exhibition entitled Process and Reality: Works from the Permanent Collection, Celebrating 25 Years of Acquisitions from May 13 through August 6.
This thought-provoking exhibition was inspired by Process and Reality, a landmark book by the early 20th century philosopher Alfred North Whitehead. He believed that reality is not a fixed thing, but consists of complex, interlocking processes. This theme is used to chart connections between Process art—mostly abstract work where the emphasis is on simple materials and direct methods of construction—and expressive Realism—where artists draw upon their own psychological processes to shape their view of the world. Both poles—the abstract and the real—draw heavily upon human subjectivity as the ultimate organic source of these powerful creative trends.
The works on view includes major figures in contemporary art and will reveal many surprises to regular gallery-goers. Highlights include early work from the 1970s by Ed Moses and Mary Corse; a rare Tony Berlant assemblage from 1964 revealing the inspiration of Ed Keinholz; an Ed Keinholz construction addressing the disparity between American affluence and Third World poverty; and a 1982 work on paper by pioneering street artist Jean-Michel Basquiat, which ranks among the artist's best drawings.
"I am incredibly proud of this exhibition," says Weisman Museum director, Michael Zakian, "because all the art was donated to Pepperdine by friends of the museum. These works include prime examples by some of the best-known artists of our time. It is deeply rewarding to see that LA collectors believe in the Weisman and I am glad to be able share this art with the community."
Process Art became an important movement in the 1970s. In that decade artists became fascinated with the simple properties of basic non-art materials, such as resin, wax, and wood. They downplayed the artist's role in consciously controlling the finished work and allowed materials to assume random and accidental forms. The resulting artworks emphasize natural textures and explore dynamic concepts of transience and change.
Key examples of pioneering Process art include early works by seminal Los Angeles artists Ed Moses and Mary Corse. Moses' Culver Track A Section I (1973-74) is an impressive large-scale, example of his Minimalist style, featuring repetitive diagonals, (inspired by Navajo blankets) rendered in paper and resin. Light and Space painter Mary Corse is represented by an early black-on-black canvas from her Glitter series from 1976 that alters our sense of light and surface.
More recent contemporary Process artists include Greg Colson, who used found sticks to create his whimsical 1993 street map of the Rust Belt city of Peoria, Illinois. Tim Hawkinson employed discs of dried white paint—taken from the top of an open can of enamel—to create his abstract 1990 "painting" of white circles.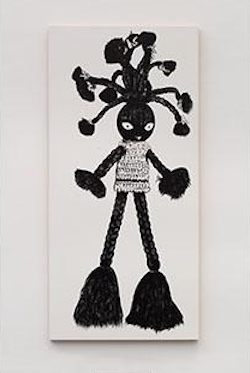 A number of artists used the process of assemblage to comment on social themes. Ed Keinholz' Carmen (1991) features a photo of impoverished Third World children displayed within the cupboard from a 1930s American home; pieces of cyclone fencing divide the Haves from the Have-Nots. Mike Kelley is represented by his Empathy Displacement: Humanoid Morphology#15 (1990). It features a large-scale, hand-painted "portrait" of a children's yarn doll which he found discarded in a thrift store. The work invites us to ask why do we encourage children to invest so much affection upon inanimate objects—and what happens to that emotional investment when they out-grow those toys.
Reality is a broader and more open-ended term that has manifested itself in recent art in varied and often diametrical ways. For the Process artists, reality resides in the physical reality of materials. These artists create abstract compositions where essential matter is left in a raw, primal state. For others, reality involves traditional realism. These "realists" use the language of representational art to probe and comment on the world around us.
Subjective Realism represented by two works by veteran Los Angeles artist Lynn Foulkes. His Greetings from Hogback Mountain (1963) is part of a series of anti-postcards that show America not as a scenic beauty, but as a barren wasteland. Another artist who exposed the emptiness of the American dream is John Register. His paintings focus on quiet, empty places, devoid of people. His view of downtown Chicago should be bustling but is vacant, creating a mood of existential loneliness.
Although it has roots in the late 19th century, Expressionism continues to inspire contemporary artists who use the physical process of handling paint as an extension of their selves. One major highlight of the exhibition is Jean-Michel Basquiat's Untitled (1982), a black and green crayon drawing that features all of the key themes of his work. Lists of African-American boxers, a Lincoln penny, and banners celebrating the name "Jackie Robinson" draw attention to the key theme in his art: what it is like for a young black man to live in a dominant white culture.
This exhibition is dedicated to the memory of Op artist Julian Stanczak (1928-2017), subject of a 50-year retrospective at the Weisman Museum of Art in 2001. Funding for this exhibition is generously provided by the Frederick R. Weisman Art Foundation. It was organized by the Frederick R. Weisman Museum of Art, where works are on view in the Gregg G. Juarez Gallery, West Gallery, and Wilson Gallery.
For additional information about this exhibit, visit the Lisa Smith Wengler Center for the Arts website.