Weisman Museum Hosts Final Thought Partners Conversation Series Events of Academic Year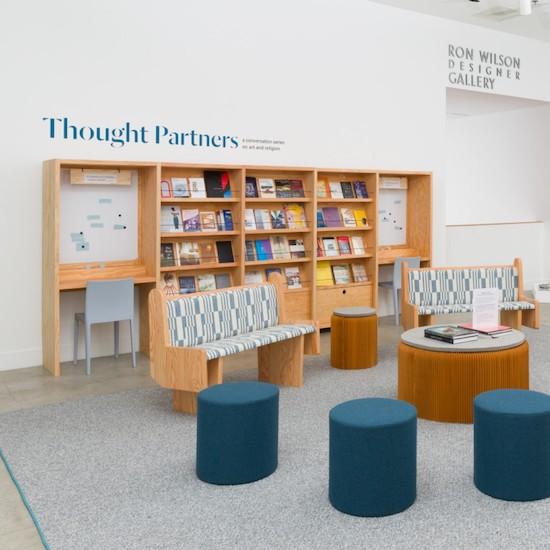 Two final discussions will close this year's Thought Partners conversation series at the Weisman Museum of Art, which invites scholars, artists, philanthropists, and curators who work at the intersection of art and religion to examine these spheres of inquiry and the impact of these conversations on a college campus.
"I'm greatly looking forward to introducing students, faculty, and staff to the important work of all three of these speakers, who are doing exciting, critical projects at the intersection of art, faith, and religion," says Andrea Gyorody, director of the Weisman Museum of Art. "Their work is deeply inspiring and the perfect note on which to end this year's series of talks, which have kicked off what will be an ongoing conversation at Pepperdine about how art and religion inform one another in our present moment."
Rounding out the final discussions will be curators Cara Megan Lewis and Jasmine McNeal on Wednesday, March 16, at 4 PM and artist and educator Shannon Sigler on Wednesday, March 22, at 4:15 PM. Additional information on the upcoming programs can be found below.
Thursday, March 16 | 4 PM
Curators Cara Megan Lewis and Jasmine McNeal on art and spirit
This discussion brings together Cara Lewis, the former director of the gallery Bridge Projects, and Jasmine McLean, who curated the Otherwise / Revival exhibition for Bridge Projects in 2021. The exhibition aimed to visualize the impact of the historic Black church—specifically the Black Pentecostal movement—on 31 contemporary artists. Lewis and McNeal's conversation will touch on the themes in Otherwise / Revival as well as the relationship between art and religion more broadly, especially as it relates to Black American communities.
Wednesday, March 22 | 4:15 PM
Artist and educator Shannon Sigler on Christianity in the studio
Shannon Sigler, executive director of the Brehm Center for Worship, Theology, and the Arts at Fuller Theological Seminary, closes out the museum's Thought Partners series with a rich discussion about what it means to identify as a Christian artist working today. Sigler will speak from her perspective as a Christian artist and educator to address the vocation of the artist and the church as spiritual support and community for artists.
All programs are free and open to the public; no advance reservations are required. Conversations will be held on the second floor of the Weisman Museum unless otherwise noted. For more information, visit the Weisman Museum website.