Undergraduate Student Employee of the Year 2020
Congratulations to Gabriel Garcia
Gabriel Garcia was named Pepperdine Student Employee of the Year 2020
as well as the California State Student Employee of the Year!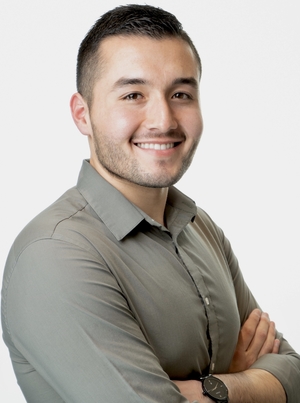 Department: Student Health Center
Supervisor: Andrea Kollerbohm
Gabe Garcia is a graduating senior at Pepperdine University's Seaver College, studying Business Administration. During his sophomore year, Gabe participated in the University's Washington, D.C., and London, United Kingdom International Programs. As a junior, Gabe continued his schooling at Pepperdine's main campus in Malibu, CA, and served as president of the University's professional business fraternity, Delta Sigma Pi. Gabe was hired to serve as a Resident Advisor for his senior year. In addition to this job, he serves as the assistant to the director of the University's Student Health Center. In this position, Gabe creates reports for departmental or operational analyses, supports the director with special projects, oversees the health center's social media accounts and website, and develops multimedia marketing materials. "I look forward to going to work every day because, in a field that is everchanging and fast-paced, health care challenges me to use critical thinking skills, problem-solve, and effectively communicate," said Gabe. "Our health center team is dedicated to working collaboratively and efficiently, making the SHC a great place to serve." Gabe is a driven individual who is determined to create positive change. Next, he will further his academic studies by pursuing a Master of Health Administration at the USC Sol Price School of Public Policy.
"Our student employee has laser-focused ownership of his tasks. He walks in the doors with goals in mind and is driven to see them to completion. He works hard to prioritize tasks and sees projects through to their end. He's aware of timelines and can set other tasks aside without forgetting to return to them. With the recent novel coronavirus, he helped create information sheets and draft alerts that had very short turn around times, playing an essential role in supporting the health center staff, especially the medical and administrative directors. All this messaging maintained excellent standards and once completed, he picked up with other projects right where he had left off.

One of those high-level projects that he has worked hard to keep on target to completion is the overall update of our website. He has been persistent in seeking the resources needed to keep the momentum of this project steadily moving forward by breaking it down into smaller assignments and setting dates for completion. This ability to meet immediate unexpected needs, which is common in a clinic environment, but retain a big picture and continue to prioritize high-level projects has allowed us to make significant progress updating our website's structure, messaging, and relevance to our students.

What I have found consistently true over the year is that the student has the character and maturity to effectively find points to discuss, to engage meaningfully in back and forth exchanges, and to ultimately produce a better end product as a result of including all relevant parties in the discussion. He does not shy from expressing his view and thoughtfully considers the input of others. He understands that teamwork and collaboration often produce a better end product than the individual can create alone."
~ Andrea Kollerbohm, Supervisor