Waves of Flags
Each September, Pepperdine stages the Waves of Flags display honoring the lives lost in the terrorist attacks of September 11, 2001, with nearly 3,000 flags in Alumni Park along Pacific Coast Highway and Malibu Canyon Road—one for each innocent victim, including a national flag for each foreign country that lost a citizen in the attack.
---
9/11 Remembrance Ceremony 2023
Keynote Speaker | Actor and Producer Chris Pratt
Alumni Park | Monday, September 11, 2023 | 9 - 10 AM (PDT)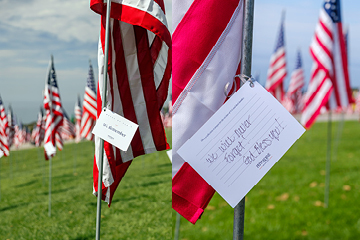 This year, the University welcomed a distinguished honoree and speaker, actor and producer Chris Pratt, who shared his remarks on the historic occasion. The ceremony also featured remarks from president Jim Gash and director of Student Veteran Affairs Eric Leshinsky.
Attendees were invited to walk through the Waves of Flags display to pay tribute to the lives lost and write notes of prayer and reflection to attach to the flags. 
Watch the Ceremony Highlights
---
Volunteer in 2024

Join fellow faculty and staff, alumni, students, parents, and community members in the beloved Pepperdine tradition of raising and lowering the annual Waves of Flags display.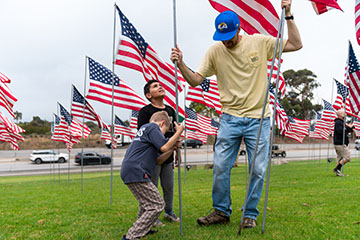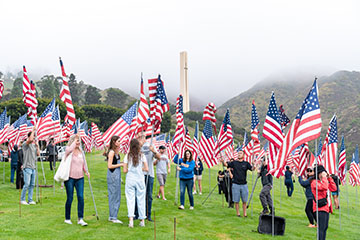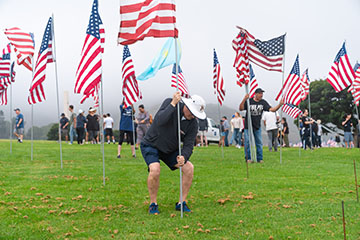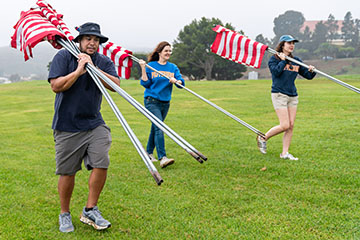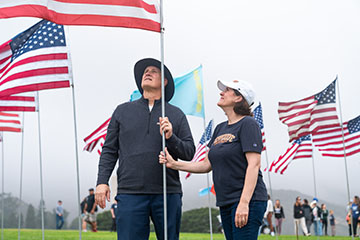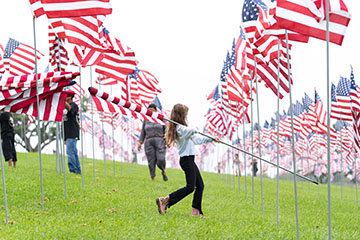 ---
A Pepperdine Tradition

Started by students in 2008, Waves of Flags has become a Pepperdine tradition, one that attracts attention and admiration from across the country. It has come to transcend the commemoration of a single tragic day. The display educates both students and people far beyond our campus about the history of our country and the overwhelming sacrifices that heroic men and women have made to keep it safe, prosperous, and free.
Stay Connected
Join our mailing list to learn about upcoming opportunities.
Share Your Story
Submit messages of hope, remembrance, and reflection.
---
Experience Waves of Flags
---
Tributes

Reflections shared by members and friends of the Pepperdine community
"Every year, as we take in the somber scene of endless flags, each representing a precious life taken away, we are reminded of the poignant and sobering reality of the magnitude of loss experienced by countless members of the victims' communities. How blessed we are to honor them all and to bring our Pepperdine community together in quiet remembrance and enduring gratitude for their great sacrifice."
–
Jim Gash
President and CEO
Pepperdine University
"9/11 is a day we remember unimaginable tragedy, but also uncommon valor, service, courage, and the unbreakable bond we Americans share. It can sometimes be taken for granted, but it's always there, when it matters most. We will never forget the patriots whose selfless acts helped prevent further loss of life that day and also salute those in the days and years that followed who continued to serve and protect our great nation."
–
Eric Leshinsky
Director, Student Veteran Affairs
Pepperdine University
---
Waves of Flags Endowment Fund
Legacy Benefactors
Misty and Michael Hammer
The Armand Hammer Foundation
Premier Patrons
Julie and James Cardwell
Marlyn ('90, JD '94) and Robert Day
W.M. Keck Foundation
Chloe H. Ross ('62)
First Responders Circle
Paula and Edwin Biggers
Pat Boone
Brenden Mann Foundation
Joanne and Clark ('77) Cowan
Farima and Joseph Czyzyk
Elizabeth and Hank Frazee
Chris Garcia ('11) and Kat Kloss Garcia ('17)
Blanche and Peter J. Johnson, Jr., and family
Janice and Jim (JD '78) Lacy
Loretta ('78) and John ('79) Monroe
Kathy (MBA '92) and Greg ('84) Outcalt
Ellen Mercier (MPP '11) and Joseph Schirripa
Debra and David Ulrich
University Credit Union
Carol and Robert Wallace
Ellen and Doug Weitman
Supporters and Friends

Patti and Robert Adair
Shaza and Marc Andersen
Veronica and Marco ('01, MBA '04) Anzo
Val Aslanyan (MPP '02)
Julie and David Bacino and family
Kevin Barkhordar ('20)
Kim (MS '21) and Bruce (MS '17) Barkis
Sharifa I. Batts (MBA '18, DBA '21)
Brittany Berman (MA '16)
Heidi A. Bernard ('85)
Jacqueline and Ronald ('62, MBA '67) Berryman
Leslie E. Beske (MBA '03)
Karen and Michael Birkholm
Christine Q. Bishop
Nancy and Daniel Bishop
Anna Boerwinkle ('18)
Ivan G. Bolden (MA '77)
Susan and John ('80) Bossler
Barbara A. Bridgewater (MBA '02)
Kathy Bristow ('88)
Crystal ('04) and John Brockman
Amy Brown ('91)Rita and Dale ('64) Brown
Linda (JD '99) and Jason Burrows
Jeffrey Cash (JD '97)
Monica L. Chang ('11)
Ann Ching (MBA '18)
Kathy ('76) and John Cominski
Sherry and Frank (MBA '78, EdD '04) Cornell
Lauren ('97, MBA '12) and Marco (JD '93, '13) Cosentino
Mike Costache ('99)
Chris and Tom Cutler
Dhanya and Anil (MBA '08) Divakaran
Don Doty ('92)
Robin Doty
Maura Durkin ('15)
Christine ('88) and Denis Edwards
David El Fattal (MBA '87) and family
Terry English ('68, MA '70)
Meghan Erickson (MBA '12)
Andrew P. Fox (MDR '01)
Claire and Kerry Gallacher
Joline ('92) and Jim (JD '93) Gash
Ana and Daniel (JD '96, MBA '96) Gavin
Ashley K. Gebicke (JD '19)
Jeannie and Thomas Gentile
Agnes and Rick (MBA '09) Gibson
Nancy and James Golden
Anabel Gonzalez ('11)
Haines Gridley III (MA '76)
JH Alexis Guo (MS '20)
Bailey Hammer ('20)
Sara ('74) and Sam ('75, EdD '84) Jackson
Jessica Johnson (JD '13)
Kate ('10, '11) and Charles Kalyn
Kim and Eric Kaufman
Janet Kerr ('75, JD '78)
Lynda ('79) and John Kurzeka
Chloe Cheung Lauffenburger ('15)
Lindsay Sullivan Lawrence ('04, JD '07)
Vien Le
Emily ('67, MA '74) and Steve ('66, MA '70) Lemley
Andrea Lemons
Kimberly and Eric Leshinsky
Robert Lesko (JD '93)
Keri and Denny ('65) Lewis
Maureen Duffy-Lewis and Ron Lewis
Monica Loeffler ('87)
Erika Lillard Luna ('20, MBA '20)
Malibu Navy League
James A. Marr (MBA '20)
Gregory R. McClintock
Lynn Luthy McGinn ('00)
Tami and Rob McKelvy
Dylan E. Miller ('09, MA '15)
Yolanda and Bruce ('73, MA '76, JD '88) Monroe
Tori Morandi ('94)
Monica and Michael Murphy
Diane and Paul Netzel
Linda Newlin ('87)
Maria ('17) and Alex Nieto
Shelly Ochoa ('10)
Marilyn O'Grady ('12)
Greyson R. Orellana ('18)
Paul A. Pacun (MBA '88)
Cynthia Lee Parmenter (EdD '12)
Nathan Patterson (MBA '18)
Ronald F. Phillips
Jonathan E. Poe (JD '01)
Noel Poole (MBA '92)
Reagan B. Poteet ('20)
Claudia Arnold Preston
Tronda and Michael Quin and family
Adriana and Peter Rasic
Ken Rice ('57)
Miyuki and Jay (MBA '94) Richardson
Patricia P. Robertson ('99)
Jeffrey Rohde ('10)
Jennifer C. Rubin (MBA '09)
Amit Sagar
Anne and Gary Salenger
Krystol Sanders (MLS '20)
Slade B. Sanderson ('18)
Jon Schwartz ('01)
Charlie Shields ('86)
Analiese Smith ('16)
Rosa Mercado Spivey and Reuben Spivey
Melody and Paul St. John
Matthew R. Stidham (JD '17)
Kate A. Stubbe ('02)
Megan Sullivan (MA '16)
Mary Tabata (MBA '13) and Michael Neils
Alexandria Ulrich ('20)
Candice E. Vaughn ('95, MA '97)
Leilah and Nicholas (JD '12) Walls
Brigitte B. West-Miller ('90)
Tina Paschke Whitlock ('97)
Judeanne and Donald (MBA '85) Wiley
Armando Yee, Jr. ('12)
Lucy Zahran
Pamella and Johnny Zamrzla
---
Contact Us
University Events
Pepperdine University
24255 Pacific Coast Highway
Malibu, CA 90263