Religion, Nationalism, and Coauthors Joel S. Fetzer and J. Christopher Soper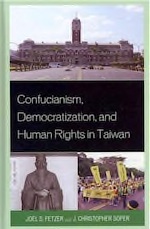 In their new book Confucianism, Democratization, and Human Rights in Taiwan, Seaver College political science professors Joel S. Fetzer and J. Christopher Soper debate the compatibility of Confucianism and liberal democracy, in addition to addressing the larger relationship between religion and nationalism. Pepperdine Research discussed Fetzer and Soper's motivations and inspirations for their continued collaboration.

PR: What inspired or motivated you to write this book together?
Chris Soper: Both together and in separate projects, Joel and I have been interested in the role of religion in political development. While all of our previous work had been done on that question in the United States and Western Europe, we were interested to explore how those questions would play themselves out in a non-Western context.
Taiwan was an ideal fit for various reasons. It has recently democratized, it has a fascinating history, and no one had really tested the question of the role of political Confucianism in that process. Finally, Joel married a native Taiwanese, so he was looking for a good excuse to study Mandarin and learn more of the political background of his new family.
PR: In the book, you argue that Confucianism now behaves more similarly to Catholicism in terms of its full acceptance and support in Taiwan. How do you see this impacting democracy in countries like China and Singapore, which have yet to make a complete transition to democracy?
Fetzer/Soper: What we suggest is that Confucianism is analogous to Catholicism in the way in which each tradition has remained true to core ideas for centuries, but each has also adapted itself over time to new social and political developments in the wider world. So, as an example, there was a time when Roman Catholicism resisted political liberalism, religious freedom, political democracy, and religious pluralism. However, the Church has now come to embrace each of those ideas in powerful ways.
Similarly, for much of its history Confucianism has been used by political leaders to support autocratic regimes. However, Confucianism is open to alternative interpretations, supports new ways of understanding ancient ideas, and can be faithfully interpreted in a more pro-democratic direction. This is what we see developing in Taiwan. The consequence of such a move is vitally important for other countries in the region for several reasons. First, the Taiwanese experience can serve as a model for understanding the Confucian tradition in a different way. Two, it provides ammunition to resist arguments that Confucianism only, or inevitably, leads to political authoritarianism.
PR: This is not the first time you have worked together on a book. In 2005, you also co-wrote Muslims and the State in Britain, France, and Germany. Could you discuss the research and writing process involved in this kind of collaboration?
Soper: We have a somewhat cohesive division of labor at this point. Joel takes the lead on the quantitative analysis, in reading primary works, and in conducting interviews in the local languages, and I works more on the theoretical arguments that drive the projects. In terms of the actual writing of the text, we try to divide those responsibilities—something relatively easy to do in our previous book since the chapters were by country, and we have different levels of background for the various countries. We also spend a good deal of time together in our respective offices discussing arguments, debating alternative ways to move forward, and thinking about alternative ways to present our claims. It helps that we enjoy being together.
Fetzer: Chris is more of a "big picture" person and produces drafts quickly; I am more of a fine-detail individual and often make the final edits to the text. Our friendship goes way back to the early 1990s, when we were both graduate students at Yale together, and Chris even served as groomsman in my wedding 11 years ago.
PR: How has your own religion impacted your decision to focus on the political influences of Islam in the first book and that of Confucianism now?
Soper: The fact that we are both religious did not drive the conclusions we reached so much as it affected our understanding of the questions to be asked. At a minimum, the fact that we are religious gave us a sensitivity to the importance of religion in the lives of the people and groups that we were studying. When we worked on the Muslim book there were, believe it or not, very few people studying Islam in Western Europe. Those who did tended to think that Islam would follow the trajectory of Christian traditions and gradually disappear in Europe. Those works tended to look at the material interest of Muslim immigrants (issues around employment, education, social class) as driving their political mobilization. While we did not deny the importance of those issues, we also believed that their religious demands were politically significant as well and were not adequately being analyzed. So, it was important to consider how and why states recognized those religious needs. Absent our own religious convictions, it might not have occurred to us to take seriously the idea that religious convictions could drive political mobilization as much as social class concerns. Our interest in Confucianism was similarly driven by the conviction that political change in Taiwan needed to consider what role, if any, Confucianism played in that project.
Fetzer: In our first book, we felt that practicing Christians and Muslims were in some way in the same boat politically in a secular Europe in which religious practice of any kind is increasingly viewed with suspicion if not scorn. In our latest study, we wanted to see to what extent the dominant metaphysical system in the region could be harnessed to effect positive political change.
PR: What kind of research and scholarship are you currently working on?
Soper: We are working on a long-term project on religion and nationalism. The question we hope to answer is a monumental one: what explains the relationship between religion and nationalism? In what circumstances are religious people more or less nationalistic?
Fetzer: So far, our investigation suggests that the fusion of religious devotion and nationalistic fervor seems especially likely in predominantly Christian countries. In many Muslim societies, on the other hand, the link is more tenuous. We're still trying to tease out the causes of this difference but hypothesize that European colonialism in the Middle East and Africa played a role. I am also mid-way through the research for a new book looking at the socio-economic effects of massive waves of immigration on the cities of Miami (Mariel Boatlift in 1980), Marseille (refugees from Algeria in 1962), and Dublin (Poles entering in 2004 after Ireland opened its borders to the new EU states).
---
Together, Fetzer and Soper co-authored both "Muslims and the State in Britain, France, and Germany" (Cambridge University Press) and "Confucianism, Democratization, and Human Rights in Taiwan" (Rowman & Littlefield).
Joel Fetzer is Professor of Political Science at Pepperdine University and has also taught or served as visiting scholar at the Hong Kong Baptist University, University of Southern California, Central Michigan University, the University of Luxembourg, Mannheim University, Institute of Political Studies of Paris, and the University of Osnabrueck. A graduate of Cornell and Yale, he specializes in migration politics and in religion and politics. His other books include "Public Attitudes toward Immigration in the United States, France, and Germany" and "Luxembourg as and Immigration Success Story."
Chris Soper is Distinguished Professor of Political Science at Pepperdine University in Malibu, California. He received his PhD from Yale University, his Master of Divinity from Yale University Divinity School, and his BA from the University of Washington. Soper is also the coauthor of "The Challenge of Pluralism: Church and State in Five Western Democracies" (with Steve Monsma) and "Faith, Hope, and Jobs: Welfare to Work in Los Angeles" (also with Monsma).
April 2013