Freddy Vasquez Presents "The Myth About Spanish Conquest" at the National Conference on Undergraduate Research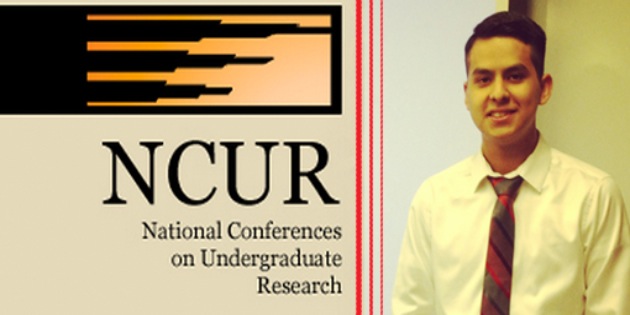 Recent Seaver graduate, Freddy Vasquez, presented his research-based poem "The Myth about the Spanish Conquest" at the National Conference on Undergraduate Research at the University of Kentucky.
PR: You recently attended and presented at the National Conference on Undergraduate Research (NCUR). How did your presentation and creative poem come about?
Freddy Vasquez: My presentation stemmed from a project in Dr. April Marshall's fall class "Imagining the Conquest." The final project for this class consisted of producing an original representation of the Spanish Conquest. This could have included writing a song, making a painting, performing a skit, or creating any form or shape representing the Conquest. I chose to write a poem challenging and questioning the greatness of the Spanish conquistadors. I used a poem by Ruben Darío called "Oda a Colón."
This inspired me to write my own version of that poem, but instead of dedicating it to Columbus, I dedicated it to Cortez (another Spanish conquistador). I maintain the same written structure of Darío's poem. Dr. Marshall encouraged the class to submit an abstract of our final project to NCUR, and fortunately they accepted my abstract to present under the Creative Writing category. I learned that the acceptance percentage for this year's conference was 15 percent, and there were people from 47 states and eight countries, so I was very glad I was accepted.
To prepare for my presentation, I had to translate all my work into English, add new information, and remove some parts as well. I also received help from Dr. Philip Thomason because he helped me in translating my poem since I am taking a translation class with him. Dr. Marshall also helped me prepare for my presentation by giving me feedback and overseeing the work I was doing. Overall, the actual presentation went well and people who were interested in the subject or in the culture of Latin America asked great questions and made helpful comments.
PR: Please tell us about your specific research proposal and creative process? What did you hope to address in your poem?
FV: My research responds against the myth that the Spanish conquistadors were outstanding and superior men. I respond to this myth by writing a poem. The poem challenges the myth of superiority and the notion that the Spanish were exceptional men.
My sources of information for this research is grounded in researching other types of poems about conquest. I studied different mediums and representations and tried to mimic a form or structure of literature. I also saw various forms of art that express the conquest and tried to make a representation of any work on the conquest, perhaps interpreting it differently.
Overall, this research is significant because it tries to offer a different perspective about how Spanish conquest in Latin America was perceived. I also attempt to enhance personal creativity using poetic strategies to make a claim against common myths about the Spanish Conquest.
Sources include:
• Oda a Colón / Oda a Roosevelt – Rubén Darío
• Poetry from de Netzahualcoyotl
• The Seven Myths about the Spanish Conquest- Matthew Restall
PR: Tell us about your larger research interests in general – where do your interests lie?
FV: I graduated this semester, but if I were to research a future topic, I would like to study the positive and negative effects that U.S .foreign policy has on developing countries in Latin America. I would like to see the consequences of America's trade and commerce policies and how it affects specific Latin American countries. I am a double major in political science and Hispanic studies. I love keeping up with politics, but I also enjoy learning about other cultures, specifically Hispanic cultures, and their politics. In general, I enjoy anything that has to do with politics, history, arts, literature, and foreign cultures.
PR: How has your participation in the conference impacted you?
FV: My personal reflection from the conference is that I am glad to be able to have this wonderful opportunity to go out of the state and present information to others who share similar interests to my field of study. I am very thankful to Dr. Marshall for bringing this opportunity to my attention and for helping in my preparation for it. I thank Pepperdine for funding my travel expenses and I hope that Pepperdine continues to promote this opportunity for more students to take advantage of this program.
Please click here to read Vasquez's poem "The Myth About Spanish Conquest" in English and Spanish.
May 2014