From the President
As I delivered my inauguration address on a bright, clear day last September, I began by looking to the mountains. Speaking to an audience of 2,000 Waves in Alumni Park, my back to the ocean behind me, I fixed my gaze to take in for a moment the majesty of the Santa Monica Mountains directly ahead. The familiar Malibu ridgelines just above campus, with their weathered chaparral, have been a faithful orienting point in my life for 30 years. As I contemplated their presence at the moment I was vested as the eighth president of Pepperdine University, they were also a profound source of inspiration.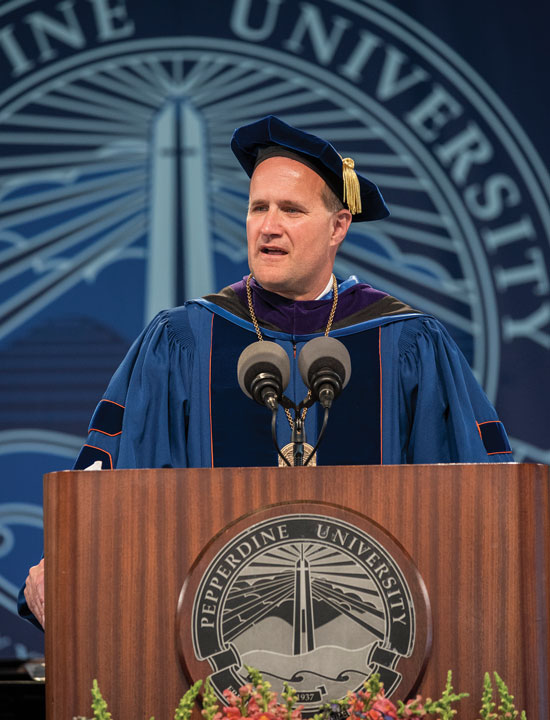 Since the University's move to Malibu in 1972, mountains have been closely associated with our identity at Pepperdine, and climbing them—both literally and figuratively—has long been our calling. In 2001, shortly after my friend and mentor Andy Benton became president, he recognized the formidable, yet rewarding challenges of the mountain, acknowledging that, despite the heights to which Pepperdine had soared, our rise was far from over. "Though we have ascended some remarkable heights in the past," he said, "we still have an arduous climb ahead of us." Now, embarking on our next journey, that upward climb—our charge to train brilliant leaders of courage, character, creativity, and uncompromising faith—remains the driver for our vision today.
And yet, as we reach higher still, the challenge is perhaps greater than it has ever been before. Students today are faced with unprecedented obstacles as they climb their own mountains, and we have a responsibility not only to provide them the tools, but also to imbue them with the strength necessary to succeed. We must forge their minds, nourish their spirits, and enrich their relationships as we prepare them to fearlessly engage the world and seek truth in love always. This is our mission—indeed it is our mountain—and it will be the measure of our success.
In my first year as president of this extraordinary university, the peaks ahead loom large, but the paths we scale, with God at our side, have never been more clear. I invite you to join me as we continue in our unbounded pursuit of excellence and ascend to even greater heights . . . together.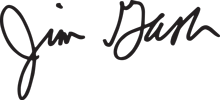 JIM GASH
President and CEO