From the President
In my Founder's Day address at the start of the academic year, I shared a passage from C. S. Lewis' book Letters to Malcolm, Chiefly on Prayer, in which Lewis profoundly states, "Joy is the serious business of heaven." I turned that thought over and over in my mind to understand how the heavenly joy Lewis described manifests in our daily lives, particularly as members of the Pepperdine community.
"In all its manifestations, we must regard joy as a necessity."
Of the greatest importance is to recognize the clear distinction between happiness, a fleeting and temporal emotion inspired by favorable circumstances, and joy, a constant and immovable force through all seasons of our lives. In the Bible, joy is described as a perpetual state of gladness that results from knowing, loving, and trusting Jesus. As I thought more about Lewis' declaration, I determined that joy—if indeed a serious business of heaven—must be of great importance for our community's careful consideration and application. Perhaps, I thought, we don't take joy seriously enough. In all its manifestations, we must regard joy as a necessity.
As a University, we have made a commitment to one another to foster a community of belonging, which means we honor and celebrate each other's unique contributions and abilities. Feelings of belonging are proven to be critical to cultivating moments of joy and peace. And when we find joy and peace, we must also create spaces where they can spark, live, and thrive. At Pepperdine we must seek and sustain the joy of discovery and learning something new, the communal joy of fellowship and family, the dynamic joy of pushing ourselves to record-breaking limits, the nurturing joy of indulging in a quiet pastime, and the enduring joy of knowing we are surrounded by a loving community. Indeed, joy is a necessity at Pepperdine, and we must continue to pursue and perpetuate it always and in all ways.
Though joy may elude us on earth as we seek its sustaining force, we know it never gives up on us because it is "a fruit of the Spirit" (Galatians 5:22). And as joy is the serious business of heaven, it must also be a daily business of Pepperdine.
Sincerely,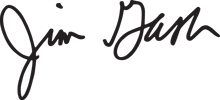 JIM GASH President and CEO
---