HSAC@SPP
In response to a national shortage of personal protective equipment (PPE), the Homeland Security Advisory Council at the Pepperdine School of Public Policy (HSAC@SPP) donated thousands of reusable face shields to LAC + USC Medical Center.
"One of the great honors derived from our new HSAC@SPP initiative is the opportunity to work with great Los Angeles-area civic leaders like our board chair, Peter Lowy," said Pete Peterson (MPP '07), dean, Braun Family Dean's Chair, and senior fellow at the Davenport Institute for Public Engagement at the School of Public Policy. "This gift of face shields given on behalf of HSAC@SPP will go directly to protecting our healthcare heroes on the frontlines of this crisis."

The donation was made in partnership with the Emergency Supply Donor Group, a nonprofit organization that raises funds to provide PPE equipment to Los Angeles hospitals in need.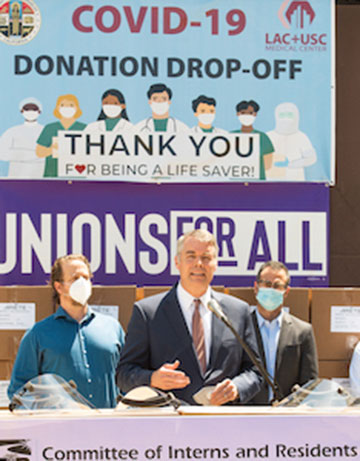 ---
To learn more about the donation made by HSAC@SPP, visit Pepperdine University's Newsroom.