Banding Together
NAWMBA Members Start a New Chapter in the Role of Women MBAs.
Nerves buzzing. Thoughts racing. You're sitting across from a potential employer in an interview, trying to anticipate the next question. And then it comes…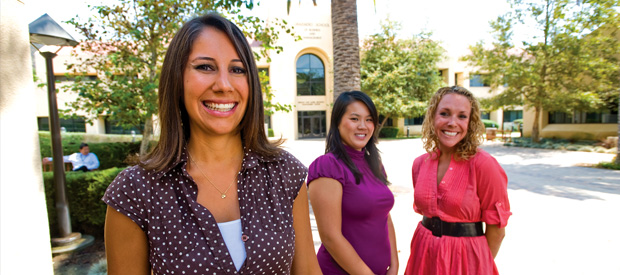 "Are you planning on having children?" the interviewer asks, looking down at your wedding ring.
Talk about a loaded question—and illegal based on the Civil Rights Act of 1991. Do you refuse to answer, stating its irrelevance to your ability to carry out the required job duties? Or do you opt to not ruffle feathers and answer it honestly?
This is one of the unique situations facing women in the workplace, and the type of thing that comes up at meetings of the National Association of Women MBAs (NAWMBA) chapter at the Graziadio School of Business and Management. The chapter was formed in the 2003–2004 academic year to empower businesswomen, propel them to leadership positions within the community, and increase diversity in the workforce. This year the chapter has grown to include more than 100 women MBA students.
NAWMBA president and 2010 MBA candidate Jori Victor recalls a situation she faced while working in New York City at a boutique PR firm that was run by all men. "My first year, it was a struggle to get recognition and to get noticed. I had to fight to get a promotion and what I deserved, while the men seemed to be handed the new business opportunities."
---
Banding Together
NAWMBA officers, from left: Stephanie Chang, Jori Victor, and Meghan Barnes
Victor took a risk and spoke her mind forcefully to the vice president of the company. Fortunately, her risk paid off. "After that, it was like I was respected—I would get the raises and I would be brought in on the new business, but I had to really assert myself," she says. "I looked around the company and realized that the women who weren't being as assertive weren't being recognized, and there is something really flawed about this, because I'm doing the same quality work. There is still a boy's club, and a woman doesn't necessarily want to be a part of that."
When Victor came to the Graziadio School, she knew she wanted to be a part of building a so-called "girl's club" in the business world. "The business world is still a bit skewed, and unfortunately I think we all still need to band together and have that strength in numbers. I think we bring something different to the table and I think it's important for our voices to be heard."
According to a recent study by Catalyst, a nonprofit research organization, women made up just 32.9 percent of the 2008 class entering the top 20 MBA programs in the United States. The Graziadio School consistently tops that national average. This year women make up 42 percent of the students enrolled in the fully employed program, 35 percent of the full-time, and 42 percent of the executive programs. While no females are enrolled in the 2009 class of the Presidential and Key Executive MBA—a program geared specifically towards senior-level executives, among whom women remain under-represented—last year's class was 17 percent women.
"We are very proud of the level of female enrollment in our MBA programs compared with national averages," says Graziadio School dean Linda Livingstone, one of the few female deans in the country (BusinessWeek.com reports that 15.5 percent of the 460 AACSB-accredited schools in the U.S. have women deans).
Livingstone has been quoted in many publications including BusinessWeek, The Wall Street Journal, The New York Times, and Trader Monthly on the disparity of women in business school, compared to the medical and law fields, which have achieved nearly equal percentages of male and female students.
"You typically go to medical and law schools immediately after you finish your undergraduate work. But with traditional business programs, we encourage students to get three to six years of work experience before they come. That can bump up against the time when women want to start families," Livingstone said in a New York Times article, "Glass Ceiling? Get a Hammer." "Another reason is that many business schools have a culture of being cutthroat and competitive. But we here are trying to create a very collaborative, team-oriented learning experience with smaller class sizes. So we've seen an increase in the number of women."
Victor says the collaborative nature of the Graziadio School is what initially attracted her to Pepperdine, as well as the fact that the dean is a woman. "I remember reading her background and being very impressed and intrigued by that," she says.
Members of the Pepperdine chapter of NAWMBA meet with the dean for breakfast once a year. "It's a small intimate group setting of 20-25 students in which we can ask the dean anything we want," says Victor. "It's one of our most popular events."
Livingstone says she also enjoys the camaraderie. "We share together our experiences, joys, frustrations, and wisdom. I always leave the breakfast having learned something significant, and feeling extremely proud of our women and the enormous impact I know they will have through the years because of their tremendous talent and deeply held values," says the dean.
Another unique opportunity for Pepperdine NAMBA members is the annual luncheon, at which 10 female executives come to speak with NAWMBA students. "These are high-ranking, powerful women from corporations ranging from Coffee Bean & Tea Leaf to Disney to Fox," Victor explains. "We had 60 women in attendance last year. It's non-traditional networking, I like to say. We're all driven women, but as the new modern woman, we really want it all. We talk a lot about how to achieve that work-life balance."
This year, the Pepperdine chapter of NAWMBA is moving into the national spotlight as one of the host schools of the national organization's 2009 Conference and Career Fair, taking place October 29 to 31 at the Disneyland Hotel in Anaheim, California. Themed "Leadership Today and Tomorrow," the conference has been designed to assist women, both students and professionals, in developing and enhancing their leadership skills. Following in the footsteps of the two presidents before her, Victor is a member of the national conference's marketing committee, tasked with getting the word out across the nation to all of NAWMBA's 78 student and 7 professional chapters.
The lessons she's learned through her involvement with the conference have been invaluable, Victor says. "Leadership, networking, career counseling, job opportunities—I've met people who've looked over my resume and also helped me to broaden my idea of what I want to do, where I want to do it, and how it can be accomplished. There's a lot of education that goes along with NAWMBA."
Vice president Meghan Barnes attended last year's conference in Stamford, Connecticut, and says that the career opportunities are very real. "I was given the opportunity to interview with Campbell's on site, which was great," she says, although she opted for a different summer internship with AT&T.
The conference also provides visibility for Pepperdine's female-friendly MBA program. "It's a wonderful opportunity to connect our women and show what Pepperdine produces. We develop strong female leaders, so to be able to showcase that in our backyard to the women who are coming to this conference from around the nation is a huge benefit of our involvement," Victor says.
Still, back in the classroom, Victor says she sees the effects of under-representation of women every day. "I find that women are less inclined to speak up in the classroom," she says. "Because we're under-represented, we often don't get the opportunity to work together in groups and collaborate. I'd also like to see more female faculty members." Among the 99 full-time faculty members at the Graziadio School, 22 are women. While that is only 22 percent of the faculty, female professors currently hold three out of the five department head positions, a role of considerable leadership.
Victor strives to use NAWMBA as a vehicle for providing women the solidarity and confidence they need to succeed. "We network and we connect in a different way and this is a forum for us to do this," she says. "It's just about supporting each other."
Confidence, she says, can be the difference between speaking up in class and sitting silently in the back; between starting a business of your own or remaining a B-player lost in a large corporate machine; and between submitting to an interview question that you know is potentially discriminatory, and standing up for yourself, knowing that if you don't get the job, a better one will come along.