Mind, Body Soul
The Pepperdine Community Provides Service to Those in Need Around the World.
Service has been at the heart of Pepperdine University since its founding, and today members of the Pepperdine community continue to use their skills and talents to find solutions to serve those in need. From mental health to spiritual fortitude, from physical nourishment to educational enrichment, we share five stories of Pepperdine students, faculty, and alumni who share their gifts with others through service to the minds, bodies, and souls of individuals and communities across the globe.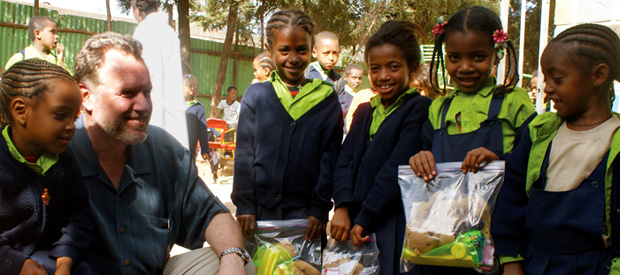 Rod Boone's Mesesso Foundation Champions the Education of Young Girls in Ethiopia
School of Law Alumnae Susan Hill and Emily Allen Fight for Those Seeking Asylum in America
Public Policy Student Harrison Wolf Helps the "Untouchables" of India Rise Above the Caste System
GSEP Students Partner with the Hope Gardens Family Center to Lift People Out of the Despair of Homelessness
Seaver College Religion Student Dusty Breeding Feeds the Bodies and Spirits of the Hungry in Africa
---
Rod Boone's Mesesso Foundation Champions the Education of Young Girls in Ethiopia
While Western school children cheer for summer vacation at the end of another academic year, young girls in Ethiopia often discover that school is permanently out for them by age 6 or 7.
"For many girls in the Ethiopian countryside, it is not unusual to be contracted to be married at a very young age, so going to school is not a priority," explains Rod Boone (MBA '04). "Education is simply not valued for females in Ethiopia."
Boone heard his call to serve when, in his mid-40s, he decided to earn an MBA at the Graziadio School of Business and Management. Given the opportunity to visit Ethiopia during his studies, he was shocked to find young, orphaned girls betrothed to grown men by the time they are 8 or 9 years old, beginning a life of domestic servitude and limited opportunity that perpetuates the country's poverty cycle.
With a background in entrepreneurial business, Boone saw the problem and put his mind to work to find a beneficial solution. He formed an educational nonprofit called the Mesesso Foundation, which sponsors young girls to attend private school and provides micro-loans to their families.
"We are partnered with three schools in the capital city of Addis Ababa, as well as with schools in the most impoverished, rural areas," says Boone.
"The girls will have already displayed academic potential, and we have to ensure their family or caregiver allows them to study."
Boone remembers meeting one mother with three children, who had to house her family in a shack built at a 45-degree angle with burlap bags for bedding. Mesesso sponsored the education of all three children, built the family a new home, and helped the mother find a training scholarship to learn sewing and weaving. "When we find these young girls, we learn about their family situation. Our duty doesn't end with the girls; we are trying to help the whole family."
---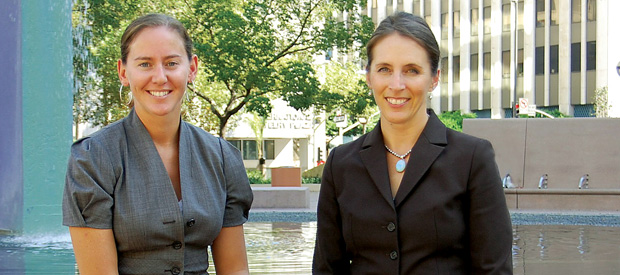 Emily Allen (l) and Susan Hill (r)
School of Law Alumnae Susan Hill and Emily Allen Fight for Those Seeking Asylum in America
A young Iranian woman, called "G," arrived in America as a Muslim, but soon converted to Christianity. Conversion is a crime punishable by death in Iranian law, and she knew the consequences would be severe if she returned. Deportation back to Iran could well have been her death sentence.
School of Law alumnae Susan Hill ('93) and Emily Allen ('05) are committed to fighting for people like G at the law school's Asylum Clinic. As the clinic's two supervising attorneys Hill and Allen work with gifted second and third year students to represent indigent and underprivileged foreign-born individuals who seek asylum in the United States based on a well-founded fear of persecution because of race, religion, nationality (ethnicity), membership in a particular social group, or political opinion.
G was one of the first clients of the clinic. "She had converted to Christianity during her time here, but had become homeless," remembers Allen. "She came to the Clinic with no hope except that which God had given her."
Through the persistence and preparation the Asylum Clinic team, G was granted religious asylum in early September of this year. "I am so excited at the clinic's success with its first case," says Hill. "It lends credence to our reputation before the asylum office and we made a difference to one individual's life."
The clinic was opened last year on an experimental basis under the directorship of renowned Judge Bruce Einhorn, the author of the U.S. law on asylum and long time adjunct professor at the School of Law. "The Golden Rule - that a person should do unto others as he or she would want them to do unto him or her - is at the core of everything we seek to teach students," says Einhorn. "Similarly, at the core of the law of asylum is the principle that those who receive the blessings of liberty should share that blessing with others who suffer or face persecution because of their non-violent acts of conscience."
Hill is also an adjunct professor of immigration law at Pepperdine, and campaigned with Judge Einhorn and law professor Gregory L. Ogden to get the asylum clinic off the ground. "For almost 10 years I've wanted Pepperdine to start an immigration clinic," she says. "The clinic sets an example, as pro bono work is so necessary – there are so many people who simply can't afford the help they need."
As well as their work with the Asylum Clinic, Hill and Allen are advocates for the displaced through their own legal firms. Allen is a former employee of Hill's firm Hill, Piibe & Villegas, at which approximately 50 percent of all cases on a sliding scale or pro bono. In January 2008, she opened her own firm Allen, Butler & Generazio, which is dedicated to maintaining a 20 percent pro bono caseload. "It is our tithe, so to speak," says Allen. "We are so blessed, and working with immigrants makes that all the more clear."
Allen remembers one elderly man in the process of being deported from the U.S. in 2007, who would have left behind an ailing wife with diabetes, crippling arthritis, and psychological problems. "He had never committed a crime, and had always worked and paid taxes," she recalls. "In reality, most immigrants come here not to harm our country, but to embrace its fundamental notions of freedom and peace."
She was able to convince an Immigration Judge to allow the man to stay in America and care for his wife. That was in 2007, and the Pepperdine alum and former colleague of Hill was thrilled to be invited to join the Asylum Clinic last year. "Having appeared before Judge Einhorn as a practitioner many, many times, and having witnessed his compassion for immigrants, I immediately knew I wanted to be a part of it."
After G's victory marked the thrilling outcome of the Asylum Clinic's first case, Hill and Allen look forward to helping many others on the verge of desperation as they face eviction from the country they have come to call home. Hill cites a case in the pipeline involving the Mexican drug cartels, and a man from Nigeria involved in a political dispute with the police of his home country.
"The ideal case involves someone who has fled persecution and is able to document it, as well as have it documented by the media or third parties. They're never that easy, however," says Hill. "Typically, people don't understand the technicalities of applying for asylum, they don't have access to the documents they need, and no time to build resources."
Helping people with no resources to fight their own battles is what makes Hill and Allen tick; and through their work at the Asylum Clinic, they are passing along to gifted law students the true meaning of service through a career that can change lives.
"What a powerful reminder for our students of how blessed we are to live in a place where we are not only tolerated, but embraced because of our differences," says Allen. "I've come to realize that our education is a gift that is meant to serve others. In my view, asylum is the most profound exhibition of the freedoms our nation provides. It is our faith and love of neighbor that inspires the Clinic."
---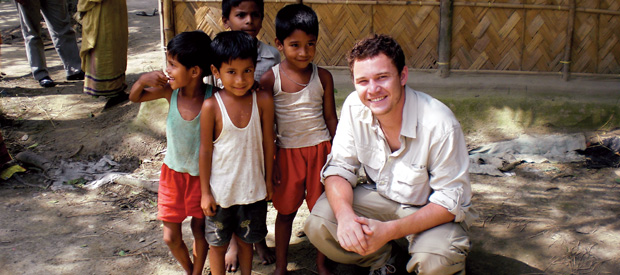 Public Policy Student Harrison Wolf Helps the "Untouchables" of India Rise Above the Caste System
Because of their position in society, lower-caste Indians struggle to find decent employment. "A lot of kids who come to Mumbai from the countryside, or who were in the city slums, are 'untouchables' with no job prospects," explains second-year School of Public Policy student Harrison Wolf, who spent the summer of 2009 in Mumbai working in the department of corporate social responsibilities and human resources for Taj Hotels Resorts and Palaces.
With little to no experience eating in restaurants or staying in hotels, finding a job in either can be a challenge for rural people of India. Wolf set about creating an educational curriculum with Taj Hotels to train underprivileged and undereducated people in the skills necessary to find work in the hospitality industry.
"We publicly and privately partnered with the Indian government to create an educational system to help lower-caste children overcome their position and learn skills," explains Wolf. "We were responsible for creating a curriculum whereby kids or school graduates will be brought in, taught the hospitality industry, and come out with the skills to succeed in a three-star or four-star hotel."
Wolf became interested in cultural bias in India when he traveled to Bangladesh in April 2009 to work with Grameen Bank. The bank in Bangladesh provides micro-credit loans to a group or community of impoverished people to start up small companies. "After seeing the extreme poverty and also the potential, I realized how working with the Indian government could really help the situation."
He had barely returned from Bangladesh before setting off to India to help build the hospitality industry curriculum with Taj Hotels. "People who get this education go on to work in the hospitality industry. There is a huge demand to earn beyond what they would ever hope to," says Wolf.
---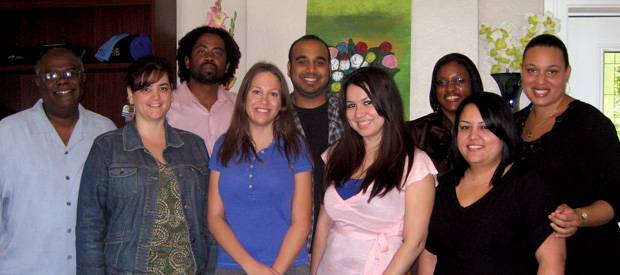 ---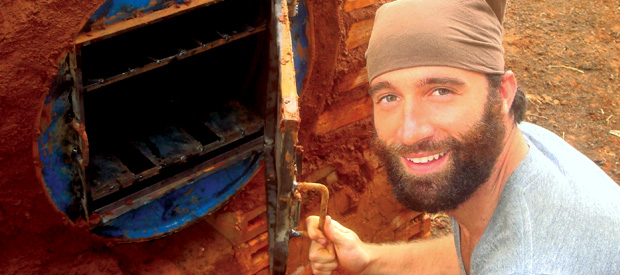 Seaver College Religion Student Dusty Breeding Feeds the Bodies and Spirits of the Hungry in Africa
Seaver religion major Dusty Breeding was known among his friends for his cooking talent. In fact, he had briefly attended culinary school before coming to Pepperdine University as a religion major. So when a friend asked him to spend 10 weeks in Africa baking for small communities in Uganda and Kenya, he jumped at the opportunity to combine his two passions for cooking and service.
This was in the summer of 2006, and by the time he returned to the United States an idea had formed in his mind that would change his life and lead him down a path of ongoing service. He founded a nonprofit, bread-baking organization called Lifebread.
"The name comes from John 6:35 in the New Testament, when Jesus says, 'I am the bread of life,'" says Breeding. "We took that name because of the implications of Jesus explaining that the important thing is to be spiritually sustained as well as physically. We provide physical bread, but the whole purpose is to convey our message and show our love to all."
The nonprofit takes American students to churches and church-run orphanages in Uganda and Kenya, where they build low-cost, high-capacity ovens that can provide bread to scores of hungry people at any given time with inexpensive recipe ingredients and materials. Lifebread has so far built four large, traditional ovens – three in Uganda and one in Kenya.
Breeding and groups of his fellow Pepperdine students show the local communities how to effectively use the ovens, and teach them basic food sanitation and recipes. They also provide business management training, providing vocational opportunities to members of the community. The bakery manager of Lifebread's oven in Kenya's capital city of Nairobi, for example, is a former street kid who has been given the chance to run a business, feed his peers, and build a new life.
Though still a student himself, Breeding felt an urgent need to start LifeBread once he had the idea formed, rather than holding off until graduation or until he had "figured out" all of the details. "I'm not sure I'll ever figure this life out, but if I waited until graduation I'd feel as though I was just wasting time," he says, laughing. "Every day is a blessing."
He had already been to Africa an additional three times following his first trip in 2006, and by early 2008 he was ready to leap into the project—all or nothing. He did research about starting a nonprofit and turned the idea into action, speaking at churches of Christ and youth groups across the country to exchange ideas and inspire fundraising events. The majority of LifeBread's funds come from churches or individuals.
Breeding's many plans for the future of the nonprofit include expanding the work to other third world nations. "This is not specific to Uganda or Kenya," he says. "The concept of LifeBread could be practically applied to any third-world or developing country. I'd definitely like to expand out of Africa, such as to Haiti."
Eventually LifeBread will also be doing their bit to sustain the earth, by installing solar-powered ovens, funds permitting.
A man of deep personal faith, Breeding cites Lifebread as a chance to convey his message about Christ's love through a loving action of service that connects communities with the body of Christ. He needed to do more than visit the church-run orphanages and bake temporarily for them—he needed to ensure they would be able to nourish their bodies and hearts long after he had returned to his comfortable life in the United States. "I'm not church planting here," he explains. "Instead I'm really trying to connect with a community."
He marvels at the overwhelming reaction of such communities. "Some of these kids— they've never even eaten bread before. To see their faces light up when they taste a warm roll, fresh out of the oven is unbelievable."