News
Pepperdine Magazine is the feature magazine for Pepperdine University and its growing community of alumni, students, faculty, staff, and friends.

Straus Institute and Palmer Center Host Sustainability Symposium
The Straus Institute for Dispute Resolution and the Geoffrey H. Palmer Center for Entrepreneurship and the Law hosted "Taking it Upstream: Collaboration, Consensus Building, and Sustainable Development: A Green Leadership (Un)Conference" on September 25 at Pepperdine's Drescher Graduate Campus in Malibu.
The symposium was a forum for green-minded community leaders, agencies, planners, architects, developers, engineers, attorneys, and citizens to explore best practices for using collaboration, consensus building, and other enhanced civic engagement techniques to create more sustainable communities and manage potential land use and environmental disputes.
The event featured interactive "Sustainability Roundtables" focusing on communities, transportation, zoning and development controls, construction and design, infrastructure, and resources.
The (un)conference was the brainchild of environmental attorney and mediator Steve Zikman (LLM '09), who was a Straus Fellow last year. "The morning framing sessions and afternoon roundtables were highly collaborative," he says. "The conversations were designed to capture the wisdom of the room."
Visit magazine.pepperdine.edu/unconference to listen to a podcast interview with Zikman and Pete Peterson (MPP '07), adjunct professor at the School of Public Policy, as they discuss how to engage citizens in environmental policy reform.
---
Graziadio School's Inaugural Economic Forecast Conference Predicts Slow but Sure Recovery for L.A. Marketplace
Nearly 400 business professionals attended "What's Next L.A.? The Road to Economic Recovery," the first annual Los Angeles economic forecast conference, sponsored by the Graziadio School of Business and Management, Beacon Economics, and the Los Angeles Area Chamber of Commerce. Graziadio School dean Linda Livingstone served as master of ceremonies for the July conference and Pepperdine finance professor John Paglia was one of the featured speakers.
Paglia reported that the majority of private lenders anticipate continued economic decline over the next 12 months. Constraints on the economy and a flattening or decline in U.S. GDP will increase demand for private investment, and capital will be harder to come by, he predicted.
Brad Kemp, Beacon Economics' director of regional research, forecasted that Angelenos can expect unemployment to peak at 13.3 percent in the second quarter of next year before it starts to fall, and that continued slumps in housing and consumer demand will continue driving job losses and sluggish sales tax revenue. Despite a hard and slow climb to recovery, the economists surmise that California will emerge a much stronger, more competitive economic engine in the long run.
The Graziadio School partnered again with Beacon Economics in late September to explore the road to economic recovery for the Silicon Valley and surrounding communities.
Learn more about both conferences: magazine.pepperdine.edu/economic-forecast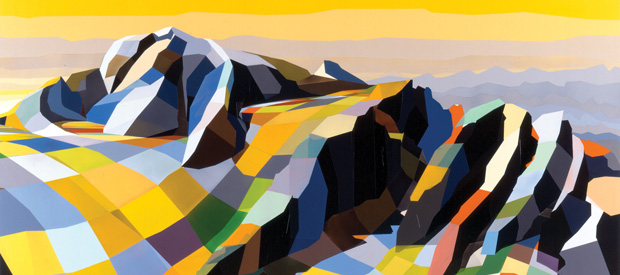 Torben Giehler. Mont Blanc, 2002. acrylic on canvas, 83 x 143-1/2 inches. Collection of the Frederick R. Weisman Art Foundation
---
Frederick R. Weisman Museum Exhibits the "Elements of Nature"
The ancients believed that the world consisted of four elements: earth, air, fire, and water. Although they have been replaced by modern scientific elements, these four essential states have continued to inspire artists. A new exhibition, on display at Pepperdine's Frederick R. Weisman Museum until December 6, gathers together works of art that reflect how the four elements continue to have meaning in our lives.
This theme has particular relevance in California where artists often turn to nature for inspiration. Joe Goode's iconic Torn Sky series from the 1970s embodies the contradictions of life in sunny but smog-filled Los Angeles. Ed Ruscha's witty images of letters floating in the air were inspired by the grandeur of the California sky. Los Angeles Light and Space artists Jack Goldstein and Lita Albuquerque create images based on the infinity of space and time.
While many of the artists in the exhibition are from California, the roster is international and also includes painters such as German Torben Giehler who creates mosaic topographical patterns based on the earth's surface. Other artists featured in the exhibition include Peter Alexander, Charles Arnoldi, Marina Kappos, Greg Miller, and Andy Moses, among others.
---
Graziadio School Introduces "MBA Plus" Program Offering Reduced Tuition for MBA Alumni
The Graziadio School of Business and Management has announced that it will provide MBA alumni up to 75 percent reduced tuition to assist those who wish to refresh skills and acquire advanced knowledge in these difficult economic times. The alumni lifelong learning program, called MBA Plus, will allow alumni to take additional courses or complete a new emphasis starting this fall.
"In today's world, the desire to acquire additional knowledge with lifelong value is a key enabler for many who wish to have a competitive edge in this economy," says Graziadio dean Linda Livingstone. "MBA Plus is our way of helping alumni overcome career challenges brought on by the current crisis. This program will offer Pepperdine MBA alumni the chance to strengthen or reposition their career opportunities and enrich their degree by earning a new emphasis in entrepreneurship, finance, global business, marketing, leadership, or change management."
bschool.pepperdine.edu/alumni/mbaplus
---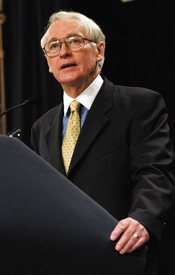 James Q. Wilson Explores "Genes and Free Will" in His Annual Lecture
Science has made apparent advances in explaining human behavior, searching its origins in both genetic and environmental influences. But if science explains why we act as we do, can we be held accountable for how we act? In what sense are persons guilty unless there are choices to be made and free will to be exercised?
These are some of the issues that James Q. Wilson, Ronald Reagan Professor of Public Policy at the School of Public Policy, explored in his annual lecture, which took place September 15 at the Ronald Reagan Presidential Library in Simi Valley, California.
He examined how assumptions about free will, and science's conclusions about choice, have a profound impact not only on how societies design policies to hold individuals responsible for their actions, but on the kinds of policies that are created to deal with a broad array of challenges that we face.
Wilson has enjoyed a long and storied career in the public policy arena. From 1961 to 1987, he taught political science at Harvard University, where he was the Shattuck Professor of Government. He was the James Collins Professor of Management and Public Policy at UCLA from 1985 until 1997. He is the author or coauthor of 14 books, the most recent of which are: The Marriage Problem: How Our Culture Has Weakened Families; Moral Judgment; and Moral Sense.
---
Pepperdine Welcomes New Faculty
With the commencement of the 2009–2010 academic year, 17 teachers and scholars embark on a new journey as Pepperdine faculty members. The incoming faculty at Seaver College, the Graziadio School of Business and Management, and the School of Law will enrich the University community with their academic expertise, diverse backgrounds, and professional achievement as they educate, mentor, and inspire Pepperdine students.
Visit magazine.pepperdine.edu/newfaculty to meet the new additions to a distinguished roster of Pepperdine faculty, and find out what inspires them.
---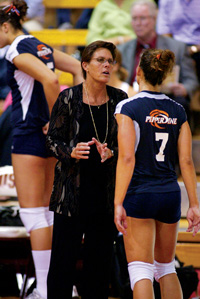 Coach Matthies Earns 500th Win with Waves Women's Volleyball
Pepperdine women's volleyball coach Nina Matthies earned career win number 500 on September 11 when the Waves defeated Seattle, 25–15, 25–20, 25–16, on the first night of the Pepperdine Asics Classic in Firestone Fieldhouse. "I don't really pay attention to these kinds of things," said Matthies, who is in her 27th season as head coach. "I think it means that we've had a very strong program over the years. We've had a lot of really good talent and I've had the help of a lot of good coaches. That's what it means, that we've had some really great people here at Pepperdine. I've always been proud to be part of this program."
---
Michael Williams Unites Faith and Learning at Pepperdine
Michael L. Williams, assistant professor of information systems at the Graziadio School of Business and Management, has been named interim associate director of the Center for Faith and Learning for the 2009–2010 academic year, while current director Gary Selby teaches abroad in Pepperdine's Heidelberg program.
"Professor Williams is an excellent choice for this assignment. Not only is he one of our most admired professors, but he's also well acquainted with the work of the center," says provost Darryl Tippens.
Selby adds, "In his life and in his work as a scholar, he models the integration of faith and learning that are at the heart of the center's mission. In fact, he has already been pursuing that integration through his work with the virtue and commerce seminar at the Graziadio School."
Williams holds an MS and PhD in information systems from Indiana University Bloomington. He came to Pepperdine in 2004 after serving as an IT consultant in the Washington, D.C. area, and a BAT Doctoral Fellow at the Kelley School of Business at Indiana University.
The Pepperdine Center for Faith and Learning was established in 1999 to offer support for faculty in all five schools of the University as they seek to engage in cutting-edge, original scholarship and classroom teaching within a framework of Christian values and beliefs.
"We want to continue fostering a campus-wide conversation about how our aspiration to be an outstanding academic institution relates to our identity as a Christian university," Selby says, highlighting the center's retreats, book groups, and seminars for faculty development, as well as the special programs for student enrichment, such as the annual Spiritual Discernment Retreat and Social Action Grants, which fund student projects ranging from a Supreme Court clerkship in Uganda to a micro-finance internship in China.
Listen to Williams discuss the center's ongoing work to unite Pepperdine's passion for teaching and scholarship with its identity as a place of faith: magazine.pepperdine.edu/faith-and-learning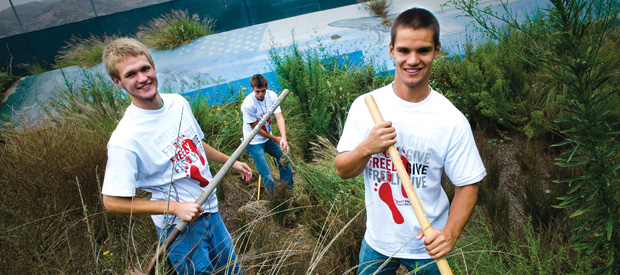 ---
Pepperdine University Celebrates 21 Years of Stepping Forward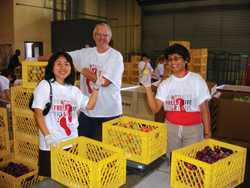 On September 12 Pepperdine alumni, parents, and friends took part in service projects around campus, across the nation, and as far away as Japan, during the 21st annual Step Forward Day. What began as a single service project by two students has grown to engage generations of alumni, parents, and friends spanning the globe to live the mission of the University: Freely ye received; freely give.
This year's day of service brought 1,325 people to the Malibu campus. Participants traveled by bus to surrounding areas, completing various projects with 59 community partners from Ventura County to downtown Los Angeles to help make a difference locally.
"Last year, the Pepperdine community served a collective 4,200 hours, equivalent to two years of work for one person," says Ashley Nolan, director of the Pepperdine Volunteer Center. "This year we had well over 5,000 collective hours served thanks to our local efforts and the alumni who pitched in remotely."
Of the 33 alumni chapters, 22 had service projects in their respective regions, says Giuseppe Nespoli ('04), director of chapters and regional programs, noting that Pepperdine's newest alumni chapter, the Asia-Pacific Waves, served food to more than 500 people in need in Ueno Park, located in Tokyo, Japan.
Other remote projects this year included a hunger drive at St. Michael's Church in New York City; volunteer work in Sunshine Acres Children's Home in Mesa, Arizona; and an initiative to provide meals and services for the homeless at Miriam's Kitchen in Washington, D.C.
"For decades, Step Forward Day has marked the beginning of each school year and helped us end summer with an exclamation point of passion and purpose," says Cathy Kort (MA '96), executive director of Alumni Affairs.
Listen in as alumnus Scott Pitts ('89), one of the student founders, joins vice chancellor Sara Jackson ('74), former director of the Pepperdine Volunteer Center, to remember the first day of service in 1989 and discuss why the tradition continues to thrive after two decades. magazine.pepperdine.edu/step-forward-day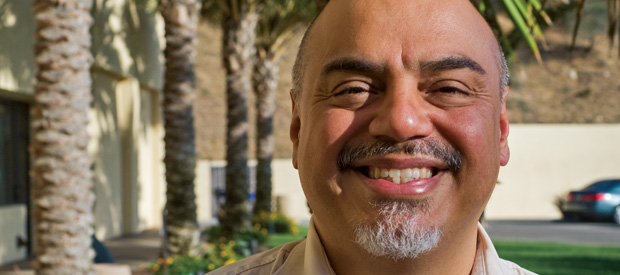 Los Angeles Times columnist Héctor Tobar
---
Pepperdine Salutes Latino Heritage Month
Pepperdine University honored the significant contribution that Latinos have made to the global and local landscape during Latino Heritage Month.
Los Angeles Times columnist Héctor Tobar addressed an audience of students, faculty, and staff on September 15. Through his work, Tobar examines the evolving and interdependent relationship between Latin America and the United States.
He is the author of the novel The Tattooed Soldier, and the nonfiction bookTranslation Nation: Defining a New American Identity in the Spanish-Speaking United States. In 2006 Tobar was named one of the 100 Most Influential Hispanics in the United States byHispanic Business Magazine. In 1992 he won a Pulitzer Prize for his work as part of the team covering the L.A. riots for theLos Angeles Times.
The theatrical group Will and Company presented "Portraits: Latinos Shaping a Nation" on September 29, showcasing the lives of six Latinos who have influenced America's national character: baseball star Roberto Clemente, labor rights activist Luisa Moreno, educator Rafael Cordero, Medal of Honor winner Daniel Fernandez, civil rights champion Andrea Perez, and an undocumented migrant worker.
Learn more about these events and listen to an interview with Tobar: magazine.pepperdine.edu/latino-heritage
---
GSEP Establishes Pat Lucas Center for Teacher Preparation
Pat Lucas, director of student teaching at GSEP for more than 20 years, was a mentor, counselor, inspiration, and friend to thousands of aspiring teachers in Pepperdine's credentialing and placement programs.
The Graduate School of Education and Psychology honors her memory with the establishment of the Pat Lucas Center for Teacher Preparation. With support from her husband, Dr. Bill Lucas, the center will receive annual funding to unify and enrich the resources for the development of future educators through a variety of programs that bear Pat's unique signature.
"Pat's legacy lives in every classroom where her former students have left their footprints," said J. L. Fortson, current director of teaching at GSEP. "I have yet to meet a former student of hers who, when her name is mentioned, doesn't have a gleam in their eye and a tale to tell. She taught by example and was a teacher's teacher."
The center will be open to Pepperdine students and alumni. Services include the provision of stipends for student teachers and field supervisors, as well as funding of teaching artifacts and classroom tools to enhance the student-teacher experience.
GSEP will dedicate the center on October 22 at the West Los Angeles Graduate Campus.