Stepping Out of the Spotlight
Hollie Tucker shines a light on the talents of Houston high school students.
To hear the theatre community described as a family is as commonplace as an actor's bad reaction to "good luck!" But as a high school theatre director in Houston, Texas, Hollie Tucker ('05) ensures that the theatre truly becomes like family for her inner-city students.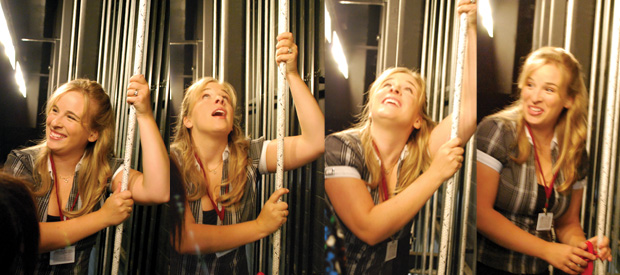 "Creating a play together and traveling to competitions becomes a great way for them to survive their teenage years and experience some sense of family that many of them don't get at home," she says. "Some of these kids really need somewhere safe to work on homework and rehearse every night because of what goes on outside of school."
For the last three years, Tucker has dedicated herself to the Aldine Independent School District theatre programs. She's staged plays with a number of high schools in poor, crime-ridden neighborhoods, where parents often work multiple jobs, serve jail time, or simply lack interest in their offspring's education.
"Most of my students have many outside forces strongly discouraging them from advancing their education. My goal is to create more opportunities and really make them aware of what they can do," explains Tucker.
The opportunities for participation are abundant and varied in a theatre program. "The theatre can use anyone who is willing to participate with a good attitude. We need not just actors, but carpenters, electricians, costumers, technicians, and more. If a kid is willing to walk through my door, I am going to find a job for them and make them feel like a part of our family."
As a Seaver College theatre major, Tucker's involvement was typically in the spotlight. She was used to the sound of applause as the lights dimmed, the cries of "encore!" from delighted audience members. After graduation the native Texan settled in Dallas, where she performed improvisational comedy at the West End Comedy Theatre three nights a week, getting paid just $20 a show.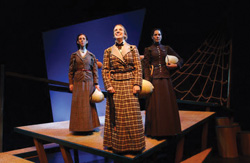 Tucker (center) shares the stage with Anaka Shockley and Nicola Hunt in Pepperdine's production of On the Verge, October 2003.
The actress supported herself with a second job selling high-end jeans. "While hanging up the new merchandise one morning I spotted a pair of jeans priced at $1,100. My manager overheard me say to a coworker, 'Do you know how many people you could feed instead of buying these jeans?!' Needless to say, she let me go shortly after that."
That's when Tucker realized she could do more good guiding others into the spotlight than pursuing it herself. "I knew that I loved theatre and I loved working with kids so it just dawned on me to apply to be a theatre teacher. One month later I was teaching high school theatre, and the following year I was promoted to department chair. My career is not about me anymore; it's a much greater joy to help these kids cultivate and share their gifts with the audience."
Starting this fall, Tucker is refining the talents of the inaugural class at a newly built Houston-area high school. The school's principal sought her out when he saw how well her now-former students worked together during a theatre competition. Tucker says, "The kids at my old school helped me realize that I will be able to mentor even more children at this new school, and that it is a place I can really make a difference. But it was a decision I struggled with."
Tucker has witnessed firsthand the educationally and socially therapeutic effect that theatrical self-expression has on otherwise lost or excluded youths. She particularly recalls three suicidal students, two with bipolar disorder and one with severe Asperger's syndrome. "I was nervous about working with these students, and afraid of what they might do if something were to upset them," she remembers. "But things started to fall into place for them once they learned they could just be themselves and that they didn't have to fight to be accepted."
In her second year of teaching, Tucker directed a show close to her heart called The Boys Next Door, by Tom Griffin. The play is about a home for mentally handicapped men, and their social worker Jack, who struggles to balance life and work. She loves the play, but also relates to Jack's character; she and her husband once converted their office into a second bedroom for a child living in a dangerous situation, only to have that child's parent press charges against them.
"It sounds terrible, but I sometimes view my kids the way Jack views the boys. I love them, they make me laugh, but I also have to remember to make my home life come first," says Tucker. "Fortunately, God has blessed me with a wonderfully patient husband who also has a passion for theatre."
A passion for theatre can come in many guises and follow many impulses. Now out of the spotlight, Tucker appreciates the art form for what goes on behind the curtain and for the sense of community that it fosters. She says, "It taught me to love and appreciate all different kinds of people that I otherwise might not have befriended. Theatre is so beautiful to me because it cannot be created alone."