4 Decades of Discernment
Wayne Strom celebrates 40 years in Pepperdine classrooms, helping business students unlock their full potential.
"'It is not necessary to react, but I may choose to respond,'" recites Lynn Powers (MBA '91, PKE 83). "I typed that phrase, and kept it on my telephone and on my computer. I read it every day until it became a habit. I realized that I became a much better manager when I followed that advice. I just take a deep breath and I listen."


Powers, now CEO of Gaiam, Inc., a leading fitness media brand, leveraged this skill to rise in the business world and fondly remembers where it all began: under the mentorship of Wayne Strom, professor of behavioral science at the Graziadio School of Business and Management.

"We are programmed from childhood to react, to be defensive," Strom explains of the mantra. "The kid who raises his hand first in kindergarten gets called on. But if you take a moment and pause, you can tap into more than just a physiological response. Of all the thoughts coming into your head, which of these do you want to nurture? Of the emotions rising to the surface, which of these are constructive and positive? Taking these moments helps us be impactful in a more thoughtful way."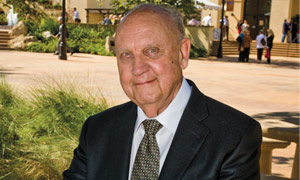 Lessons such as these have made Strom—part teacher, part coach, counselor, and friend—one of Pepperdine's most beloved and successful professors. In 2010 he celebrates 40 years of teaching at the University, having signed on in 1970 as one of four original faculty members at the business school. Just a year after his arrival, Strom cofounded the prestigious Presidential and Key Executive MBA Program (PKE), an intensive 20-month program for top-level executives. Today PKE is the only known program of its kind in the world, dedicated to the complex issues concerning senior executives with enrollment open exclusively to them.

"These are individuals who clearly don't need the degree to be successful," observes Strom, who remains an integral part of the program's faculty. "They have already reached high office and in most cases have achieved financial security. What they need is intellectual stimulation and to become more current in their thinking."

The PKE program comprises 50 units of course credit in the areas of leading people in changing organizations, forecasting in domestic and global markets, integrating the organization and controlling results, competing domestically and abroad, and strategic implementation. As each new cohort enters the program, they begin with an intensive four-day, live-in effective executive workshop. Strom is at the helm of this opening module.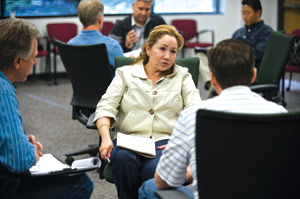 "We were thrown into this weekend with Wayne and a group of strangers," remembers PKE alumnus Tom Hajdu (MBA '05, PKE 113), who runs a mobile entertainment start-up. "You take a bunch of essentially random people—people with completely different skills, backgrounds, industries, age groups—and come face to face with the reality of working closely together for the next two years. Right from the start Wayne creates the opportunity to be part of a high-performance, broad, cross-functional team. I learned the value and power of teamwork, of being receptive to people who have different opinions. It's a huge competitive advantage."

Strom's expertise contributes a unique and critical skill set to the rigorous PKE curriculum. His primary academic focus is the development of leadership processes for corporate renewal. With an emphasis on authentic presence, he teaches a range of personal competencies such as high-impact listening and non-reactive conflict resolution. As a seminar leader on the topic of spirituality in business, he has a special interest in the relationship between various meditative and energy-focused processes, such as mindfulness and the management of breath.

"Breathe deeply and slowly. Release the tightness in your diaphragm. This will allow your central nervous system enough time to release serotonin and dopamine," Strom advises. "As your tension level drops, you can be more present, less reactive, a better listener, and not defensive. By not being defensive yourself, you won't trigger defensiveness in other people. Think of how much more you can accomplish at this level."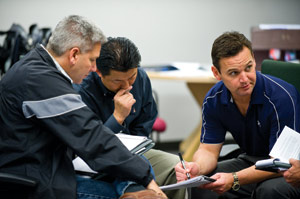 He underscores the importance of a multidisciplinary, applied understanding of human behavior as a key to business success. "I don't use organizational behavior books. I don't teach organizational behavior in the traditional way," he says. "My students are reading current research in neuroscience, for example, that's relevant to management behavior. They're learning about stress management and the relationship between the heart, the brain, and other parts of the body."

The business world is vast and varied, but the professionals who find their way into Strom's classroom share some experiences in common regardless of position or industry: urgent deadlines, competing priorities, hectic schedules, stress, and pressure. Knowing how to navigate these real and challenging obstacles is often the difference between those who succeed and those who do not. "Wayne stresses that leadership is an inward process and requires inner work," Hajdu says. "By looking inward one becomes more available to be more productive in the outside world."

Likewise a recurring theme in Strom's instruction is renewal. After so many years in the working world, many PKE students seek a boost to push them through stagnation or burnout. "There are plateaus in life, and people in management especially can hit a plateau," says Strom. "When they do there are two options: they can renew themselves and make a fresh start, or they begin to decline in their performance." Embarking on an educational journey like this is a new beginning.

Reflecting on his long and enriching career at Pepperdine, Strom recalls his own beginning, and the day the Pepperdine community gathered to celebrate the groundbreaking of the Malibu campus. Strom, then one of just a small handful of business professors, sat in the office of president Howard A. White. As friends and supporters flew to Los Angeles from across the globe, Pepperdine ran out of drivers to retrieve them from the airport. Strom stepped in to help.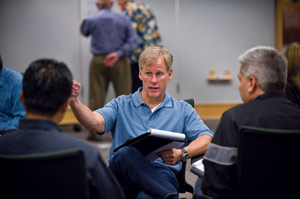 "It was drizzling—not cold, not raining hard—but wet and humid," he recalls. "When I drove into Malibu the soil looked like soft scoops of orange sherbet. I drove up Seaver Drive and mud shot up through sheets of plywood laid as walkways. I wondered how it would all come together. I think about that day from time to time, and am grateful for the vision that made Pepperdine possible."

It took both vision and faith for Strom himself to sign on board at Pepperdine. He was a doctoral student at UCLA in the 1960s when tensions brewed on the campus of George Pepperdine College in Los Angeles. The campus climate worried the young businessman, who thought, "Pepperdine is someplace I don't see myself going."

Yet just a year and a half later, Strom was working as an internal consultant at Hughes Aircraft when he received a call from his mentor Duke Page. Page announced that he was forming an MBA program at Pepperdine, and wanted Strom to be a part of it. "Although I had mixed feelings about the transition," Strom remembers, "I was nonetheless delighted to be the fourth faculty member hired to teach at Pepperdine's school of business."

The school was founded with the goal of bridging the gap between academic excellence and practical business experience. "When I was in business school I did not consider myself a seasoned manager, so I was surprised to learn that I had more experience than half my professors," Strom says. "From the start we wanted Pepperdine to be an applied place that embraced the real world. We would only hire faculty with significant business experience."

And they did. Since those early days Strom has served as associate dean, director of graduate programs, and chair of various academic committees. In 1986 he initiated the Pepperdine Civic Leadership Project, through which MBA students assist nonprofit charitable organizations by consulting on their business-related problems. Strom was selected as a Harriet and Charles Luckman Distinguished Teaching Fellow in 1991, and in 2000, he began enlisting PKE students to coach employable but unemployed and homeless men and women in developing job application and interview skills. This fall he received the Howard A. White Award for Excellence in Teaching.

Through it all, Strom has continued to instill in his students the knowledge and skills they need to excel. "What I learned in economics class I use only every once in awhile," Powers says, "but what I learned from Wayne I use every day. He completely changed the course of my life."

Share your memories of Wayne Strom by leaving a reply on this post below.