Athletics Website Offers Interactive Features for Waves Fans
Pepperdine Magazine is the feature magazine for Pepperdine University and its growing community of alumni, students, faculty, staff, and friends.
Pepperdine Athletics has launched a newly enhanced www.pepperdinesports.com to help fans share in the Waves athletic experience. Wave Casts, the live audio and video streaming of Pepperdine's athletic contests, is now free to all viewers. Industry leader GameTracker provides live Internet statistics at Pepperdine home events, and improved calendars help Waves fans know when the next game will take place.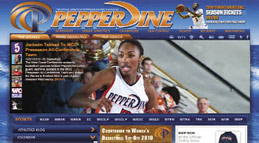 New Web pages have been dedicated to such important sports topics as the Pepperdine Athletics Hall of Fame, the Waves championship teams, and the retired but beloved Pepperdine football program. In addition to featuring higher quality and larger photos and video, an all-new photo store allows fans and family members to purchase many of the photos that they see online. Also available for purchase is new Pepperdine gear through the site's official online store.
Explore these features and more at www.pepperdinesports.com.