Disproving the Sophomore Slump
Meet two standout Pepperdine athletes who are just getting better with age.
Danielle and Maurice.
Danielle Kang
Class: Sophomore

Hometown: Thousand Oaks

Major: Undeclared

Height: 5'6"

Recent Achievement
I just got back from the World Amateur Team Championships in Argentina. I played for the United States along with two other golfers, and we won the Silver Medal after competing against more than 50 other countries. It was such a different and wonderful experience to play for my country.

Leader of the Pack
It was really incredible to win the 2010 U.S. Women's Amateur in North Carolina. As an athlete you keep practicing to reach a goal, to be where you want to be. I worked so hard and it felt great to accomplish exactly what I'd been working for.

Sibling Rivalry
I first started playing golf when I was 12 years old. My dad and brother liked to play, and everyone was talking about how great my brother was. I hated it! The only reason I started playing was because I got upset. Now my brother plays for the San Diego State men's golf team. We play together when we have the chance and it's a lot of fun.

Love of the Game
When it comes to golf, it's all about you. What you work for is what you get. Only I can cause my mistakes, and I alone control the outcome. I rely on myself on the golf course, and that's what I love about it. When the pressure mounts I just tell myself that I've done this a million times and I'll do it again. That's what practice is for. I know what to do.

Top Tip for New Golfers
I don't think anyone can be too patient. It's one of the things I'm still working on. Golf is one of the most frustrating sports ever; every little mistake matters and you can't go back. Instead you have to just let it go, accept what's going on, and move on to the next shot. The ones who can let the mistake go and not carry it over to the next shot—those are the ones who will succeed.

Waves Women's Golfers Excel at the World Amateur Team Championships

This fall Kang joined a distinguished roster of Pepperdine competitors at the World Amateur Team Championships. Pepperdine senior Martine de Gannes finished up her second appearance at the World Amateur Team Championship by captaining Trinidad and Tobago to a tie for 38th place at the 52-team competition in 2010. In addition, alumnae Katherine Hull ('03) and Lindsey Wright ('03) were part of the winning Australia team in 2002, and Carolina Llano ('06) and Eileen Vargas ('07) helped Colombia finish Third Place in 2006.
---
Maurice Torres
Class: Sophomore

Position: Opposite

Major: Public Relations

Height: 6'7"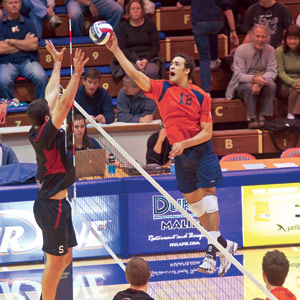 Competing with USA Volleyball
I've played with the USA Volleyball (USAV) youth system since my sophomore year of high school and now I'm on the USAV Junior National Team. Both teams I've played on won the Gold Medal at the NORCECA championships—the tournament for our region to qualify for world championships. I feel lucky and blessed to be a part of it.

Most Memorable Matches
Our match at Pepperdine against USC was the best game I had as a freshman. I remember being so nervous that I couldn't think straight. This year with USAV Junior National team I played against Puerto Rico in the semifinals. It was the best match that I had played internationally. I was born in Puerto Rico and I know a lot of guys on that team. All they could say is, "You need to come play with us!"

All in the Family
The coolest thing about me is my family: my parents and three sisters, all athletes. Both my parents are deaf; my mom was a Deaflympics athlete in volleyball and my dad played semi-professional basketball. It's fun to have parents of that caliber but it also puts a weight on your shoulders because you want to do as well as you can. They push me to be better on and off the court.

Natural Skills
I played soccer and basketball growing up, and began playing volleyball as a freshman in high school. I was tall, I could jump, but I didn't have any skills. My parents always encouraged me to play whatever I wanted. My mom will still tell me what I can do better, no matter how well I'm doing, but she's also my biggest fan. She's the loudest person in the gym.

Waves Teammates
There's an old saying in volleyball that the best serving team out there is the guys on the other side of the net during practice. Our first and second teams are both amazing, and we get game-quality practice whether we're in a match or not.

Number One Goal
To bring the national championship back to Pepperdine. Marv Dunphy is arguably the greatest coach to have ever coached men's volleyball. It would be my pleasure and privilege to help bring the championship back to Pepperdine.

Men's volleyball coach Marv Dunphy, his 2005 NCAA Championship-winning team, and golf alumna Lindsey Wright were all inducted into the Pepperdine Athletics Hall of Fame this fall.