Letter from the Editor
Pepperdine Magazine is the feature magazine for Pepperdine University and its growing community of alumni, students, faculty, staff, and friends.
Every fall students from all corners of the world arrive on the campuses of Pepperdine University ready to embark on new adventures. They come poised to learn and grow, to embrace opportunities and challenges alike. The beginning of these journeys marks a bold step in their lives.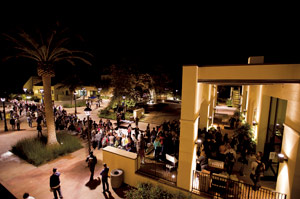 In this issue of Pepperdine Magazine we turn the spotlight on members of the Pepperdine community who have taken big, brave, and bold steps of their own. We share the story of Pepperdine's innovative exploration into iPad technology, and professor Angela Hawken's groundbreaking work with undercover researchers in Syria.
President Benton shares his perspective on why it is important for the University to take decisive steps on the road to national prominence in athletics, and in this edition's "Pepperdine Prologue," we meet Carmen Landrum, who traveled from Kentucky to Los Angeles in 1937 to become part of Pepperdine's first graduating class, just four students strong.
This issue offers only a snapshot of the choices Pepperdine people make every day to live their lives to the fullest. We hope you'll visit magazine.pepperdine.edu and send us yours.
Megan Huard
Editor