A Message from the Alumni Leadership Council President
Pepperdine Magazine is the feature magazine for Pepperdine University and its growing community of alumni, students, faculty, staff, and friends.
When students enter Pepperdine, many of them have a raw passion for something they want to do in the world. They come to this University because they can gain the right knowledge and abilities, and meet the right people, in an environment that ultimately will propel them forward to exercise their passion and change the world. Our students have compassion and are concerned about the greater good, and I have no doubt that all of our alumni carry forth these same qualities and concerns when they leave Malibu or one of our graduate campuses.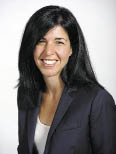 I'm Christine Grimm, president of the Pepperdine University Alumni Leadership Council (ALC). The ALC is an advisory board to the University, advocating for all alumni and serving as ambassadors of the mission set forth by Mr. Pepperdine almost 75 years ago. We share Mr. Pepperdine's vision of a vibrant community of alumni, connected to each other, mentoring and hiring new grads, supporting the University and most importantly, making a significant contribution in the world.

The Pepperdine alumni network, our alumni association, is over 90,000 alumni strong, with over 30 organized groups in the U.S. and abroad. I encourage you to take advantage of the many programs and services available—career workshops, networking opportunities, and now downloadable seminars available on iTunes University (itunesu.pepperdine.edu). You can also get connected through Facebook, LinkedIn, Twitter, and our own PAN Online Community.

At the same time, I want to issue a challenge to you to give back where and when you can. There are so many ways to get involved—career mentoring, Waves of Service initiatives, regional social events, and annual giving are just a few of the many opportunities open to you.

I look forward to your participation. There are many ways to give back and connect.

- Christine Grimm ('90)



Career Connections Through Pepperdine Alumni Network
Hire a Wave

Give back—after all, Waves hire Waves. If you are currently in a position to hire, post your company's jobs at www.pepperdine.edu/alumni/career. If you want to help but do not have an open position, consider becoming a career volunteer by providing an internship, giving a company tour, speaking at an industry roundtable, or becoming a career mentor or coach.
Receive Career Assistance

Wondering how to start your career or what you're going to do next? Forging a career path is a deliberate process. It involves constantly evaluating your goals, weighing your options, making difficult decisions, and learning from your experiences. People all around you have made similar decisions and learned valuable lessons—and their wisdom is there for the taking. Talk to one of 11,000 career volunteers today.
Search for Jobs

It's never too late to get moving on your career planning and job search. Let us help! We have mobilized the people, skills, alliances, and technology to provide you with state-of-the-art solutions. These jobs are posted by employers specifically looking to hire Pepperdine students and alumni.
Attend Pepperdine Career Week

Mark your calendar now for the third annual Pepperdine Career Week: January 24–28. The week will consist of dozens of sessions to give you a competitive advantage in the workplace. Learn more at www.pepperdine.edu/alumni/careerweek.

PAN Online alumni.pepperdine.edu
Update Your Information

Have you moved recently? Welcomed an addition to your family? Changed jobs or been promoted?

Let us know! We'll keep your profile current on PAN Online and inform you about news and events that mean the most to you.

Update your profile at alumni.pepperdine.edu or fill out a simple online form atwww.pepperdine.edu/alumni/update.