Nootbaar Institute Hosts a Conversation with Benjamin Odoki
Pepperdine Magazine is the feature magazine for Pepperdine University and its growing community of alumni, students, faculty, staff, and friends.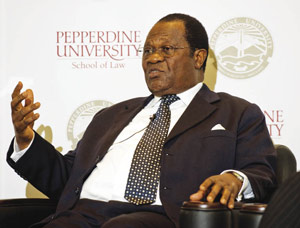 Pepperdine's Herbert and Elinor Nootbaar Institute on Law, Religion, and Ethics and the Global Justice Program presented a conversation with Benjamin Odoki, the chief justice of Uganda, in September at the School of Law. Joining Odoki were panelists justice Geoffrey Kiryabwire of the Uganda High Court, Commercial Division; Tim Perrin, vice dean of the School of Law; and third-year student Nicole Hutchinson, who previously clerked for Odoki in Uganda.
The chief justice spoke on writing the 1995 Constitution of Uganda, advancing the rule of law, and the future of Uganda. "One of the major issues facing the creation of the constitution was the lack of compromise," said Odoki, who chaired the country's constitutional commission in the early 1990s. "We had to go issue by issue and find the consensus, and then we had to build confidence in the new constitution.
In the capacity of chief justice since 2001, Odoki presides over his country's Supreme Court. From 1989 to 1993 he was chair of the Uganda Constitutional Commission, which collected the views from the public and prepared a draft constitution for Uganda. The draft was debated and adopted by an elected Constituent Assembly in 1995. His book, The Search for a National Consensus, which details the making of the 1995 Uganda Constitution, was published in 2005.