Pepperdine Athletics Complex Named for Charles B. Runnels
Pepperdine Magazine is the feature magazine for Pepperdine University and its growing community of alumni, students, faculty, staff, and friends.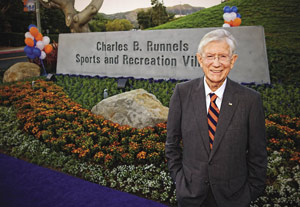 Pepperdine University's Chancellor Emeritus Charles B. Runnels, a longtime supporter of Pepperdine Athletics, was honored this fall when the Waves athletics complex was dedicated as the "Charles B. Runnels Sports and Recreation Village."
During an evening ceremony, a large stone monument and plaque was unveiled at the corner of John Tyler Drive and Banowsky Boulevard on the Malibu campus.
"I think that having the name of Charles Runnels headlining the entire village is an anchor for athletics," says John Watson, director of athletics. "We are in complete harmony with his vision and dreams that student-athletes have their athletic talents challenged and enhanced while they focus upon their development intellectually, socially, physically, and spiritually."
Men's basketball player Gus Clardy shared a memory of Runnels' passion for Pepperdine athletics. Clardy, a Regents Scholar and a WCC All-Academic honoree, recalled a game in which he heard someone yelling at him about rebounding, and assumed it was head coach Tom Asbury. When he turned around, he realized it was Runnels, who can regularly be found at events in Firestone Fieldhouse, sitting in the first row behind the scorers' table.
Runnels thanked his family and friends, adding: "My prayer for our athletes and coaches and each one of you is that your lives would be filled with the joy of sport, the thrill of victory, and the spirit of teamwork in all that you do. Thank you all, and especially my dear friend Ginie Braun, for the vision and dream to make this village come true for Pepperdine students and for all of you who come to enjoy our sports."
For more information and to watch videos from the ceremony, visit www.pepperdinesports.com.