Pursuing Veritas
Exploring Gods place in higher education believers
In the spring of 1996, author and professor Mary Poplin was alone with Mother Teresa at the Missions of Charity in Calcutta, India, wondering where to find her calling once she returned to America. "Mother Teresa told me that God doesn't call everyone to work with the poor and he doesn't call everyone to be poor. She pointed her finger at me… and said 'God calls everybody to a Calcutta. You have to find yours.'"

Poplin channeled her experiences into the book Finding Calcutta: What Mother Teresa Taught Me About Meaningful Work and Service, and shared her story with hundreds of students and visitors as keynote speaker at Pepperdine's second Veritas Forum (see sidebar). Poplin, a professor of education studies at Claremont Graduate University in California, presented her thoughts in two parts: first, how she was able to ultimately reconcile her two identities—Christian and professor—when she found her faith after years as a secular, even anti-Christian intellectual; and second, how her ultimate search for calling led her to spend two months in a Calcutta orphanage with the world's most famous missionary.

"Veritas is about exploring life's big questions, and Poplin hit some of those questions head on: Why are so many people hurting? What should I do about it? Why does it matter?" says Blake Edwards, a third-year law student who led the forum as emcee and moderator. "I hope the audience left the forum thinking about how they can alleviate suffering in their own special way, and thinking about their calling."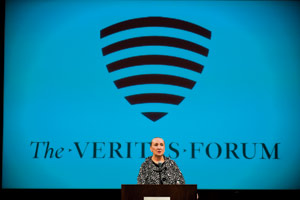 Mary Poplin addresses the Pepperdine crowd

The forum audience was moved, some to tears, by a clip of a documentary, Mother Teresa, which showed Mother—as Poplin and the nuns in Calcutta called her—rubbing the chest of an emaciated, disabled boy as he struggled to breathe. Because she did not try to convert the people she served but instead focused on meeting their most basic needs of survival, intellectuals often describe Mother Teresa as the ultimate social worker. Yet Poplin pointed out in her lecture and in Finding Calcutta that Mother Teresa always asserted her calling was not social work but actually religious work.

"I saw the documentary and was stunned when she said that," Poplin said. "From a secular humanist point of view, Mother Teresa was simply a good humanist, maybe even an extraordinary one … But Mother Teresa said that what made her do what she did was three visions of Jesus speaking to her on the cross. She was already working with the poor, teaching social studies in India. She said that Jesus told her: 'I want you to go into the darkest holes of the poorest of the poor and take me to them because I love them.'"

Mother Teresa may not have openly struggled with what the world wanted of her and what she knew her calling was, but Poplin certainly did after a vivid dream about Jesus implored her to reevaluate her faith. After decades of being a fervent secularist and, later, a spiritually restless intellectual, Poplin slowly came around to the idea that academia could—and must—be inclusive for people of faith.

"Even though universities came from the monasteries, they have become secularized to open them up to more ideas. But what it actually did was close them down to ideas of Christianity," she explained. "One of my graduate students told me many years later that I told them they could use any source in their research paper except the Bible. Because," she added, laughing at the memory, "I was a liberal, open-minded professor!"

Poplin devoted part of her lecture to addressing the discrepancy between institutions that stand for truth and knowledge while writing off a huge percentage of the population because of a belief system.

"Having gone to a large public university as an undergraduate, I know firsthand how much the academy looks down on religion in general and Christianity in particular," says Edwards. "It became very ironic to me when I decided that Jesus actually made a lot of intellectual sense."

Poplin concluded her talk by saying that she believed the Christian students at Pepperdine are fortunate to attend an institution of Christian tolerance. "It takes extraordinary effort to remain faithful and I don't for one minute underestimate what this generation is up against."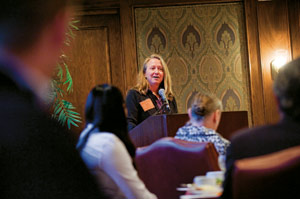 Kelly Monroe
---
The Veritas Forum
More than 17 years ago, Kelly Monroe, a student at Harvard Divinity School, observed that many of her fellow students felt isolated in their search for meaning and truth. Monroe began to encourage Harvard students, alumni, and professors to write down how their life stories led them to discover "veritas" or truth in the person of Jesus Christ. These stories led to Monroe's book, Finding God at Harvard: Spiritual Journeys of Thinking Christians, and a forum that was held for students and faculty from various disciplines and cultures to share their own questions, suffering, journeys, and discoveries with the Harvard community.
Today the Veritas Forum nonprofit organization works with students to host forums at their respective college campuses to explore "truth," often from a Christian perspective. A number of universities across the nation and internationally have responded to the desire to explore true life by creating their own "Veritas Forums," including Oxford University, the Free University of Amsterdam, the University of Paris, York University in Toronto, Canada, and campuses across the United States.