A Safer Future Secured
As senior gender advisor to the United Nations in Lebanon, School of Public Policy alumna Kristen Cordell creates peaceful policy for women among the ashes of conflict.
In a Palestinian refugee camp, 28-year-old Nevine turns down a scholarship offer to take her PhD in London because she cannot leave the compound without a husband. Others are refused permits to work outside the camp, because that would mean interacting, unaccompanied, with male soldiers at the border. Meanwhile, in post-war Liberia, a female soldier discovers she is HIV positive, like many other women who were abused during the country's recent civil war.
Kristen Cordell (MPP '05) knows these women, and many more like them, in war-torn or post-conflict developing nations, who live with restrictions on mobility, speech, and employment. Some live with outright infliction of physical and sexual violence. "Life is very difficult for these woman in refugee camps and post-war countries—they are economically insecure, logistically insecure, and socially insecure," she confirms.
Cordell has spent the last three years researching and advising on issues affecting women in Lebanon, Liberia, and the Democratic Republic of Congo (DRC) with the United Nations and the nonprofit global policy think tank RAND. She uses her findings to recommend new or amended policies to protect and secure women in vulnerable positions.
Since September 2009, she has served as the United Nations Relief and Works Agency (UNRWA) senior gender advisor in Tripoli, Lebanon, at one of the 12 Lebanese facilities for Palestinians' displaced by the 1948 Arab-Israeli war. The laws on human rights for these female displaced citizens of nowhere can be unclear at best or can, at worst, take a back seat to competing cultural influences.
"The refugee camp is very conservative and closed, people cannot enter or leave at will," Cordell explains. "With no exposure to freedom of ideas, arts, or culture we're seeing a real back stride of tradition taking over."
The meaning of tradition in this context is really synonymous with an oppressive patriarchy, as seen in the case of Nevine. Beyond freedom of movement, the extreme side of the cultural patriarchy manifests as systematic violence against women.
"We're seeing the party line of 'in our culture it's okay to beat women or marry at 12 years old,'" says Cordell. "In this contexts—in the camps and in post-war Liberia—culture is an explanation for violence. It's an excuse."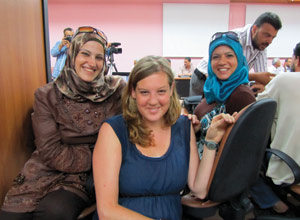 She adds that violence against women in every society is the number one issue in women's rights. As a Westerner and one of just a handful of women in the religiously conservative country to not wear the hijab, she experiences first hand the violating liberties taken to keep women in their place whenever she goes for a run to relieve stress and keep fit.
"In Lebanon, it's not proper for a woman to run, and I have been attacked for it. One incident I had to report to the police," she says, explaining that she runs with male peacekeepers for her protection. She recalls that when stationed in the Congo with the UN MONUC mission in 2008, "it was a running joke that if I stopped running for a moment I would get kidnapped and raped. It was good motivation to keep running!"
Despite the intimidation, she hopes that her stand against the pressures of a patriarchy might inspire other women to realize what they are capable of. "If women know they can run, then what can't they do?"
Currently, Cordell is lobbying on behalf of what women can do in the Palestinian refugee camp as it gets rebuilt following an attack in 2007 that leveled the compound. As well as evaluating what issues affect women in the rebuilding—structurally, politically, and socially—she promotes increasing the visibility and seniority of women in security roles.
She explored the positive effect of having women in leadership and security roles in a study she coauthored in 2008 for RAND titled, Women and Nation-Building. The study specifically focused on redevelopment in Afghanistan following the early years of the post-9/11 US invasion, but the research findings can be applied to Palestinian refugee camps and other post-war societies.
"We found that when women are included in the early stages of building or rebuilding a nation it rocks the boat for a while, culturally, but also creates momentum for a safer society," Cordell says. "It was a really exciting find."
In particular, she found that when women are included in visible, public roles, female citizens are better protected from harm or at least better able to report crimes against them. "Security is paramount in allowing a society to develop," Cordell emphasizes.
In Liberia, she worked with women recruited to the police force, which has to be built up after the war. The results of an increased female police presence in Liberia have been promising. "Members of the battalion report that since women have started going on patrols with their male counterparts, albeit in very small numbers, women have become more active in reporting crimes or suspicious activities," she says.
"This is particularly relevant in Buchanan, where there is a sizeable Muslim population, as Muslim women in Liberia often face both religious and traditional barriers to their interactions with men, and will report only to women officers," she adds.
Back in the Palestinian refugee camp, education is another major area of inequality and is seen as a priority for boys, who are better able to find, and actually accept, employment opportunities outside of the camp. For that reason, girls growing up in refugee camps are educationally marginalized. Part of the problem in reforming this and many other facets of inequality as an outsider, says Cordell, is that the very institutions that aim to promote women's rights can suffer from a case of inequality in their own ranks
"While mid level positions remain accessible to women, the top positions and those with a security aspect remain almost exclusively for men," she states. "Recruitment and retention of quality, high ranking women is a challenge and a priority. We cannot ask for gender equality in other countries when we don't have it in our own institutions."
In the five years since she graduated from the School of Public Policy and joined the field of research and policy writing, Cordell has seen some vast improvements in some countries afflicted by conflict. Palestinian refugee camps in Lebanon and Syria have been making strides to help women safely report abuse by building secure phone lines in the camps. Christian and Muslim women in Liberia banded together to create the Women of Liberia Mass Action for Peace, which brought an end to the second civil war in 2003 and helped pave the way for the election of Africa's first female president. And in 2008, Cordell personally worked on UN Security Council Resolution 1820, which she calls a "landmark resolution against rape as a tool of war."
The resolution commits the Security Council to seek out suitable ways to end sexual violence in armed conflicts, and punish the perpetrators. "We've really come a long way in our understanding of rape as a tool of war," she says, adding that an undercurrent of changing attitudes on the ground may be as important in preventing wartime rape as official policy from governments and the United Nations. "In Liberia, there is a folk singer who released an anti-rape and assault song. I thought that was a very creative approach to getting the point home."
She was also touched by the creative approach to community taken by UN Mission in Liberia peacekeepers from India, which is, incidentally, the only all-female contingent in the UN system. "They taught the girls a traditional Indian dance to the 'Jai Ho' song from the film Slumdog Millionaire, and the Liberian girls did it with such pride," she recalls.
"These are girls who would otherwise be married at 13 or so and who were learning to be empowered through dance. The peacekeepers had no obligation to participate in the community in this way, but it really showed their impact. Looking back, that was a top life moment for me."
Cordell's own life inspired her passion for women's rights; her mother was once in the military and was a midwife who taught Cordell from a young age that women's rights begin with self-ownership of her body and childbirth. She earned a bachelor's degree in history and political science from the University of North Carolina in Chapel Hill, and after finishing her master's from Pepperdine, she moved to Washington, D.C. with RAND.
Her choice of career has brought a few inevitable brushes with danger, including a battle with malaria and an incident in the skies in which a Congolese national being deported back to the Congo hijacked the flight, causing the pilot to turn the plane around. But despite the dangers, Cordell's passion for women's rights has only grown thanks to the "countless impressive women" she has met who have survived conflict with courage, endurance, and compassion.
She recalls when Nevine had to turn down the chance of a lifetime in London. She now works with the United Nations to help her fellow Palestinians. "In America there would be a sense of disappointment about sacrificing a Ph.D. opportunity to stay with family. But she is happy to work with us, putting in time and effort to do a great job. Her attitude is so impressive."