Sketch Artist
Broadway caricaturist Matt Logan captures the theatrical spirit in pen strokes.
The audience holds its collective breath, captivated by the energy and emotion of the actors on stage. No one moves a muscle—except one man in the dark back row, pen and sketchpad thoughtfully engaged.

"My pursuit is to try to capture what the performance brings, more than just the performance," he says. In recent years theatre artist Matt Logan ('00) has been garnering increasing renown for doing just that. With simple black and white pen strokes he communicates on paper the life each actor breathes into his or her performance on stage.

The process is loving but laborious. "If I don't see the show, my compositions do suffer," he notes. "I don't know the full context, or body positions, or expressions." Logan attends at least one performance for each show he illustrates, sketching as much as possible from the shadowy seats of the theatre or hurriedly in the lobby during intermission. He then uses production shots to capture small details, particularly in the face. "The more expressive the actor is, the easier it is to catch. But I can easily go through 90 sketches for just one composition," he says.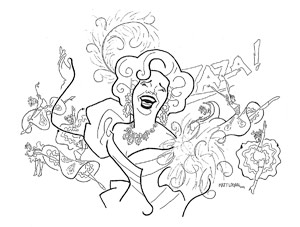 Logan polishes off his sketches from his home in Nashville, Tennessee, where he runs the professional theatre company he cofounded, Studio Tenn. "It's really why I moved back to Nashville from New York. I was learning so much in New York, but I realized there was a void in my hometown." Now in its first full season, Studio Tenn will run four classic shows of musicals and dramas, most of which Logan has performed personally throughout his career. "We want to entertain and educate at the same time. I believe theatre is a learning opportunity and an event that can bring people together. It's about community."

The theatre community itself has embraced Logan since his earliest days as an actor at Seaver College and in Los Angeles after graduation, when he developed the habit of giving his cast-mates show compositions as a closing night gift. He headed to New York in 2002, just a few months prior to the death of renowned caricaturist Al Hirschfeld. "Hirschfeld made a classic claim out of his caricature work and there was a longing for his work. Everyone was missing what he brought to the table. That's really where my work began."

Word of Logan's talent spread in the New York theatre community, as friends, cast-mates, and strangers began requesting his unique pen and ink portraits. In addition to his published commercial work, his drawings have been commissioned by such celebrity clients as Hugh Jackman, Bernadette Peters, Jude Law, Martin Short, Mike Nichols, Dolly Parton, Mary Tyler Moore, Katie Holmes, Harry Connick, Jr., and Morgan Freeman.

"They're not quick and easy," Logan says of his compositions, "but I do get very passionate about my subjects and challenge myself to be better. The place that my work seems to play in actors' and producers' eyes is really a gift."