Taking a Byte
Apples iPad has taken the technology world by storm, but is it useful in the classroom? Pepperdine launches a new initiative to find out.
When Apple Inc. announced their new mobile communications device the iPad last year, it was immediately hyped as the next revolutionary step in technology, even predicted by some to replace computers. As an unproven product, though, it was also criticized as merely the latest fad, an expensive gadget likely to become outdated in the time it would take to pay off the credit purchase.

During the product's newsworthy emergence, Timothy Chester, Pepperdine's CIO and vice provost for academic administration, observed that a number of higher education institutions were responding to the new technology at the extremes: some handed out iPads to incoming students while others banned the system on their networks. While weighing how to best utilize the iPad at Pepperdine, it became clear to him that both poles ignore the fact that the device is untested as a learning tool—an oversight that Chester and the Technology and Learning Group at Pepperdine have sought to correct. (See CIO Predicament: What to do About the iPad article for more on Chester's approach to the iPad.)

The Pepperdine iPad Research Initiative is a long-term project that moves beyond the hype of the new device. With four professors and hundreds of under- and post-graduate students on board, the trailblazing experiment is unique to the University and stands to set a precedent for other institutions of higher learning grappling with burgeoning technology.

"After the conclusions have been analyzed, Pepperdine and other schools can use this information to make well-informed, data-driven decisions about iPads or similar mobile computing devices as ubiquitous features of teaching and learning," says testing faculty member and self-confessed "technophile" Christopher Heard, associate professor of religion at Seaver College.

Like his fellow faculty leads in the study—Owen Hall, professor of decision sciences at the Graziadio School of Business and Management; Bernard James, professor of law at the School of Law; and Timothy Lucas, assistant professor of mathematics at Seaver College—Heard teaches the exact same course to two of his classes, one with iPads and one without. Students were not informed ahead of time which class would be using the devices, to avoid skewing registration numbers.

The results of this initiative, which will continue throughout the year, could have significant implications. If it proves to be a virtual "thumbs up" for the device—and for subsequent tablet technologies by other companies, such as the Blackberry Playbook—it could impact what students and parents purchase to support classroom learning. It also has the potential to render certain educational objects, if not exactly obsolete, then at least less necessary. "It could replace the need for pens, pencils, notes, books, calculators, calendars, organizers, and laptop computers in class," explains Lucas, noting that this will only happen if the device is found to be extensively useful and decreases in price enough to be affordable to the average student.

Lucas notes that for such drastic changes in standard educational equipment to take place, the device must be strictly studied. "It is important that we study the effectiveness of the iPad so that we can measure the benefits of this tool and not simply adopt new technology for its own sake."

While the device may prove revolutionary in classes that involve visual mediums—such as Lucas' mathematics class, where students can manipulate graphs on-screen with their fingertips—other subjects do not involve much that can't be accomplished by a laptop. Law student Kyle Matous finds that a touchscreen keyboard is less efficient for his needs than an external keyboard with raised keys. "If I had an external keyboard, I would use my iPad much more frequently," he says.

Math student Emilie Young says that the device is practical for taking to class, given its small size and weight compared to a computer, but that in her dorm room she sticks to her computer. "The iPad is less practical when I have to write a paper or something, because the only application is Text Edit," she says. "If it had Word or Pages I would use it a lot more. Maybe I could download those things, I don't know yet."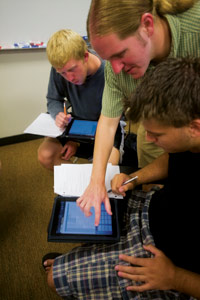 As a longtime PC user, Matous has found that for a student already struggling with a heavy workload it can be hard to find the time to learn how to work an alien device. "There is a balance between using technology to enhance learning versus spending all of your time teaching students to use the technology," agrees Lucas. Matous' professor Bernard James addresses this potential discrepancy between student needs, saying, "The conclusion of the study may be that the device works better in undergraduate environments, or it may be the opposite, working better for postgraduate students."
James teaches education policy and reform at the School of Law, and has made available on the device his video syllabus—talking-head snippets of concepts that will be discussed in upcoming classes—but has struggled to gain device publication approval for his textbook, Education Policy and the Law: Cases and Commentary. He suggests that ultimately the device's role as a learning tool in the long term may rest upon the professors keeping a tech-savvy attitude.

"It may be just a question of how useful the available applications are for any given class," he expands. "If instructors commit to putting resources on the device, then the value goes up tremendously. Personally I want to create an application and am curious to see how hard that would be. It's certainly a learning curve for the professors, as well as the students."

Owen Hall maintains that modern business thrives on keeping up with technology, with clean technology becoming increasingly important. Like Lucas, he notes that in combining resources and equipment into one mobile tablet device, the iPad and similar products could signal a new era in reduced waste. "It contributes to energy and environmental sustainability," he says.

Heard identifies compatibility with existing technologies as being the biggest challenge of implementing new technology. For example, the iPad's Web browser is Mobile Safari, which is not yet fully compatible with Pepperdine's learning management system, Courses. Enabling compatibility or fully adopting a new technology can be time-consuming and expensive for universities, which is why Chester asserts the importance of questioning just how beneficial the device is for learning. "By tying the use of the device to mastery of course objectives, we hope to develop some direct evidence to answer the question," he says.

While the results of the study will not be correlated, analyzed, and released for over a year, and the preliminary opinions about the device vary among participants, everyone involved agrees on one thing: that the study itself is a progressive move by Pepperdine. "We're not waiting for other schools to help us decide how to use the technology," James asserts. "It involves a tremendous commitment of resources at the risk of finding out that it might not be the right tool for us. This research is a feather in Pepperdine's cap at the front of a new movement in technology."