Negotiating the Future
Graziadio School of Business and Management professor Joetta Forsyth offers personal finance tools for planners of all ages.
Navigating the path to financial independence can be an intimidating experience at any age. Alongside young people entering the world of mortgages and mutual funds are older generations who have been feeling the effects of a wavering economy for years. The situation is even worse when these individuals aren't equipped with the knowledge necessary to make sound fiscal decisions.
Concerned by the state of the U.S. financial crisis and her college-bound son's financial inexperience, Joetta Forsyth, assistant professor of finance at the Graziadio School of Business and Management, penned a rigorous personal finance book for high-achieving youth. Also meant to be a useful resource for readers of all ages, Financial Wisdom Volume 1: Personal Finance and Career Skills to Guide Teens and Young Adults on Their Journey to Success and Happiness suggests that being in control of personal finances at an early age helps ensure a better life later on.
Here Forsyth shares her insight, revealing the reality behind sometimes-unwise financial decisions and offering tools to help both young adults and their older, more experienced counterparts achieve financial success.
"I'm too young to save for retirement."
Forsyth recommends starting as early as your first paid job. "You can leave yourself destitute when you're old," she explains, noting that many young people don't save simply because they don't want to think about getting older.
Quick tip: "You should always contribute at least 10 percent of your income to retirement, and preferably more," she asserts. "Consider it to be owned by someone else-your elderly self, who is depending on you to not leave them penniless."
"I am ready to buy a home and have saved enough money for a down payment."
"Be careful," insists Forsyth, who explains that new homebuyers are especially vulnerable because they do not have enough of a savings cushion. The emotion of buying a house for the first time also leaves new homebuyers susceptible to overpaying and overlooking hidden costs. These include property taxes, maintenance, insurance, and homeowner association fees, which can "easily wipe out the advantage of the mortgage interest rate tax deduction and more," she says.
Quick tip: "Compare the cost of renting for a year with the price of a comparable home," says Forsyth. "Preferably, annual rent on a comparable house should be at least 9 percent of the home price or more."
"It's time to buy my first car."
Car salesmen love first-time buyers--and not for altruistic reasons. One thing you can do to protect yourself, according to Forsyth, is to get a car loan from a credit union. "Dealers offer some of the worst interest rates out there," she explains, "while credit unions tend to offer very low rates." Forsyth also advises that potential buyers shop for the best rates and get preapproved before even starting to look for a car. Another piece of advice: let someone else do the negotiating for you. "Roadside assistance companies and even retailers negotiate low rates and prearranged prices on cars for their members."
Quick tip: Like houses, cars come with other unexpected costs. Operation, maintenance, and gas "can be very expensive in the first year," she says. And don't forget insurance.
"My savings is burning a hole in my bank account. I'm ready to invest."
Taking care to assess both the gains and losses is vital to investing. Forsyth warns new investors about investment fees and the impact they can have on how much you earn. Taxes are also detrimental to capital gains. "If you are in a lower tax bracket, you are in a better position to invest in higher tax investments that offer a higher return," and vice versa, advises Forsyth. Another way to avoid risk is to diversify, or distribute your money in different kinds of investments. "While investments tend to do poorly or well at the same time, they will also go their own way," says Forsyth, who suggests investing in mutual funds. ETFs (exchange traded funds) are another way to diversify—they have their own unique issues and risks.
Quick tip: Brokers make money when their clients trade and will encourage them to do so. Forsyth advises to not let them pressure you into trading frequently and suggests a "buy and hold" strategy for inexperienced investors. Broker fees and taxes on winning trades may add up for frequent traders. "You have to make a lot of money just to break even," she explains.
"I have to pay off my student loans as soon as possible to eliminate debt."
Forsyth insists that you should not pay off your student loans if you are paying higher rates elsewhere. "First, calculate what your after-tax interest rate is on your loans," she advises, suggesting that higher rate loans should be paid off first. "It may be better to not pay off all of your student loans." New college graduates pay higher rates when they borrow due to poor credit ratings. "Showing that you are steadily paying off student loans can help you build a better credit score," she maintains.
Quick tip: If you think you can earn more on an investment (after-tax) than your after-tax student loan rate, then keep the loans and put your money in the investment.
"It is more difficult to get ahead than it used to be."
"A long time ago, children learned about personal finance on their family farm or business," she explains. However, when parents started working at corporations, schools did not fill in the gap. Time and again, people leave home and make serious financial mistakes. It is important to invest wisely in an education. With the tough economy, jobs are more difficult to come by in general. However, unemployment is much lower among college-educated workers, and investing in an education that provides a foundation for a successful career is all the more vital.
Quick tip: Forsyth warns not to choose a career based merely on whether or not studying that field in college is fun. Talk to professionals in the desired area to find out all of the plusses and minuses of that career, such as retirement options, long work hours, long hours of travel, and so on.
"I can avoid the 'real world' for a few more years by going to graduate school."
Graduate school is a big investment and should be investigated carefully, Forsyth insists, but it is possible to fund a graduate education without racking up excessive debt. "You do not want to be burdened with heavy student loans upon graduation," she says, advising graduates to resist the temptation to emulate luxury-seeking peers in the years they work before graduate school.
Quick tip: Be smart about your decision. "Graduate school is an important stepping stone to higher paying jobs and a more exciting career," Forsyth explains. "Just manage your money wisely so that you can take the best advantage of graduate school."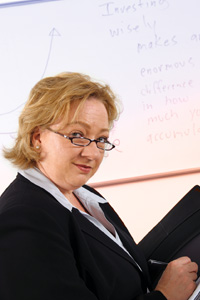 "We've been married for a few years and are ready to expand our family. The financial details will work themselves out."
The key to making a smooth transition to parenthood is to practice simple living before having children. Forsyth advises to "rent the smallest apartment possible, avoid eating out, and go to free concerts," prior to adding to your brood.
Quick tip: Start saving wisely for their education once or before your child is born.
"My financial troubles only hurt me and my bank account."
Rather, "it has become a social issue," Forsyth argues. She explains that many people point to financial distress as the number one cause of divorce and an important cause of suicide. "It's hard for people to describe the fear of losing everything and having to explain it to their families."
Quick tip: Educate yourself. With the rise of debt-talk in the political discourse, people with financial training become better citizens. "They will understand what people are talking about and be much wiser voters as a result."
Forsyth has been an assistant professor of finance at the Graziadio School since 2002. Her research interests include: how bank employee compensation is related to risky mortgage lending practices; how stock misvaluation and corporate governance influence the awarding of options to CEOs; and the relationship between corporate governance and firm value. She has also developed a model that explains how the advent of world trade contributed to the corporate restructuring wave of the 1980s.
Forsyth earned her PhD from a joint program with the Harvard Business School and Economics Department, with an emphasis in finance and industrial organization. She received both her bachelor's and master's degrees at the University of Chicago and has held professorial posts both at the University of Michigan Business School and USC's Marshall School of Business.