Pepperdine Adds Sand Volleyball to its List of Sponsored NCAA Sports
Pepperdine Magazine is the feature magazine for Pepperdine University and its growing community of alumni, students, faculty, staff, and friends.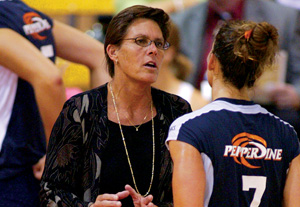 Pepperdine Athletics will add women's sand volleyball as an intercollegiate sport under the direction of indoor volleyball coach Nina Matthies, one of the best beach volleyball players in the history of the sport.
"We are excited to add women's sand volleyball to the Pepperdine athletic program and believe it will prove to be a popular sport for our community," says director of athletics Steve Potts. "Volleyball has a great tradition here and we are committed to building a championship women's sand volleyball program."
In January 2010 the NCAA added sand volleyball to its list of emerging Division I sports for women beginning in the 2011-12 school year. The sport will begin competition in Spring 2012, likely at the start of March, and will run for approximately two months.
Pepperdine's first-ever recipient of a sand volleyball scholarship is junior Caitlin Racich, who has chosen to forego playing indoor in order to focus on sand volleyball. Matthies anticipates 12 to 14 of the 18 players on her 2011 indoor roster will end up playing sand volleyball this spring.