The Unstoppable James R. Wilburn
The School of Public Policy dean reflects on 40 intrepid years at Pepperdine.
The year was 1996. It was pre-9/11, post-Berlin Wall, and all was relatively calm on the Western front. James R. Wilburn had been dean of the School of Business and Management at Pepperdine for 12 years and was itching to devote more time to teaching and to finish writing a book he'd been working on. There had been times before, in his 25 years at the University, that he'd almost left to pursue his varied scholarly interests, but he had always chosen to stay because of his deep-seated belief in Pepperdine's mission. But this time was different. This time, Wilburn really meant it: he was ready to retire from administration.
At that same time, David Davenport, then president of Pepperdine, was getting ready to launch the University's fourth graduate school, the School of Public Policy (SPP). There was just one problem: the foundling school was minus one dean. Davenport considered Wilburn a fearless leader who inspired hard work and admiration from students, faculty, and staff, and, as such, was the only person for the job, but Wilburn turned him down three times when offered the inaugural position.
After the third refusal, Wilburn sat on a task force to help design the program before Davenport asked him, one last time, to run the school for just one year to get it off the ground. "I had always wanted to go to the Amazon River and had planned this trip to go all by myself for a couple of weeks," recalls Wilburn. "When I returned, I said I'd do it—for one or two years max."
This year marks a double celebration as Wilburn commemorates a landmark 40 years at Pepperdine University and the School of Public Policy enjoys its 15th anniversary, with Wilburn at the helm throughout. Davenport's insistence that Wilburn lead Pepperdine's infant school came from knowing one important fact about him that others across Pepperdine have long admired—that he truly and honestly believes in, supports, and will fight for the University's mission as a Christian institution that strengthens students for lives of purpose, service, and leadership.
"Jim lives out the value and mission of Pepperdine, and always promoted it and attracted people to it," comments Patti Yomantas, who was hired by Wilburn in 1979 when he was the vice president of University Affairs; she is now the director of advancement communications. She cites him as one of the strongest forces tying her to Pepperdine more than 30 years later. "When you work with Jim, you catch the vision that he's got."
His vision for an environment that nurtures Christian values and community grew from his early roots in the faith. He earned bachelor's and master's degrees in biblical studies at Abilene Christian University before joining the Pepperdine administration in 1971, a year before the Malibu campus officially opened. He soon saw the divisions inherent in maintaining two campuses; in its early days in Malibu, Pepperdine also kept open the original campus in south Los Angeles, creating two separate undergraduate programs. As University provost, Wilburn was integral in transitioning the University entirely to Malibu, a move that was met with some skepticism from the community at the time.
"There were people who were disappointed, who felt that Pepperdine was abandoning the inner city. But I felt that with limited resources, Pepperdine really couldn't afford to have two complete liberal arts undergraduate programs," he asserts.
Despite the turmoil, Wilburn cites this time as one of the most exhilarating eras at Pepperdine for him. "Every era has its own excitement but when president Bill Banowsky was doing all of the work he outlines in the Malibu Miracle it was definitely exciting—though I don't know that I'd want to live through it again. If you're not sure you can meet the payroll, each week you lose a little sleep."
By 1980 Pepperdine's community was wholly reunited at the Malibu campus and Wilburn was the vice president for University Affairs when he faced another big test of leadership: arsonists attacked the school and set the advancement offices alight.
"We got a call early in the morning from Jim to come in immediately," remembers Claudia Arnold, who was hired by Wilburn in 1976 and is now campaign director and vice chancellor for donor relations and strategic initiatives. "The next year-and-a-half we were tucked into little spaces available around campus and it took us a year to rebuild. But the way he kept everyone together and kept morale up—there isn't anyone more inspiring than Jim when he starts waxing lyric about community and the Pepperdine mission."
At that time, Wilburn's main concentration of community outreach was fundraising and building relationships with donors. He oversaw the founding of the donor membership program Pepperdine Associates in 1977 at a time when unrestricted giving accounted for a massive 10 percent of the University's budget. "The thing that was the most rewarding of that period was getting to know our donors with such close, intimate friendships," he reflects.
By the early 1980s the scholar was beginning to feel the pull back towards academics and sought a change of career trajectory. He decided to earn his MBA from the Pepperdine business school while still serving as the vice president of University Affairs, and had quietly set his mind to work for a venture capital firm with former astronaut Buzz Aldrin. Instead he was called to another role at the University when he was invited to be the dean of the now Graziadio School—an opportunity and challenge he couldn't turn down.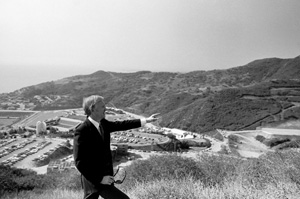 Wilburn points out the location of the future Drescher Graduate Campus, 1982
"The same graduation ceremony where I got my MBA, I walked back up on the stage and was announced as the new dean of the School of Business and Management," he remembers. Already known for making impactful leadership decisions, Wilburn wasted no time making known his commitment to the business school. On the day of his inauguration in 1982, he announced that the land above the Seaver and School of Law campuses would be used to build a new professional campus for the business school.
"I got on a horse and rode around this spot, picking the right place," he says from his office at SPP on the Drescher Graduate Campus. "The Los Angeles Times did an article on me as the new dean, they took me up on this hill and had me point out over where the campus is now. Then I spent the next 10 years raising money—it was kind of a gutsy thing, if I think back on it, to just announce this plan without even calling a committee or anything, but after you get $8 or $10 million dollars raised for something it's hard to say no."
His plans took 15 years from announcement to reach fruition, facing opposition from Malibu, Los Angeles County, and the California Coastal Commission, but the Drescher Graduate Campus opened with aplomb in 2003 and now houses the Graziadio School, SPP, the Graduate School of Education and Psychology, and residences for faculty, staff, and students. Wilburn was also dean at the time when the Graziadio School was the third largest business school in the nation, so it's little wonder that former president Davenport thought of him first and foremost as the best candidate to lead Pepperdine's school for public policy graduate studies.
Meanwhile, Wilburn's news- making public policy work with a post-Soviet Russia may also have played a part in Davenport's decision. From 1991 to 1996 Wilburn served as cochair of the U.S. Committee to Assist Russian Reform, a program funded by the U.S. Department of State and authorized by Boris Yeltsin.
"I was invited by the prime minister of Russia to put together a committee of business leaders to serve as advisors to Russia on privatizing and trying to move from a communized economy to a free-market economy," he recalls. "They asked me to look at three areas: housing for the soldiers coming back from the end of the Cold War with nowhere to live, food distribution, and tourism. My last few meetings there were actually inside the Kremlin in Boris Yeltsin's office, so that was obviously an exciting time to be there."
His work made headlines across the world, to the point that his committee was falsely accused by the KGB of being spies for the CIA. "President Davenport called me one day and said, 'Hey Jim, we're opening our mail over here and we have a $25 check from one of our alums that had a letter with it addressed to the Pepperdine Spy Program in Russia," laughs Wilburn.
President Ronald Reagan also appointed Wilburn to head the board of the Citizens for the Republic Education Foundation in late 1978, and he worked extensively with Baron Rothschild and the European Parliament Industrial Council during the late 1980s.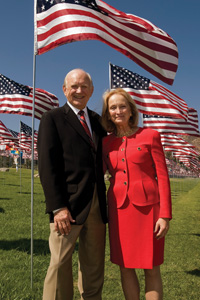 Dean Wilburn and his wife Gail with the 9/11 commemorative flag display in Alumni Park.
After an action-packed 25 years at Pepperdine and in international and domestic affairs, by 1996 Wilburn was ready to stand back and focus on teaching and writing. Throughout his tenure at the business school he had taught business strategy in the Presidential and Key Executive Program; taking on a second deanship—and for a brand new school, no less—meant that teaching would have to take a back seat once again. Fifteen years after accepting the position as dean of SPP, Wilburn admits that he still misses teaching.
"I just don't have time to teach in a classroom right now, but I always take each new group of students out of town for three days at the beginning of every year and get to know them," he says, adding that "the students are the biggest inspiration to me because they never cease to amaze and inspire me by their own energies and their own eagerness to make a difference."
Recent graduate and filmmaker Eli Steele (MPP '11) reciprocates, noting how Wilburn has shaped both a challenging educational experience and an open, trusting environment. "My memories of the dean are simple: him eating lunch at the cafeteria," Steele adds. "I think that sums up who he is in many ways: accessible, willing to talk to any student who sits at his table. By doing that, he is both available and has his ear to the ground so he knows what is going on, which allows him to make sure the school is heading in the right direction."
After 40 whirlwind years at Pepperdine, Wilburn remains unstoppable in his commitment to the University, and he does it all for love of the mission of service to students. "If I'm going to invest my life, my time, my energies, my talents, I can't think of any other way to better leverage that investment than by having an influence in the world through the lives of talented students."