Aural Ambassadors
Ryan Board nurtures a family of student ambassadors through Pepperdine's choral music program.
Choral music has traditionally shined in times of commemoration and community, such as weddings, funerals, worship, and ceremonies of significance. Listening to a band of singers harmonize poetry unites the listener in a moment of musical beauty, as he or she becomes lost in emotions and memories.
It also unites those singing in the choir. "There is nothing like singing beautiful music with your best friends, who also happen to be serious and well-trained musicians," states alumnus Tyler Kimmel ('11), a tenor who graduated last year with a degree in music composition and education. There may be the occasional solos in a performance, but ultimately, he says, "being in a choir is about making music together."
The three branches of Pepperdine's choral music program—the concert choir of men and women, the smaller chamber ensemble for women, and the selective Collegium Musicum—are, naturally, present at some of the most important University gatherings. Their voices mark the beginning of a new year at the annual Founder's Day, enrich sacred music for worshippers in Stauffer Chapel, lift up Christmas songs for celebrating students, and entertain fans and audiences at concerts throughout the year.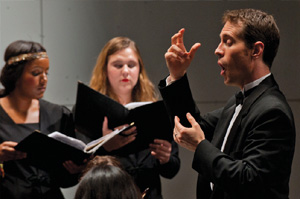 Board was recently invited to be the principal conductor for the Prague Choral Festival in summer 2014, where he will conduct the Czech National Symphony Orchestra and the Prague Festival Chorus for Prague Proms International Music Festival Finale.
As assistant professor and director of choral activities Ryan Board emphasizes that, beyond positive feelings of belonging that camaraderie brings to the choral singers, the togetherness Kimmel celebrates actually serves two higher callings. The first is artistic, and demands a deep understanding of the material that goes beyond aural appreciation.
"There's no other art form that I think quite completely allows a community of people to express the widest, deepest, most profound expressions of all facets of the human condition," Board explains, adding that Pepperdine is unique in allowing this experience to both majors and non-majors who pass the audition process.
As an example, he points to the concert choir's final performance of 2011-2012 in which they performed an early Baroque piece by Johann Hermann Schein, titled "Die mit Tränen Säen." The piece had such a rich historical context that it transcended entertainment.
"Schein's setting of the piece is based on many generations of composers that came before him and his composition affected many of the generations of composers that came later. So it functions as a hub of music history that I can point out to my students and it becomes no longer just about the performance. It has significance," says Board.
Current student and mezzo-soprano Savannah Garrett says contextualizing the work elevates the words and music to something higher. "Dr. Board reminds us all the time of what the music is about and what the importance of it is. And he has great support for us as individuals rather than as simply parts of a working machine."
Board's attention to the needs of his singers helped the choral program adjust to dramatic changes at the beginning of the fall semester of 2010, when Board replaced Milton Pullen after he retired from a 15-year post as the highly regarded director of the program. Kimmel says that Board's methods helped the singers keep their sense of unity during the transition.
"Both choir directors were very inspiring to me and helped solidify my desire to be a conductor and composer of choral music," notes Kimmel, who has composed scores for Pepperdine student films and plays and who conducted the premiere of an opera, El Canguro, by German composer Peter Michael von der Nahmer in the fall of 2011. Kimmel is currently working towards graduate school for a master's degree in composing or conducting.
The second calling of the choral program's "togetherness" is something quite unique to Pepperdine among university choirs across the country: though student singers aren't required to be practicing Christians, the music selected is heavily geared towards compositions of worship and praise. The choirs are literally ambassadors for the University's Christian mission.
Appropriately, Board first got his taste of choral music when he began singing in the church choir at the age of 3, and it remained an important part of his education and worship experience throughout his school years. After getting his bachelor's degree in vocal performance from the secular University of Northern Colorado and then earning his master's in conducting from Westminster Choir College—which included stints with the New york Philharmonic and the Philadelphia orchestra—he is pleased to fly the flag of Pepperdine's mission through the choral program.
"A choral program can be a catalyst for those things an institution holds to be important, and that's where I think we're making some great inroads through our program," he says, adding that concerts have doubled as fundraising events for various causes, including support for U.S. military veterans.
This past spring, Board took nine students to historic Carnegie Hall in New york City to sing in the world premiere of a large choral orchestral work titled, "Flowers over the Graves of War," by James Eakin. In the summer of 2011, a dozen students traveled with Board to Prague, Czech Republic, taking part in the triannual Prague International Choral Festival. The 12 singers formed a small chamber choir to perform for the international choruses, before joining other choirs from around the world to perform Mozart's Requiem and Berstein's Chichester Psalms with the Czech National Symphony orchestra in one of Europe's great halls.
"It was the most beautifully intimate music I've ever sung, in this fabulously old church," remembers English major Garrett, who was one of the few non-music majors on the trip. "It was so cool to sing music in a church that was there during the time the music was written."
For Garrett and her peers it was a total immersion experience of the artistry, camaraderie, and Christian heritage of Pepperdine's choral music program—experiences that Board and the rest of the program's faculty try to emulate every day on campus with the three choir "families."
"There's something amazing about so many people having this one talent," Garrett continues. "And it doesn't matter where they're from—when they're together and they make this beautiful sound, it is art. When I'm singing, I feel as though I'm a part of living art. And it's very fulfilling."