A Collection of Characters
Alumni and faculty working as film and television writers share their creative secrets.
See that family over there—on the other side of the restaurant? What's their story? The woman looks thoughtful. The man looks happy. What are they talking about?
Sheryl Anderson
If you are in a restaurant, or any other public space, and notice someone glancing your way a little too often, don't be alarmed. It might just be adjunct professor of film and television writing Sheryl Anderson, or another screenwriter imagining your life story to get character ideas.
"My parents played this game with us whenever we'd go out as a family to eat—you pick someone and tell their story from afar. So many of my ideas come from imagining people. I find my inspiration in eavesdropping," jokes Anderson, a veteran writer of shows such as Charmed andFlash Gordon.
The films and television shows that truly transport us out of our lives for a short time feature characters that are finely drawn, carefully crafted by writers who are infinitely curious about people in both strange and mundane circumstances.
"The best inspiration comes from observing," agrees recent graduate Jeff Loveness ('10), a writer for Jimmy Kimmel Live! "It may occasionally make you annoying to hang out with, but always be observing. Find something stupid in the world, something that shouldn't be the way it is, and form opinions, even absurd ones—it'll give you something to write about."
"The stuff that dreams are made of"—Sam Spade, The Maltese Falcon (1941)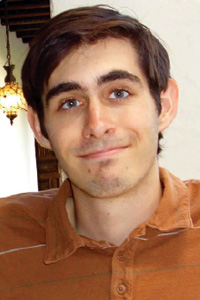 Jeff Loveness ('10) writer for Jimmy Kimmel Live!
Loveness defied the odds to find a steady writing gig right out of college. At Jimmy Kimmel Live! he has written popular comedy sketches that take character observations and turn them upside down, such as pitting Harrison Ford and fictional furry friend Chewbacca against each other as longtime rivals, and having Jimmy Kimmel and Ellen DeGeneres duke it out in a "Nice Off" to be crowned the "nicest host." Loveness was offered the job based on his work as a contributing writer for comedy web series,The Onion News Network, and after a number of his self-made comedy sketches went viral onYouTube.
"Higher-ups may not have time to read your 90-page screenplay, but they might have time to see your three-minute short film. For once we have a direct outlet to show the world our work; so in general, I say write, but go further than that. Create," Loveness advises.
He is a prime example of what can happen when raw talent combines with the drive to create and the skills to make the right connections. With its location so near to the heart of filmmaking, Pepperdine is able to draw industry pros to teach creative writing undergraduates and students of the master of fine arts in screen and television writing (MFA) program, many of whom have built careers in the industry.
"I like Pepperdine's MFA model, which has a faculty of working professionals who give up a night or two each week and the rest of the week they're out there pitching and writing their own stuff," says recent graduate Josiah Nelson (MFA '11).
Because, Nelson adds, besides crafting compelling characters there are two vitally important parts of being a writer. The first is to simply to keep writing. "Be patient, go to your job to support yourself, interact with people, but just write a little bit every day," he advises.
Nelson's second piece of advice to fledgling writers is to make sure people see their work. For Loveness, that forum was YouTube; for Nelson, it meant getting an internship with a film company where his boss read his completed action-adventure screenplay.
"She liked it, passed it along to a producer friend, who passed it to another producer, who decided to option it. Starting out in this business, you need someone championing your work and willing to pass it along," Nelson asserts.
"All right, Mr. DeMille, I'm ready for my close-up"—Norma Desmond, Sunset Boulevard (1950)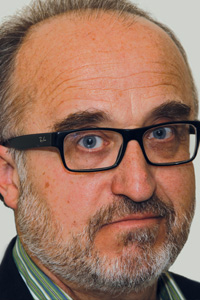 Andy Guerdat
With their feet in the industry's door, the next challenge for these writers was to walk through it to build their craft, find their niche, and really claim a stake in the business. It took adjunct MFA animation professor Andy Guerdat a year and a half to make his first script sale from the time he arrived in Los Angeles in the 1970s.
That first sale was to The Jeffersons and half-hour sitcoms have been his specialty ever since, with his talent put to work onMork & Mindy, Boy Meets World, Sister Sister, and his own creation,Herman's Head.
"I was devastated when I discovered that about 50 percent of my Jeffersons draft has been rewritten by staff," Guerdat recalls. "Later, when I was the guy doing the rewriting, I learned that 50 percent is a very high percentage for a freelancer to achieve, especially for his first time in the big leagues."
Rewrites are an unfortunate and unavoidable part of the screenwriting world, but most writers learn over time what will work and what won't. "If it doesn't play, it doesn't matter how pretty your words look on the page," Guerdat explains. "you have to make the script work for the actors, who have to make it work for the audience. So if it isn't working, change it. Fast."
Nelson asserts that one of the most effective ways to learn your craft intimately is to stick with one genre.
"When I first came out I wanted to try my hand at everything, but I've learned that if you're a great romantic comedy writer and just pretty good at action, you should stick to romantic comedy," says Nelson, who has had his first script optioned. "What I'm good at is writing action adventure, so I'm focused on that now."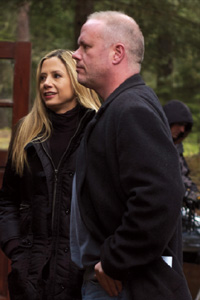 Tom Provost directs actress Mira Sorvina in The Presence
Besides, "being 'typecast' is one of the best ways to get regular work," agrees Tom Provost, a writer/actor/director who joined the MFA faculty this fall. He gravitates naturally towards writing and/ or directing thrillers and horrors, such as Under Suspicion, The Presence, and the upcoming Mr. Clark, a dark reimagining ofIt's a Wonderful Life.
"Don't fight the typecasting; embrace it," Provost says, offering advice that can be applied to most any career. "And hope for the time in your career when you can complain about being typecast and getting a lot of work in only one genre."
"Today, I consider myself the luckiest man on the face of the earth"—Lou Gehrig, The Pride of the Yankees (1942)
Ultimately, being "typecast" and successful in a career that is highly competitive, a lot of hard work, and creatively rewarding is a good problem to have. Provost maintains that "how you disclose information to keep the audience leaning forward" is the most important element of good storytelling— and likewise, screenwriters should be as engaged with their creative passions.
Guerdat grew up writing short stories but fell in love with the movies in what he calls Hollywood's "golden era" of the late 1960s and early 1970s. "Without ever having taken a screenwriting course or having read a screenplay, I imagined the opening sequence of a movie I eventually wrote called Fourth Story. That sequence never changed from that first conception through dozens of drafts, all the way to the final production."
"If you have a passion to tell a story or you feel called to do so," adds Anderson, "then hang on to that feeling. The rest of it you can learn."
For more established writers who have mastered the art of characterization, pushed through the hard times of writing and rewriting and typecasting, and have come out on the other side with actual credits to their name, the real fun begins when they can see the final product of their work, share it with audiences, and look back on their efforts with pride.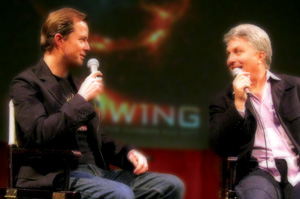 Stiles White (left) talks with EMC director Craig Detweiler at Pepperdine
For example, alumnus Stiles White ('91) paid a visit in December 2009 to Pepperdine's Institute for Entertainment, Media, and Sports to screen and discuss his blockbuster film, Knowing. He and Juliet Snowden, his wife and writing partner, have written a number of films, includingBoogeyman from 2005 and the recently released horror film,The Possession. Even with all of his success, he still remembers the impact of attending screenings and Q&As with filmmakers in his student days.
"Getting to ask questions, hearing the behind-the-scenes details of the process and how movies are put together—those are motivating experiences for aspiring writers and artists," White notes. "It was a thrill to come back to Pepperdine—I'm looking forward to seeing what talent comes out of future graduating classes."
As the lead characters of their own life stories, film and television writers make the journey from movie fans to story creators. And if the day comes that they can no longer imagine a story for the family in the next booth over, they'll always have the joy of having lived out their dream.
"I often wonder why I'm doing this," reflects Loveness, of all the late nights and painful rewrites involved in following his passion. "But then you see the final product . . . If my career ends up imploding upon itself, then I can at least take comfort in the fact that I made Harrison Ford angrily throw Chewbacca out of a dressing room."
"Wait a minute—you ain't heard nothin' yet!"—Jakie Rabinowitz/Jake Robin, The Jazz Singer (1927):
Read expanded Q&As with these alumni and faculty writers, plus an extensive conversation with David Weiss ('81), screenwriter of The Smurfs, Shrek 2, andAll Dogs Go to Heaven.
"MUST WATCH" Films and Shows for Aspiring Writers:
Provost: "There's a terrific movie about filmmaking from the 1970s called The Stunt Man, starring Peter O'Toole. The screenwriter in the film is a wonderful character and how he is treated is pretty accurate even today."
Loveness: "The Simpsons made me want to become a writer. For sheer volume and variety of jokes, you can't do better."
Anderson: "Classic Twilight Zone is a show of beautiful self-contained parables. The episodes I saw as a child still resonate with me today. And it explains my interest in genre and mystery."
Nelson: "My favorite film of all time is written by my favorite writer of all time—A Man for All Seasons, written by Robert Bolt (Lawrence of Arabia andDr. Zhivago)."