Dolores Returns!
Pepperdine Magazine is the feature magazine for Pepperdine University and its growing community of alumni, students, faculty, staff, and friends.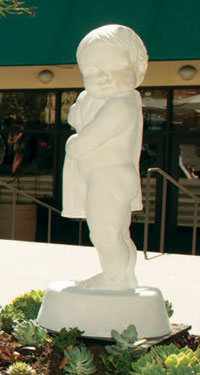 On September 19, Founder's Day 2012, Dolores, the beloved mascot and guardian angel-cherub of the original George Pepperdine College campus in South Los Angeles, was unveiled in a special ceremony in Adamson Plaza on the Malibu campus, restored to the full glory of her 1941 debut.
Set upon a quatrefoil pedestal, she makes a welcome and beautifully scenic return to the center of Pepperdine campus life, as the University concludes its historic 75th anniversary year.