Founders Day 2012
Pepperdine Magazine is the feature magazine for Pepperdine University and its growing community of alumni, students, faculty, staff, and friends.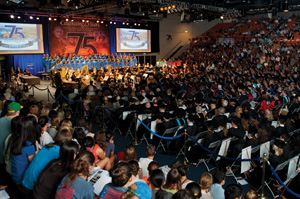 Pepperdine University officially opened the 2012-2013 academic year—and concluded its historic 75th anniversary—at the annual Founder's Day celebration in Firestone Fieldhouse on September 19, 2012.
The event included a procession of alumni and faculty, a reading of Mr. George Pepperdine's Dedicatory Address from 1937, a performance of John Williams' "The Champions" by the Pepperdine orchestra and concert choir, an introduction of several Pepperdine Olympians, a recitation of memorable quotes from Pepperdine's history, and remarks by President Andrew K. Benton.