At Home on the Court
Nona Lee explains her journey from sports to sports law.
Home is more than just where the heart is. It's where you feel most yourself; where you are most confident. For alumna and lawyer Nona Lee ('81), home is in the family atmosphere, competition, and hard work that comprise her favorite thing: sports.
"I relate to the world through sports and always have—it's where I feel safe and empowered and, frankly, joyful," affirms Lee, a four- year women's basketball star for the Waves and now senior vice president and general counsel for the Arizona Diamondbacks baseball team.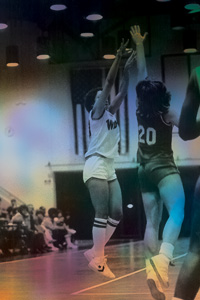 The story of Lee's life is tightly bound with her journey through the world of sports. That journey began as a child in southwest Los Angeles, where she grew up under the shadow of L.A.'s once-premier sporting arena, the Forum, then home to the L.A. Lakers and the L.A. Kings. Naturally competitive, she discovered as a child the thrill of pushing herself harder and faster than her opponents when she really began succeeding in swimming and water polo in middle school, where she became the youngest player on the women's national water polo team.
"I was only 14 when I joined the team, so the older girls had to pick me up from my house," she remembers fondly. "The thing about participation in sports is that it gives us the ability to develop life skills that we wouldn't otherwise come to in life. Competing is how I learned about teamwork, discipline, confidence, and, ultimately, self-esteem. I have always been happiest in the pool or on the basketball court."
By high school she had preferred basketball, and at Pepperdine she began her first season as a walk- on Wave in the 1977–1978 season. She remembers her playing years as being "entirely phenomenal."
"I remember vividly the last game I played at Pepperdine," Lee says. "We had made it to the regionals and we drew USC in the first round, and they were very, very good. We were handily beaten, but I remember the whole experience of my last game— of knowing that we were giving it our all, and the memory of the last basket I ever made for the Waves."
For a natural-born competitor like Lee, doing the best you can possibly do is not a platitude but the endgame in itself, as she has always enjoyed the struggle of competition and the joy of pushing herself harder and further. "The best part of getting to a victory is also the most important part: you have to give 110 percent. you can't always count on winning, but you can always count on doing your absolute best."
Over the years since she graduated in 1981, that attitude has nourished her and guided her towards finding her calling outside of Pepperdine. She became the graduate assistant coach to the women's basketball team under former head coach Patty Meyers, with whom she remains good friends, while working on a master's degree in broadcast management. After a year, however, she decided to start working on the business side of entertainment, and after 10 years became a paralegal to see if her future was in the law. In 1995 she graduated summa cum laude from Oklahoma City University School of Law and became a litigator before signing on as associate general counsel for the Phoenix Suns in 2000.
She was finally "at home" again, in the world of sports. "It's hard to explain, but it's been the most natural thing in the world. As a litigator I felt like a fish out of water, but from the moment I walked into the Phoenix Suns legal office, I felt completely at home. It's a business, of course, but there's that shared connection and passion for the team and the sport. I've been at home now for over 12 years," she says.
Lee transferred in 2005 from basketball with the Suns to baseball with the Diamondbacks, where she faces "a variety of issues" from compliance with baseball regulations, risk management, and negotiating the building and use of the Diamondbacks' state of the art spring training facility, Salt River Fields at Talking Stick, which was the first of its kind to be built by a Native American community on tribal land.
Once Lee found her way back home, she immediately began practicing the art of being a good neighbor. In 2001 she founded the Phoenix Women's Sports Association nonprofit, providing education, resources, sponsorship, and activities that encourage girls and young women to improve their lives through sports and fitness.
"I've been so blessed to work in professional sports, and I have a mission now to help women find their power through sports," she says, recalling her youth as she developed her confidence in the pool and on the court. "Even if a girl we support isn't interested in playing sports at a professional or elite level, there is still a better chance that she'll be able to get a college scholarship from her skills. If she plays pro after that, then great, but it's more about helping give her a foundation to succeed at whatever she wants to do."
She stepped down as president of the small organization a few years ago to give someone else a chance to share their vision. But Lee remains active on the board, overseeing her "labor of love" and encouraging girls like her to be the best they can be and to give 110 percent, whether it's on the court, in the classroom, or in an office building.
"I often say this and believe it to be totally true: that there is no way I would be where I am today, including both my career and my personal life, without my sporting background and all of the lessons and skills it taught me," she reflects. "I cannot even envision my life without that background."