Im a Wave and My Life Has Been Changed!
Pepperdine Magazine is the feature magazine for Pepperdine University and its growing community of alumni, students, faculty, staff, and friends.
Standing on these bluffs above the Malibu coastline, I can hardly fathom the vision and courage it took George Pepperdine to endow this institution of higher learning in the midst of a deep depression. Today, with more than 92,000 alumni all over the world, we stand for lives of purpose, service, and leadership like no other institution of higher learning in this great nation.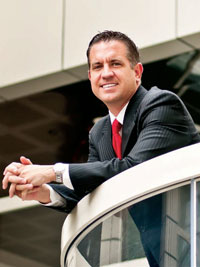 On the historic 75th anniversary of the founding of Pepperdine University—Founder's Day 2012—I humbly assumed my new role as the fourth president of the Alumni Leadership Council (ALC). I am proud to be called to serve in such an important capacity in helping our alumni connect to their alma mater and find meaningful ways to give back.

I have served on the Alumni Leadership Council since 2008 as a member representing the Graziadio School of Business and Management, then as a committee chair, and most recently as president-elect. I have come to appreciate the enormous compassion and pride that our alumni exhibit.

Waves are providing internships that help prepare current students to find their first jobs. Waves are serving in their local communities and around the world. Waves are mentoring and teaching other students and alumni. Waves are stepping up their engagement and giving back of their time and talents. I have developed a strong appreciation for the value of the Pepperdine community and how important our alumni are to Pepperdine.

We stand on the shoulders of many leaders who were the cornerstones of this great institution as we boldly go forward. For those of you who are already involved, we thank you and ask that you "keep on keeping on." For those who haven't yet found your way to connect, please reach out and join us! We have more than 30 chapters and regional programs with hundreds of events planned for the coming year. you can always keep up by visiting www.pepperdine.edu/alumni. Go Waves!
By Darren Pitts (MBA '95)
President, Alumni Leadership Council