No-Strings Support
Lou and Kathy Colombano adopt Waves men's basketball and show their unwavering support for the Pepperdine family.
When the Pepperdine men's basketball team traveled to Arizona this past season to play two games away from home, the presence of two longtime, loyal supporters made it feel like they had taken a little bit of home with them. As Lou and Kathy Colombano watched from stands hundreds of miles from the team's home turf in Firestone Fieldhouse, Malibu, they provided unspoken support to the team in Arizona.
"I told them they are our good luck charms, because we won both of those games!" laughs Marty Wilson ('89), head coach of men's basketball.
Over the years as he progressed from student player to assistant coach under Tom Asbury, and now head coach as of September 2010, Wilson has witnessed the Colombanos grow into the role of unofficial surrogate parents to the Waves, attending as many games as they possibly can, both home and away. Their presence at away games in particular can be a real boost to the team.
"As a former player, I appreciated knowing that through the good and the bad times, there were people there who believed in us," he remembers.
The Colombanos have believed in Pepperdine throughout both very good and very bad times. Their connection to the University goes back to 1985, when their son Mark enrolled as an undergraduate. "He loved the ocean and he loved the academic standards of the school," Kathy explains.
The family had spent five years living in Rome for Lou's job with aerospace company Northrop Grumman, a time Lou calls "the greatest thing for our family," and had just recently returned to America before Mark went off to college. He seamlessly assimilated into his school, working hard, making friends easily, joining Sig Eps, and playing lacrosse, before he tragically passed away his sophomore year in a traffic accident, along with his friend Kimm Hubert. (See below for information about the Mark Colombano Memorial Scholarship Fund.)
His family, which includes younger sister Lisa ('91, JD '94) who was then in her senior year of high school, was forever changed. But they were also determined to honor Mark's memory at Pepperdine and make new, happier memories. Lisa earned her bachelor's degree and JD from Seaver College and the School of Law, respectively. Lou and Kathy moved back to Los Angeles from Kansas City, Missouri, where they had been living at the time of the accident. And over the years the Colombanos have come to represent the epitome of the "Pepperdine family."
"Initially we got involved to stay close to Mark, that's how it all started, but now we just enjoy the environment here, and enjoy the young atmosphere," says Lou.
"We find it very invigorating being on campus," agrees Kathy. "To be around young people just starting out in their careers—they're so enthusiastic and eager to learn. It's refreshing!"
To most of the student body and fellow Waves fans, the Colombanos are known around campus for their fiercely loyal support of the athletics teams, men's basketball in particular. That support stretched thousands of miles in spring 2010 when the pair traveled to Italy on a 10-day, four-game tour of the country with the team, head coach Asbury, and then-assistant coach Wilson. The couple did everything with the team, from sightseeing, meals, and providing a little tour- guiding using their knowledge from the five years spent living in Rome.
"It was incredible to get to know the players better and find out what wonderful gentlemen they are," Lou says. He remembers one day in the famous Piazza San Marco, Venice, when one player was swarmed by Italian school children, believing him to be Los Angeles Lakers star Dwight Howard. "He was overwhelmed and so gracious to the children."
Moments like that are part of the reason the Colombanos feel passionately about the Waves family. "We really enjoy seeing the players progress during their four years at Pepperdine, not only as players, but as young men becoming well- rounded individuals," Kathy explains. "Pepperdine has done a wonderful job of selecting head coaches, all of whom want winning records of course, but who also prioritize turning out well-rounded people who will be positive additions to society when their playing days are over."
She and Lou watched with pride as Wilson progressed from player to assistant head coach in 2008, before he eventually took over the head coach position when their dear friend Asbury retired in 2010. Any fears that their support at games would dwindle when Asbury left proved unfounded.
"They are the epitome of loyal fans," Asbury notes. "And players are smart—they know the fans that are only there when they're winning, and the ones that aren't there when they're losing, but the Colombanos are there come rain or shine. I told my players that they could learn a lot from them."
Though noted for their love of men's basketball, Lou and Kathy's involvement with the University actually goes much further. Lou sits on the Seaver College Board of Visitors, the Athletics Campaign Committee, and the Crest Advisory Board, the latter for which he lent support to the Coastal Commission hearings about the building of Drescher Graduate Campus in 2005. Meanwhile Kathy has been a longtime member of the Center for the Arts Guild and is the primary program manager of the Mark Colombano Memorial Scholarship.
For Lou, the reason they stay so committed to their Pepperdine family is summed up by one evening in Italy with their team. In Sienna, near Florence, the men's basketball team warmed up to play their local opponents. "They had no idea that Pepperdine students in the Florence Program had arrived in the country for their year abroad just the day before," Lou remembers.
"Jet-lagged, those students came to see the game and support them, and of course a lot of them were real friends. The boys were overwhelmed. And afterwards, we all went to program director Elizabeth Whatley's home in the hills and had a big barbeque together as a family. It was a perfect evening."
The Mark Colombano Memorial scholarship Fund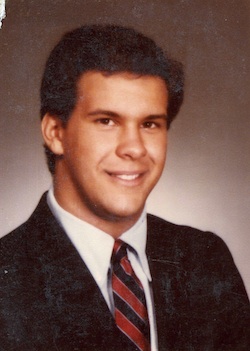 Since 1987, Louis and Kathy Colombano have honored the memory of their son Mark with a Seaver College scholarship fund in his name, supporting one student every year with a love of learning, leadership potential, and enthusiasm for extracurricular activities at the University.
"We want to help the students who are most like our son. Mark was a good student but he had to work hard for his grades. I look for well-rounded students with interests in on-campus activities," says Kathy, who, with her husband, has remained close friends with Mark's fraternity brothers from Sig Eps. Scholarship recipients have included enthusiastic club participants and organizers, and activity leaders.
"Receiving my scholarship from the Colombanos gave me the opportunity to graduate from my dream school," says scholarship recipient and current Seaver junior Lindsey Jeu De Vine. "The Colombanos are a true reflection of the big hearts that build up Pepperdine University. I am forever thankful for them and their generosity."
Learn more about endowed scholarships at Seaver College: seaver.pepperdine.edu/financialassistance