Pepperdine GreenTeam Plants Organic Community Garden
Pepperdine Magazine is the feature magazine for Pepperdine University and its growing community of alumni, students, faculty, staff, and friends.
Tucked away at the north end of the Malibu campus is an enclosed area where a handful of Seaver College students saw a need for a community garden that promotes sustainability and Christian stewardship.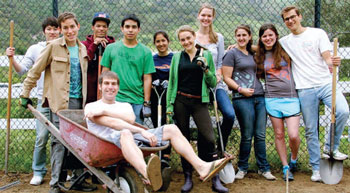 Their mission was to educate the community that "there is a healthy way of eating, growing your own food, and not having to rely on grocery stores and pesticides," says Seaver senior Juan Godinez, one of the current copresidents of the GreenTeam, the campus group that founded the organic Community Garden and is focused on finding innovative ways for the Pepperdine community to implement sustainable, holistic practices into everyday life. "The goal is appreciating nature, the beauty of the earth, and God's work in everything. It's an educational, spiritual appreciation," Godinez enthuses.

In 2011 the GreenTeam partnered with the University's Center for Sustainability, which helped them focus their plans for a community garden to something that would be approved and manageable for community use. "Everyone was really supportive of the idea; there wasn't any resistance to it," says Peter Duby, coordinator of the Center for Sustainability, who praises the garden as a platform for students, faculty, and staff to unite as a community.

The garden currently houses 12 raised redwood boxes available for use by the Pepperdine community to plant and grow edible produce every fall and spring semester. Everyone who commits to a plot is required to attend an informational session at the beginning of each semester discussing the rules of the garden and basic tools to help beginners become fluent in the practices and policies.

Godinez describes the GreenTeam as "a group of people interested in nature and sustainability." But beyond a common interest in the environment, the group thrives on promoting ecological awareness and sustainable practices. Throughout the year they sponsor activities such as tree plantings for Arbor Day, cooking classes, field trips to food festivals, and beach cleanups.

Learn more about the Organic Community Garden: pepperdinegreenteam.blogspot.com

The future of the organic Community Garden includes the potential to connect with the Natural Science Division and encourage professors to bring students to the plot to educate them about organic gardening.