The Scottish Plays: Meet the Players
Pepperdine Magazine is the feature magazine for Pepperdine University and its growing community of alumni, students, faculty, staff, and friends.
Senior Jesse Perez, Kevin Shipp ('12), and junior Anna Tullis all had key roles in their productions of Anon(ymous) (Perez) andWhy Do You Stand There in the Rain? (Shipp and Tullis). Pepperdine Magazine caught up with the actors to discover how they prepared for this intense theatre experience.

What was the process like for you developing your role in your play?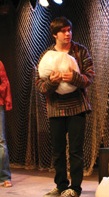 PEREZ: I got this wonderful opportunity to portray Anon and it easily became one of the biggest acting challenges I have ever undertaken. His goals and desires were very clear but the character was much more ambiguous. Initially I tried to tackle The Odyssey to get a good idea of who Odysseus was, since Anon is based on him. But Anon is a refugee whose country of origin is never mentioned in the play, merely alluded to. Joe Obermueller, our fantastic director, went in the direction that the playwright Naomi Iizuka intended and set his home in Southeast Asia.

SHIPP: In Why Do You Stand There in the Rain?, there are dozens of roles played by the cast, and most of the beginning process of developing the characters was researching the world they lived in, because they were real people. Once that was done, I had to imbue myself in the character, because Peter the playwright was explicit in his instruction that it isus telling this story, so it needed to be us acting it out.

TULLIS: We were all immersed into this world and given the opportunity to play characters from both sides of the story—soldiers or veterans or spectators or reporters etc. We were asked to bring our own opinions and feelings into the story. It was a very unique experience!

How has this play challenged you as an actor?

PEREZ: I was quite literally playing a "faceless and nameless" character—it was difficult to connect with early in the process. This struggle to find this character has been so beneficial to me as an actor because at the very least I've gained a sort of confidence in myself to tackle new challenges and new characters, even when it's a challenge.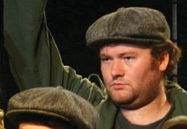 SHIPP: I've never done a show where I've played over 2 roles before, so this challenged me to keep a bit of myself in every role, but make each character unique from the others.

TULLIS: For me, I found it challenged the way I approach a play and build my endurance. Because it wasn't fully developed and I participated in the development, I couldn't approach the play as a fully realized piece, but instead had to bring my own ideas and interpretations. I had to bring all I could to the table in energy, ideas, willingness to explore, and dedication.

And what was the most fun part of this whole process for you?

PEREZ: Without a doubt getting to work with the fantastic Joe Obermueller and his wonderful wife Janette. The creative process was so much fun and I learned so much from it. Joe's visions and concepts were astounding. A play like this requires insane set changes and Joe was able to create a vivid and imaginative world with merely the use of fabrics, cajons, and chiffon. From the middle of the ocean to a deadly butcher shop to a dark sweatshop this was one of the most stunning technical shows I've ever had the honor to be a part of.

SHIPP: I really enjoyed the actual performances of Rain. It's a short play, and from the beginning of the process we have been encouraged to simply "play," and try different things, so it's been very rewarding to have an audience that laughs and appreciates the choices we've made.

TULLIS: I loved getting to work with each and every one of my fellow cast members. We grew so close as a cast as we worked through this piece.

Kevin and Anna—what was it like developing Rain with playwright Peter Arnott?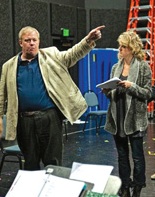 TULLIS: Developing a new work of theatre is one of the most rewarding and challenging experiences I've been through as an actor. Scenes slowly unfolded and changed. Because the actors were involved in the development process, by the time we were performing in Edinburgh there was a deep sense that we were getting to finally share what we had been working on for months and it personally gave me a new sense of care for the story that we were telling.

SHIPP: The generosity and spirit that Peter and John [Kielty, Rain's musical director] brought was enriching. They were collaborative, and I really felt as though my opinion mattered just as much as theirs did. Peter didn't lecture us—he learned with us. It made it an atmosphere where we were comfortable developing a work together with ourselves built in, and not just following orders.

What was Scotland like?

SHIPP: Scotland is not only beautiful—the cultural pride and identity is overwhelming. It's a country that loves what it is and is excited to share who they are with you.

TULLIS: I enjoyed Scotland so much! It was one of the most amazing times of my life: having the opportunity to spend a summer focused on theatre and acting, and being exposed to so many levels of the Scottish theatre community from writing, to social interaction, to acting, to singing, and meeting amazing people along the way. The Scottish culture is so rich and fascinating! Our first week in the Highlands was one of my favorite parts of the trip because we were immersed into the Scottish culture and given a week to soak in as much of the history as we possibly could. It gave me such an appreciation for the people I was surrounded by and the events that have brought this country to where it is.

PEREZ: I loved being in Scotland, too! The opportunities we had there were incredible. Alex Fthenakis, one of our coordinators, was incredible and gave us the chance to meet countless playwrights and artists whose insights and talents were a real treat to behold. I was truly expanded as an artist from this trip and I feel incredibly lucky for the amazing experience.

Have you always enjoyed acting? Any plans to continue after Pepperdine?

SHIPP: My plans, now that I'm a graduate and the fun is over, are to start soliciting myself to agents for representation. I have a stable and flexible job, so I am able to audition when I need to. I'm hoping to join the world of film more than I did in school, but still maintain theatre work.

PEREZ: I started acting when I was a sophomore in high school and I've been hooked on it ever since. I certainly plan to continue in some capacity. It would be nice to make a career out of it but realistically I know that at the very least I will somehow continue with it even if it is just at the hobby level.

TULLIS: I grew up loving to perform, jumping up on coffee tables to sing or tell a story. I got involved in acting my junior and senior years of high school and decided it was what I wanted to study after taking some time off between high school and college. I plan on staying in LA after graduating to pursue a career in the film industry.

Any other thoughts?

TULLIS: I can't say enough how incredible this program is and will never be able to adequately thank Pepperdine and Friends of the Theater for making it possible!

PEREZ: I am eternally thankful to Cathy Thomas-Grant for this experience and for encouraging me and allowing me to be a part of this company. It has truly been one of the greatest experiences in my life and it is all thanks to her. She deserves so much credit and I have never met a more inspiring human being.
Read more about the Pepperdine Drama experience at the Edinburgh Festival Fringe.