The Scottish Plays
Pepperdine Drama debuts two new plays at the Edinburgh Festival Fringe and wins the prestigious Fringe First Award.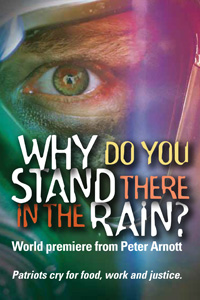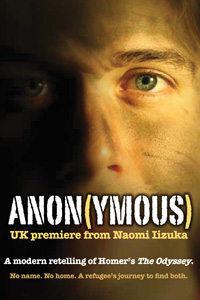 Sitting quietly backstage, Anne Tullis gazed inquisitively at her cast-mates and wondered to herself how their group would fare—playing to an underwhelming audience of just three people. It was August 2, 2012, and she and her fellow Pepperdine actors were finally performing a groundbreaking new play, Why Do You Stand There in the Rain? , at the Edinburgh Festival Fringe. The pivotal moment followed months of rehearsal and collaboration with the Scottish playwright Peter Arnott.
"We were all excited to tell the story," the Seaver College junior remembers of that evening, the third performance of 11 at the international theatre event. "So we started . . . and performed with so much energy and life. I was so proud of how we rallied together to tell this story."
It turned out that one of those three audience members was a well-known and much-respected critic in the Scottish theatre community. "She gave us a rave review. By our last performance on August 11, the house was almost entirely sold out," says Tullis. She remembers sitting backstage before that final show, the earlier nerves replaced with gumption and gratitude. "I knew we were going to perform to the best of our ability for a full house, like we had just eight days before to an almost empty house."
At the end of the festival, the Rain production won a prestigious Scotsman Fringe First award for "innovation and outstanding new writing," and was a finalist for three more honors, including Amnesty International's Freedom of Expression Award.
The journey marks a triumphant new beginning for the Pepperdine Theatre Edinburgh Summer Program. Every other year since 1985, the program has taken two American plays to the festival. But this year marked the first attempt at a cross-cultural exchange between Pepperdine, American theatre, and Scottish theatre, with the program featuring both the U.K. debut of an American play—Anon(ymous), by renowned playwright Naomi Iizuka—as well as Arnott'sRain, which was specially commissioned by the Pepperdine Edinburgh Summer Program.
"I thought we needed to lift up the program to a higher level," says theatre professor and program director Cathy Thomas-Grant, who took over from founder George Neilson in 2000.
Thomas-Grant wanted to strengthen ties between the Scottish theatre community and Pepperdine, and to deeply personalize the performance experience for the students. She partnered with theatre alumnus Alex Fthenakis ('08), who participated in the 2008 program and loved the British theatre experience so much that when the rest of his group prepared to board the plane back to Los Angeles, he chose to stay behind. Four years and a master's degree from the Royal Scottish Academy of Music and Drama later, Fthenakis remains deeply involved in Scottish theatre. "I stay because of the way the artist community works together in Scotland, which is just as competitive America but in a far more collaborative way. There's far more opportunity for me to create things," Fthenakis emphasizes.
He became Thomas-Grant's "man on the ground" in Scotland, scoping out education-friendly playwrights for commission. When the two met with Arnott, they found his unique vision of a story impossible to resist. A "documentary with songs," Rain uses documented dialogue and testimonies, and places cast members in multiple roles to tell the story of the Bonus Army—an assembly of over 17,000 World War I veterans who protested in Washington, D.C. in 1932 for early release of a promised compensation package.
"This is a show that I've been trying to do for 30 years and this is the first time I've found the right people to do it," Arnott notes, remembering that he first heard of the Bonus Army as a student in 1981. "I thought it was a great story. And these students . . . they are young, enthusiastic, and just precisely the right people to do it."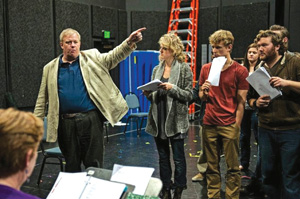 Arnott collaborates with students in March 2012
With that in mind, Arnott and the play's composer, Scottish musician and actor John Kielty, visited the Malibu campus for two weeks in the spring to build the script, the music, and the feel of the piece, in partnership with Thomas-Grant and the cast. This was the students' first experience collaborating with a professional playwright, an opportunity graduating senior Kevin Shipp ('12) calls "vastly different from any other acting experience."
"From the beginning of the process, we were encouraged to simply 'play' and try different things. It was a great realization of what we're capable of doing," says Shipp.
The program's rebirth as a cultural exchange progressed in July, when Thomas-Grant, Fthenakis, and the casts of both Rain andAnon(ymous) convened in Scotland for weeks of rehearsals, master classes taught by Fthenakis and a number of Scottish playwrights, and workshops and social gatherings with theatre communities in Scotland. The program also partnered with the Royal Conservatoire of Scotland (RCS), which hosted rehearsal and classroom space, and promoted collegiate friendships between Pepperdine and RCS students.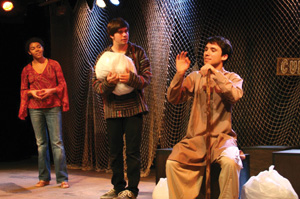 Students perform Anon(ymous)
Thomas-Grant ensured that the "cross-cultural experience" was the theme running through both plays. Rain tackled justice for veterans in a time when legislative protections for special interest groups were not in place. Meanwhile,Anon(ymous)— directed by Joe obermueller ('03), who participated in the 2002 program and who served as codirector of the program in 2008—tells the story of a nameless teenage asylum seeker, having escaped a war-torn land, trying to reunite with his mother in the alien landscape of the United States.
The two plays—both well-reviewed and, Rain, award-winning—herald a new era of prominence at the Edinburgh Festival Fringe for the Pepperdine Edinburgh Summer Program, as well as deeper roots planted in the heart of Scottish theatre.
"This trip has opened our young artists' eyes to the world around them and further developed a passion— for not only telling the stories of the oppressed, but lifting and pulling each other up along the way also," Grant reflects. "I hope their lives have been changed."
---
WEB EXCLUSIVES

Watch this clip from Why Do You Stand There in the Rain?, recorded as a five-minute play on Pepperdine's Malibu campus in March 2012.
Listen to episode 53 of the Pepperdine People podcast series recorded in March 2012, featuring a discussion between Peter Arnott, John Kielty, and Cathy Thomas-Gran.
And read this interview with Anon(ymous) lead actor Jesse Perez andRain actors Anna Tullis and Kevin Shipp.